Founded in 1987 in central Taiwan, Forwell Precision Machinery Co., Ltd. excels in a wide range of automatic mold-change systems, including quick die-mold change system, die/mold cart systems, PCB fine-piercing systems, and automatic die clamping systems. 

These quick die/mold change and automatic clamping systems the company supplies are customizable for a variety of machines, including presses (mechanical and hydraulic types), plastic injection molding machines and die casting machines.

Becoming ISO-9002 approved in October 1997 made the company the first ISO-9002-certified maker of quick die/mold change systems in Taiwan. In the following year, the company earned the CE Mark to be qualified to sell products to Europe. Shortly thereafter the company also won ISO 9001 certificate to show its capacity to make quality products.

Forwell is developing an automated, integrated mold-manufacturing management system that targets boosting production efficiency and competitiveness of customers.

The system will handle mold manufacturing, conveying, stocking, maintenance, and retrofitting automatically. This management system is the first of its kind in the industry, whose existing systems only manage encoding and stocking but leaves to manual operation conveying, maintenance, repairing and retrofitting.

Thanks to strong performance and an increasing customer base, Forwell has sizable global presence and is the leading manufacturer of quick die/mold change systems both in Taiwan and mainland China.

The company is constructing a factory on 12,000 square meters in Jiangsu Province, mainland China, which is scheduled to be completed at the end of 2015 to enhance the company's R&D capability and drive substantial growth in business in the years to come.

Having opened an office in China in 1999, the company officially inaugurated its push into that market, with offices now in Ningbo, Zhejing; Chongqing, Sichuan; Shenzhen, Guangdong, in addition to the one in Jiangsu.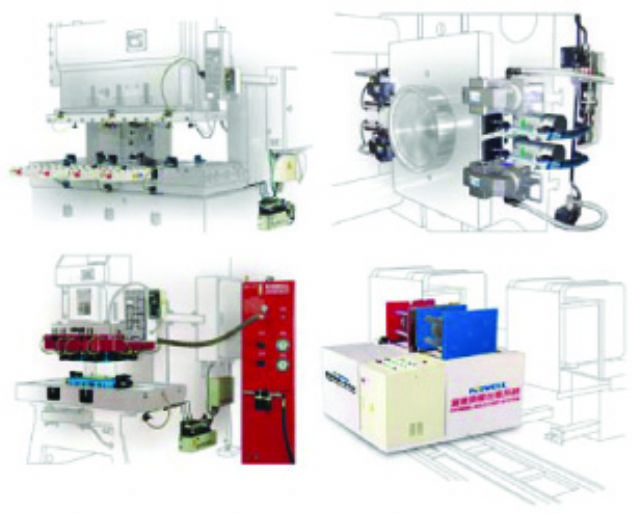 Forwell makes a wide range of quick mold/die changing and cart systems.
Forwell Precision Machinery Co., Ltd.
No. 399, Mingsheng Rd., Sec. 2, Pusin Township, Changhua County, Taiwan 513;
Tel: 886-4-834-5196;
Fax: 886-4-834-5197;
E-mail: forwell@forwell.com;
Website: http://www.forwell.com, https://www.cens.com/forwell