CNC-Takang Co., Ltd., established in 1994, has ample expertise in development and production of heavy-duty/high-torque/full-power-output CNC lathes and vertical/horizontal/double-column machining centers.

The maker mainly offers conventional lathes, CNC lathes (flat & slant bed), double spindle & double turret CNC lathes, CNC vertical lathes, vertical machining center, high-speed vertical machining centers, double-column machining centers, five-axis machining centers, high-torque heavy duty CNC lathes, and big-bore oil field lathes, etc.

The main features of the heavy-duty CNC lathe LC & LD series include box slide way for X axis (cross slide), four-step spindle speed, highly rigid headstock and gears with a wide range of speed ratios, high spindle torque and power even at low spindle speed, rigid machine bed, hydraulic tailstock with rotating quill for sturdy support, and front + rear filing conveyor, with JIS or DIN standard accuracy.

With output made up of 80 percent CNC lathes, the maker also has achieved outstanding sales over the past few years, backed by in-house technologies to turn out high-value-added machine tools, which has helped to build sound reputation in Taiwan and abroad.

The maker exports most of its output to mainland China, Southeast Asia, the U.S., Canada, and European Union, with the remainder sold in Taiwan.

CNC-Takang has set up solid technical strength at its factory in the Taichung Industrial Park, Taichung City, central Taiwan, upheld by precision manufacturing equipment, stringent quality inspection, scientific management, and well trained R&D specialists.

Placing strong emphasis on research and development, quality, service and innovation, the company has been able to develop innovative products in tune with customers' tailored requirements.

Adhering to the belief that key to success in the industry is staying innovative, the company has never stopped converting new ideas into tangible designs.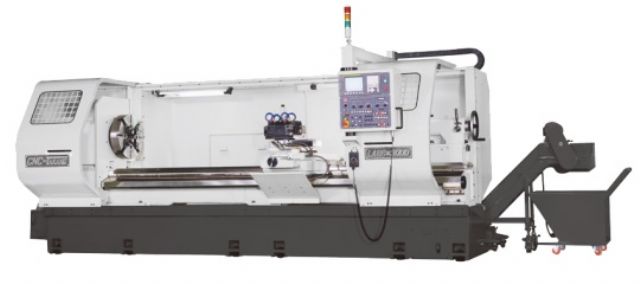 Heavy-duty CNC lathe developed by CNC Takang.
​
CNC-Takang Co., Ltd.
No. 72, Alley 7, Lane 98, Taichung Industry Park, 1st Rd., Taichung, Taiwan 40767;
Tel: 886-4-2359-6056;
Fax: 886-4-2359-6064;
E-mail: takang@ms17.hinet.net;
Website: www.cnctakang.com.tw