Since inaugurated in 1988, Kang Chyau Industry Co. has been devoted to making plastic processing machines as one of the most respectful Taiwanese suppliers in the line.

The company supplies a wide variety of machine models, including plastic bag-making machines, plastic inflation machines, printing machines, cutting machines, waste plastic recycling machines and sealing machines.

To build machines with excellent quality and reliability, Kang Chyau adopts key components and parts only from highly industrialized nations. For instance, the solenoid switches used in its machines are made by Telemecanique, a renowned company in France, while the shaft bearings are from SKF of Sweden. For smooth operation, the gears of each main ejector unit are subject to stringent grinding processes. 

Bolstered by over 50 years of experience in plastic processing, Kang Chyau has continuously researched and developed new machines with higher performance, greater functions and lower power consumption, while improving mechanical design to enable its machines to better handle different plastic compound at lower costs. As the island's top-3 company of its kind by annual export volume, this veteran maker has exported its machines to over 60 different nations of the world, enjoying a huge customer base and high client loyalty.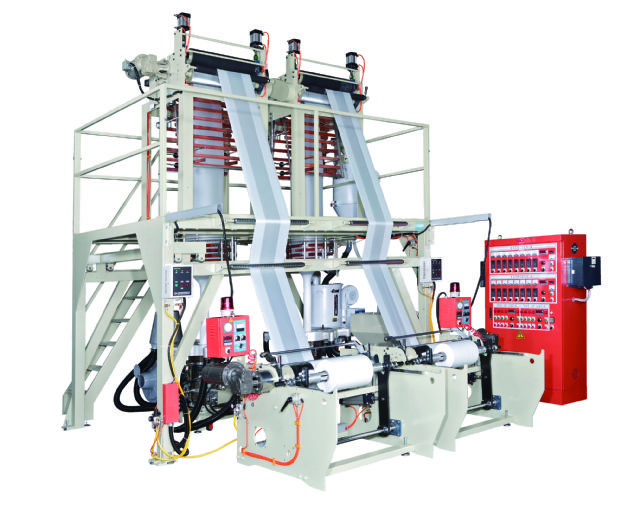 Kang Chyau's twin head (A/B/A Layer) HDPE/LDPE/LLDPE plastic inflation machine, coded KMTL-4545T, features great efficiency, diverse functionality and high productivity.
Kang Chyau Industry Co., Ltd.
No. 2-8, Alley 28, Lane 227, Fuhsing Rd., Luchou Dist., New Taipei City, Taiwan 247
Tel: 886-2-2285-6880; 2285-6881
Fax: 886-2-2285-6883 
E-mail: kang.chyau@msa.hinet.net 
Website: www.kangchyau.com.tw