At its pre-show press conference held before the opening of the 2015 IFA Berlin in Germany, one of the world's largest annual event for consumer electronics and home appliances, Taiwanese information and communication technology (ICT) vendor Acer Inc.'s CEO Jason Chen announced that the company will showcase a total of 22 new products at the show.

Chen stressed that the Windows 10 operating system stands to be a game-changer in the global PC business, in which Acer's Windows 10-compatible products have been winning strong market response since late July. With the integration of Intel's new graphics processing unit (GPU) architecture, he added that Acer's new products are gaining new growth momentum in the international market.

For the coming peak season for consumer-electronic and PC products that picks up steam towards the Christmas shopping season, the CEO said, Acer is fully ready by offering a very comprehensive range of products, including Windows 10-compatible PCs, Chromebook models, two-in-one devices, and gaming devices. In addition to Acer's new products, Chen added that the company has begun proceeding with a series of business deployments, including some acquisition projects.

During the IFA Berlin show, Acer's two major partners, Intel and Microsoft, also spoke out for Acer's new products and expressed their optimism toward Acer's new products, which are being launched amid the vendor's transformation from a PC maker towards a personal-computing service provider. Both Kirk Skaugen, senior vice president-general manager of the client computing group of Intel, and corporate vice president of Microsoft's OEM Division, praised that Acer's new Windows 10 devices are the key in realizing seamless links to personal computing.

Regarding corporate operation, Chen said that Acer saw stable profitability in the first half, which grew by 51 percent from the same period of last year. In the firs six months, Acer's sales of two-in-one devices enjoyed an 81 percent year-on-year (YoY) volume growth. During the period, he added, Acer was the No. 1 two-in-one device vendor in Europe, the Middle East, and Africa (EMEA) region, having reported YoY sales-revenue increase of 134 percent, compared to 259 percent in the Pan-American region. That, the CEO stressed, is a major indicator that Acer has gradually returned to a stable and correct track. 

Acer utilized the slogan "Conquer New Worlds" to promote its Predator series gaming devices, including notebook PCs, desktop PCs, tablet PCs, gaming monitors, and related peripherals, at 2015 IFA Berlin. The vendor also launched its first convertible Chromebook model R11, seven brand-new smartphone models, all-in-one (AIO) PCs, new desktop PCs and the new-version Aspire V Nitro 15 and 17 notebook models.

Acer also announced six new Liquid smartphones at IFA Berlin, including four running Android 5.1 and two with Windows 10 Mobile. The handsets feature sleek, curved chassis with upgraded front-facing cameras, wide-angle lenses and enhanced audio.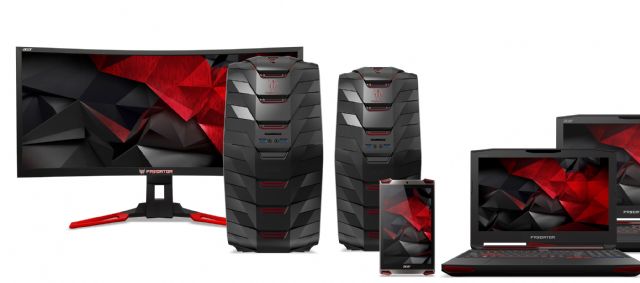 Acer's new Predator gaming devices announced at 2015 IFA Berlin. (photo from Internet)
All the Acer Liquid smartphones that were shown share several features that improve the overall enjoyment of the technology by users, whether it's watching movies, snapping selfies, or listening to music. Innovations such as Acer BluelightShield 2 which controls users' exposure of blue light from the screen and DTS Studio Sound 2 that offers high-quality audio for music and movies are trend-setters. Acer said that smartphone fans would for sure welcome exposure control which allows adjustment of exposure and focus independently to get clear and bright shots, with Bright Magic photo that ensures selfies to be always presented under the best lighting conditions.