Sales of the electric scooter have continuously increased despite its comparatively high unit price
Nothing stays unchanged in business has been proven again. The latest shake-up happened in August, traditionally an important period for the electric-scooter (e-scooter) market in Taiwan which has long been virtually monopolized by the China Motor Corp. (CMC), both a local assembler of automobiles and a developer/maker of e-scooters, during which an innovative upstart with a degree of global fame upset the status quo to clinch the No. 1 position not long after it had debuted a higher-end, more-expensive model just earlier this year.

A total of 433 units of the Gogoro Smartscooter, said to be the world's first high-performance, battery swappable, smart electric vehicle designed to work with the Gogoro Energy Network that is an advanced battery-swapping infrastructure for cities, were licensed in August on the island, commanding a 55 percent share of the domestic e-scooter market, according to statistics compiled by the Ministry of Transportation and Communications (MOTC). Such success by the newcomer is notable considering that for some three-plus years, CMC had been the leading player in the market that often held 80-plus percent market share.

Not too many people on the island held their breaths about the sales of the Gogoro Smartscooter, which is developed by Gogoro Inc., a young Taiwanese company aiming to transform energy distribution and management in megacities, especially when each e-scooter is priced at more than NT$100,000 (US$3,333) excluding the lithium-ion battery pack, coupled with frequent news in Taiwan of stagnant wages, relatively low pay for college graduates, the bearish stock market of late, and discouraging news of the slowing economy in China.

Gogoro Smartscooter delivered a total of only 36 units in July on the island to represent only a 6 percent market share in Taiwan, far less than that registered by the long-term No. 1 e-scooter vendor CMC, which sold 412 units in the month.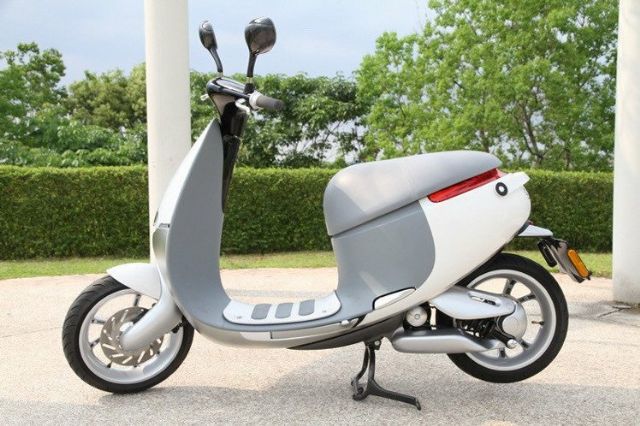 A total of 433 Gogoro Smartscooters, said to be the world's first high-performance, battery swappable, smart electric vehicle, were licensed in August in Taiwan to command a 55% share of the domestic e-scooter market in the month. (photo from UDN)
But sales turned around in August, when Gororo sold 433 units, compared to CMC's 273. The overall e-scooter market in Taiwan also grew by about 37 percent in August from the previous month, from 574 units to 786. In fact Gogoro e-scooter sales ranked No. 8 even if placed among the powered two-wheeler (PTW) brands on the island.
Peng Ming-i, vice president of marketing at Gogoro, said that the company now takes an average of 70 to 100 orders for Smartscooter per week, also being very optimistic about the continuously increasing sales volume of the e-scooter in Taiwan.
The Smartscooter is also changing the landscape of the domestic e-scooter market, in which sales used to be concentrated in southern Taiwan, due to personal transport preference, vehicle charging convenience, climate, and company fleets used for express home delivery. In August, more Smartscooters were sold to consumers living in northern Taiwan.
In fact, Gogoro said, six out of seven e-scooters sold in Taiwan in August were Gogoro, and the firm's new model has effectively expanded the domestic e-scooter market. Peng also conceded that the company's limited production capacity of the new production line prevented Gogoro from achieving even-better sales.
Currently, according to Peng, Gogoro operates only four sales points on the island, including three also providing repair and maintenance services, with such limited facilities and service staff also compromising potentially higher sales. 
Gogoro announced in late March to make Taipei City and New Taipei City of Taiwan  the pilot market for the Gogoro Smartscooter and Gogoro Energy Network, set to be available this summer. Gogoro also operates the Gogoro Experience Center, a flagship store in the upscale shopping district surrounding the Taipei 101 skyscraper in the Xin-Yi neighborhood, which promotes hands-on interaction with the Smartscooter.