Jason Chen, CEO of Taiwanese PC vendor Acer, targets transforming the firm into an integrated provider of hardware, software, and services. (photo from UDN)
Jason Chen, CEO of Taiwanese personal computer (PC) vendor Acer Inc., recently said that the global family (domestic) robot market is growing, with the market to mature slower than originally expected. To tap opportunities in such segment, Acer has invested in the development project Jibo, the world's first social robot for home entertainment.
Chen made the above statement earlier at the opening of the IFA Berlin, one of the world's largest trade show for consumer electronics and home appliances held September 4-9 in Germany. After Acer's investment in the Jibo project, Chen said, Acer will announce its second investment in robot-related fields.
Industry sources said that the Jibo robot development project led by the Massachusetts Institute of Technology (MIT) of the U.S. has received capital injection of about US$11 million from different investors such as Acer and KDDI of Japan. Acer, however, has not publicized its actual investment in the project.
Jibo is generally deemed as the culmination of all home robots developed in recent years. The intelligent robotic personal assistant has two hi-res cameras to recognize and track faces, capture photos, and enable immersive video calling, with 360-degree microphones and natural language processing to enable users to talk to Jibo from anywhere in a room.
The robot provides hands-free reminders and messages, so users never forget and can always be in touch. The artificial Intelligence algorithms learn user's preferences to adapt and fit into one's life. Like a personal assistant, Jibo proactively helps a user to make everyday tasks simpler and easier. Jibo communicates and expresses using natural social and emotive cues to facilitate user-robot understanding. The robot, without a human-like appearance, is 28 cm tall, and weighs about 2.7 kg.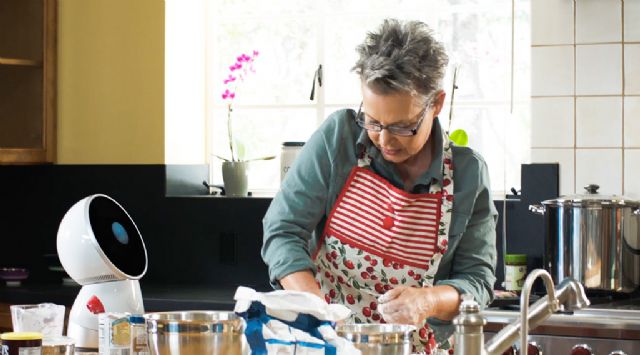 Jibo (seen at left) is the world's first social robot for home entertainment, in whose development Acer has invested as part of the PC vendor's strategic business deployment.
Chen said that currently the family robot market is at the "zero to one" stage; though everyone can see the prospect of the business, it will take a certain period for the stage to enter into the "one to 10" stage due mainly to issues related to economy of scale. The CEO explained that the market maturity will not happen within only two or three years, but slower than most people expect.
Acer's investment in Jibo focuses mainly on the company's business deployments in Asia, Chen said, while the firm's other investment plan in robots will be in industrial- or manufacturing-application robots. As robots work as part of cloud computing, the CEO said, Acer is inclined to develop related products through strategic investments.
Regarding Chen's statements announced before the IFA Berlin 2015 about Acer's future strategies in robotic and international acquisition, some industry sources said that such plans make up the PC vendor's major deployments for future transformation toward an integrated provider of software, hardware and services. In addition, they added, these strategies are also expected to complement Acer's targeted cloud services.
Also at this year's IFA Berlin, Acer announced its acquisition of Xplova, a GPS cycling track maker, without disclosing the purchase price. Xplova's GPS bike computers help cyclists plan and track routes, navigate with turn-by-turn directions and analyze their performance. Users can also share their activity logs with their social networks. Chen said Xplova has 15,000 members who've uploaded 200,000 pieces of data and planned more than 52,000 routes. The acquisition, the sources said, can pave the way for Acer's future transformation.
Acer said in a press release that it plans to integrate Xplova's technology with its hardware, software and services. Acer will integrate Xplova's hardware, cloud computing platform, community service capabilities and industry know-how to help expand its reach further into the sports industry, the company said.