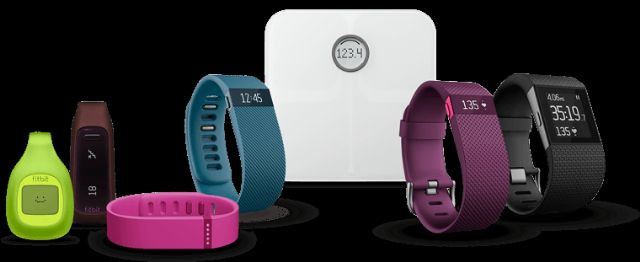 Fitbit, the world's No. 1 wearable vendor, supplies a range of products. (photo from Fitbit)
Inventec Corp., a major EMS (electronics manufacturing services) provider headquartered in Taiwan, reportedly has become a supplier to Fitbit, the American vendor of wearable devices that recently went public on the New York stock exchange to have taken the market lead.  Inventech is expected to kick off shipments to the new customer in the fourth quarter, making it the first Taiwanese supplier to Fitbit.
Fitbit retained its title as the world's top wearables vendor for the second quarter of 2015, according to IDC's recent report, though Apple is quickly gaining ground. During its debut quarter in the wearables market, Apple shipped 3.6 million Apple Watches compared to Fitbit's 4.4 million fitness trackers (for market share of 24.3 percent), IDC said. Overall, 18.1 million wearables shipped during the second quarter, versus 5.6 million units in the year-ago quarter.
During the second quarter, Fitbit had notable successes, such as increasing the number of companies using their fitness trackers for corporate wellness programs and posting strong revenue growth, IDC said. Another player in the wearables market is Xiaomi, which in May began selling its Mi Band for US$14.99. The Chinese vendor shipped 3.1 million units of the basic wearable in the second quarter, IDC said.
Currently, Fitbit offers a total of seven wearables, including smart wristband, smartwatch, activity wristband etc., priced between US$60 and US$250. Accumulated users of Fitbit wearables have reached some 20 million.
Industry sources said that the expanding global wearable market has driven Fitbit to add a new contract assembler in addition to existing Flextronics. The new supplier, Inventec of Taiwan, will cooperate with Fitbit in the joint development manufacturing (JDM) mode and begin shipments of first products in the fourth quarter (another new item will be launched by Fitbit in the first quarter of 2016).
Some industry sources recall that Inventec's chairman Richard Lee saying previously that his company will have some market-leading items to be announced in the second half, and such products are expected to drive another growth momentum. When responding to media's question about the kind of products, Lee just said roughly that they are wearable- and smartphone-related items.
IDC forecasts the 2015 wearable market to l top some 72.1 million units, a 172 percent increase from the previous year, and the market is expected to reach some 156 million units by 2019, with compound annual growth rate (CAGR) of 42.6 percent over the next two years. While most people have a stereotypical image of lower profit margins of wearables, Fitbit, in fact, reported revenue of US$750 million, profit margin of 48 percent (higher than Apple's 39.7 percent for the second quarter of 2015), and net margin of 17.7 percent (Apple: 21.5%).
Top-5 Wearables Vendors, Shipments, Market Share and Year-Over-Year Growth (Q2, 2015) (Units in Millions)

Vendor
Q2' 15 Shipment Volume
Q2 '15 Market Share
Q2 '14 Shipment Volume
Q2 '14 Market Share
Q2'15/Q2'14 Growth
1. Fitbit

4.4

24.3%

1.7

30.4%

158.8%

2. Apple

3.6

19.9%

0

0.0%

%

3. Xiaomi

3.1

17.1%

0

0.0%

%

4. Garmin

0.7

3.9%

0.5

8.9%

40.0%

5. Samsung

0.6

3.3%

0.8

14.3%

-25.0%

Others

5.7

31.5%

2.6

46.4%

119.2%

Total
18.1
100.0%
5.6
100.0%
223.2%
Source: IDC, August, 2015