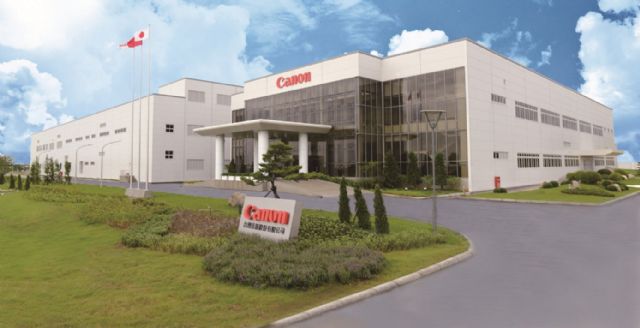 Canon Inc., Taiwan, along with three other companies in Taiwan, plans to increase investment in Taiwan.
Four Taiwanese manufacturers have announced to increase capital to fund their expansion plans in the Taichung Export Processing Zone in central Taiwan and Chiayi Dapumei Intelligent Industrial Park in southern Taiwan.
The four companies are Canon Inc. (Taiwan), Calin Technology Co., Ltd., Lingsen Precision Industries Co., and Ltd., Yoketan Corp.
Canon plans to invest around NT$4 billion (US$125 million) from 2012 to 2015 in the Taichung export processing zone and the Chiayi industrial park, with NT$471 million (US$14.71 million) set aside for 2015 alone.
Lingsen will invest NT$145 million (US$4.53 million) on new equipment to increase its IC packaging and testing capacity and automation.
Investment plans approved by the administration of the Taichung processing zone as of August valued a total of NT$858 million (US$26.81 million), including the said plans by the four makers.
Manufacturers in the processing zone generated total revenue of NT$27.03 billion (US$844.68 million) in the first half of this year, down from NT$32.29 billion (US$1 billion) in the same period of last year.
The processing zone's administration blames the reduction in revenue mostly on the financially struggling Wintek Corp., a maker of touch panels and small-and-medium liquid crystal displays, which has stopped operation to find a solution.
Nevertheless, strong sales achieved by the rest of the zone's manufacturers have moderated the impact resulting from the misfortune of Wintek.
Canon Taiwan, a subsidiary of single-lens camera maker Canon, has seen its operation steadily climb so far this year after three years of harsh competition against ever popular digital cameras built in smart phones that continue to encroach on market share.
Other companies at the zone, such as Pishon International Co., Ltd., Taiwan Koysan Co., Ltd., United Radiant Technology Corp., Canon Semiconductor Equipment Taiwan, Inc., and Pintek Electronics Co., Ltd., reported stronger sales in the first half of this year than the comparable period of last year.
Currently, most of the zone's tenants are optoelectronic manufacturers. The zone's administration points out that it is trying to attract manufacturers other than optoelectronics makers, such as makers of robots, sensors, semiconductor-inspection equipment, and medical-equipment, to set up shop in the zone.
To attract semiconductor-inspection equipment makers, the administration will approach subcontract manufacturers of the chipmakers operating in the Central Taiwan Science Park.
It will begin its plan to attract medical-equipment makers by inviting the makers of invasive surgical procedure equipment working with the Show Chwan Memorial Hospital in central Taiwan.