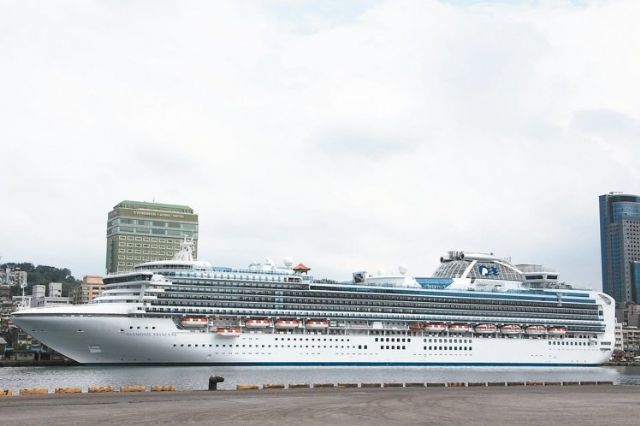 Keelung Port is among Asia's top-5 cruise ports by passenger arrivals, reports TIPC. (photo courtesy of UDN.com)
With rising affluence in China and more travelers opting for cruise ship voyages worldwide, partly due to its image as upscale consumption, to fuel the global market for cruise tourism, Taiwan's cruise passenger arrivals are expected to reach 778,000 this year for a 7.7 percent increase over last year, according to Taiwan International Ports Corporation, Ltd. (TIPC), a government-funded operator of the island's commercial ports.
At a conference held earlier by the Ministry of Transportation and Communications (MOTC) for discussion and review of the development of Taiwan's tourism sector, TIPC reported that global cruise ship passengers totaled some 19 million people in 2010, and are estimated to surge to 22.3 million this year, 2.2 million of whom to be from Asia to underline strong growth potential of the cruise tourism market in the region.
Resulting from the government's enthusiastic, effective promotion of Taiwan's tourist attractions to have put the island on port-of-call lists of more cruise ships, TIPC noted that Taiwan's cruise passenger arrivals are predicted conservatively to soar by 7.75 percent to 778,000 this year from some 722,000 seen last year, which is likely to continue growing in the years ahead.
MOTC officials also attribute the buoyancy of Taiwan's cruise tourism sector to the gradual saturation of the cruise tourism market in North America and Europe, which has prompted international cruise lines to shift their focus to the Asian market, and therefore propel growth of cruise passenger arrivals in Taiwan, especially when travel between Taiwan and China continues to see more liberalization, with more foreign independent travelers allowed daily to Taiwan than ever before.
Echoing TIPC's growth forecast of this year's cruise ship passenger number, MOTC noted that Taiwan's cruise passenger arrivals reached nearly 460,000 in the first half, so this year's total is very likely to exceed 778,000.
At the conference, TIPC also reported that Keelung Ports is expected to post the strongest growth in cruise passenger arrivals this year among other destination ports, including Taichung Port, Kaohsiung Port and Hualien Port. Presently, TIPC added, a total of 52 cruise ships from 26 international operators ply routes across Asia, while the biggest five cruise ports across the region by passenger arrivals are Singapore, Korea's Jeju, Hong Kong, Shanghai and Keelung.
Notable is that of the total cruise ships arriving in Taiwan, ships cruising across the Taiwan Strait account for 76 percent, with those from Japan and Europe making up a 15 percent and 10 percent share, respectively, according to TIPC.
Cruise Passenger Arrivals in Taiwan by Year
Year

2013

2014

2015
(forecast)

Passenger Arrivals

548,000

722,000

778,000

Year-on-year Growth Rate

68%

31.7%

7.7%

Source: Ministry of Transportation and Communications, R.O.C.