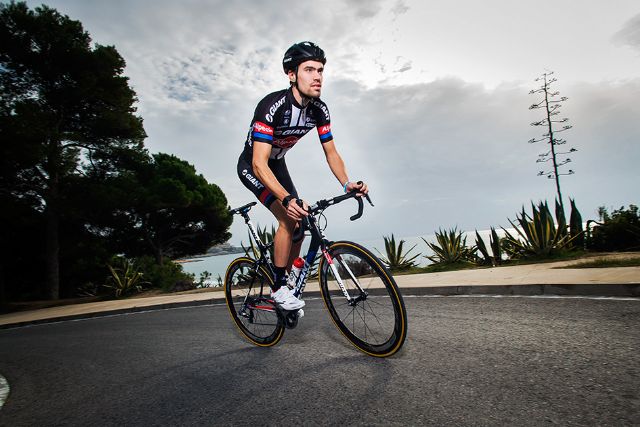 Major Taiwanese bicycle makers, Giant and Merida, aggressively sponsor famous international bicycle racing teams to more effectively market high-end products and build brand profile. (photo from Internet)
Thanks to increased shipments of new 2016 models, Taiwan Stock Exchange (Taiex)-listed bicycle and parts manufacturers reported encouraging results for August, including Giant Manufacturing Co., Ltd., Merida Industry Co., Ltd., Ideal Bike Corp., and KMC Chain Industrial Co., Ltd.
Due largely to its successful sports marketing campaign, Merida, recognized as the No. 2 assembled-bicycle manufacturer in Taiwan, achieved smooth sales of its high-end mountain bikes, carbon-frame models, and road race bikes in August, when the average selling prices (ASP) outstripped the average in the first seven months. In the first eight months, Merida says, shipments totaled 1.62 million units, on par with the same period of the previous year, with its consolidated revenue in the period up 7.34 percent year-on-year (YoY) to hit the company's new record of NT$19.1 billion (US$636.5 million) for the period.
Merida notes that its Taiwanese factory, which focuses mainly on producing high-end bicycles for exports to Europe and the U.S., shipped more than 90,000 units in August, down 7.3 percent from a year earlier; but the higher export ASP led to a 17.1 percent YoY revenue increase in August, to NT$1.87 billion (US$62.2 million). In the first eight months, Merida's Taiwanese factory delivered more than 720,000 bicycles, up 7.14 percent YoY, translating into Jan.-Aug. accumulated revenue of NT$12.36 billion (US$412 million), an 18.5 percent YoY increase. The company's factory on the island now plays a pivotal role in driving group revenue growth.
Giant, recognized as the largest assembled-bicycle maker in Taiwan, had consolidated group revenue of NT$5.86 billion (US$195.3 million), up 9.5 percent YoY; and accumulated first-eight-month consolidated revenue of NT$41.38 billion (US$1.38 billion), up 2.78 percent YoY.
Regarding Giant-branded bicycle sales, the company said that its 2016 models are winning hot response from global consumers, leading to smooth sales in Europe and the U.S. in August. However, Giant's sales in China still remain a bit disappointing. 
The Taiwanese bicycle maker says that at the 2015 Vuelta a España, in which Tom Dumoulin, a Dutch road racing cyclist of the Giant-sponsored Team Giant Alpecin, won two championships in the 17th stage race. Such commendable performance by Dumoulin, Giant says, is expected to further enhance the image and sales of Giant's high-end race bikes. 
Ideal, recognized as the third-largest assembled-bicycle maker in Taiwan, points out that it has been winning increasing export orders after the company's Chinese factory in Dongguan, Guangdong Province, had been excluded from being subject to anti-dumping tariff rates by the European Union (EU). In August, Ideal had consolidated revenue of NT$504 million (US$16.8 million) for August, up 35.6 percent from a year earlier, and accumulated January-August revenue of NT$3.77 billion (US$125.6 million), a 47.8 percent YoY increase.
KMC, recognized as the world's largest maker of bicycle chains, reported August consolidated revenue of NT$294 million (US$9.8 million), up 20 percent YoY; and accumulated revenue for the first eight months of NT$2.17 billion (US$72.4 million), up 24.8 percent YoY.
The chain maker says it continues to engage in a group integration plan, which is close to completion. In addition, the firm's capital-increase project has been completed to have raised NT$1.3 billion (US$43.2 million), which will be used in the integration plan.