Industry is being hit by double-whammy of slack LCD TV demand and low profit margin
It is apparent that ever more market reports point to pessimism towards the global market of large-sized (larger than 10-inch) thin film transistor-liquid crystal display (TFT-LCD) panels, which is exasperated by stagnant demand and falling profit margins due to oversupply.

Reflecting the demand scenario, a recent report shows that global TV shipments declined 8 percent year-on-year (YoY) to 48 million units in the second quarter (Q2) of 2015, after a year of quarterly YoY growth in 2014. This was the largest YoY decline in a quarter since Q2, 2009, when worldwide demand slumped amid the global recession, according to IHS Inc., a global source of critical information and insight.

Most of the overall decline is attributed to slowing growth in LCD TVs, which now accounts for 99 percent of all TV shipments. LCD TV sales have not made up for the lost volume of cathode-ray tube (CRT) and plasma TVs, which have mostly been phased out the marketplace.

"2014 was a robust year for growth, with total TV shipments rising 3 percent worldwide, and developed regions growing more than 6 percent," said Paul Gagnon, Director of TV Research for IHS. "This year, however, TV demand is being negatively affected by the current global economic slowdown, particularly the rise in currency exchange rates against the U.S. dollar, which has caused retail prices to increase in emerging markets."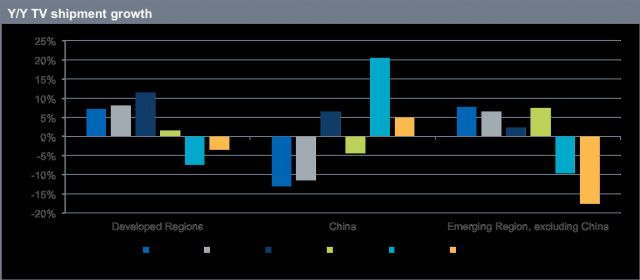 YoY TV Shipment Growth (Q1, 2014-Q2, 2015) (Source: IHS)
According to the latest TV Sets Market Tracker from IHS, while the downturn in shipments was felt in Western Europe and Japan, the decline was the most pronounced in the emerging regions of Latin America, Asia Pacific, Eastern Europe, the Middle East and Africa. Although North American demand returned to positive in Q2, 2015, Western European shipments fell unexpectedly, leading to a 3 percent reduction in overall shipments to developed regions. China, considered an emerging market, exhibited growth in shipments in the first half of 2015, but that momentum is slowing.
Looking at larger emerging markets outside of China, the decline in shipments this year has been very pronounced, despite a government subsidy program in Mexico that added more than 2 million units in the first half of the year. TV shipments in Latin America declined 17 percent year over year in Q2, with a significant amount of weakness out of Brazil, while Asia-Pacific shipments fell more than 9 percent. "Many global brands are shifting to a weaker outlook for the balance of the year, as a result of the broad decline in demand worldwide," Gagnon said.
However, IHS said, 4K TV was a bright spot in the global TV market, with unit shipments growing 197 percent YoY in Q2 2015, to reach 6.2 million units. The growth in 4K TVs is the direct result of increased price erosion and more affordable tiers of 4K models becoming available.
Thinning Large-sized TFT-LCD Margins
Another discouraging sign for the TFT-LCD industry is the falling profit margins of such products.
Large-sized TFT LCD profit margins reached 10 percent in the first quarter (Q1) of 2015, their highest level since the first half of 2010. However high factory utilization rates at leading panel makers, and swelling inventories at set makers, are now pressuring prices and margins downward. According to IHS, large-sized TFT-LCD profit margins are forecast to fall to zero percent in the fourth quarter (Q4) of this year.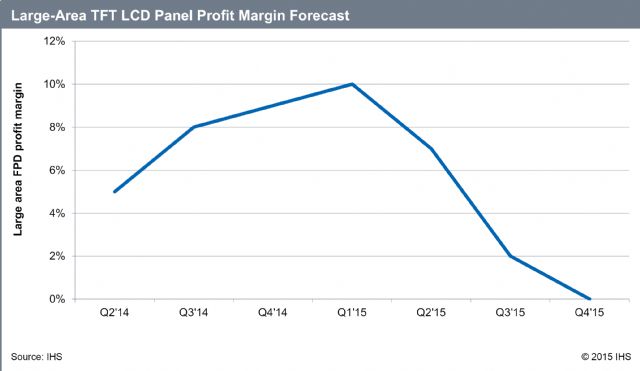 Large-area TFT-LCD Panel Profit Margin Forecast (Q2, 2014-Q4, 2015) (Source: IHS)
Based on the latest IHS Display Supply Demand & Equipment Tracker, large-sized TFT-LCD displays have remained profitable since the end of 2012. However, this year, end-market demand for TVs, monitors, notebooks and tablets has weakened significantly. The demand outlook has deteriorated, due to a variety of product and economic reasons. In particular the rise of the US-dollar against most other global currencies has caused local prices for a variety of consumer electronics products in many countries to rise, stifling demand in those regions.
"Despite declining demand, panel manufacturers have maintained high utilization rates well above 90 percent at their larger glass fabs since last year," said Charles Annis, Senior Director at IHS.
"Even with recent price declines, many large panel sizes currently sell at marginal profits," Annis said "At least for now, panel makers have decided to keep utilization high and minimize overhead costs, in order to chase as much profit as possible while they are still able to. The downside to this strategy is that panel inventories at set-makers have ballooned, widening the gap between TV panel shipments and TV set shipments."
As this excess inventory is sold down, panel prices are also expected to decline rapidly. Large-sized display profitability will likely follow the same trajectory. At the same time, a substantial number of new eighth-generation (8G) factories are currently ramping up production. Dedicated capacity for large-sized displays will grow at a rate of 6 percent in 2015 and 8 percent in 2016, the highest rates in several years.
On the other hand, "Growing concerns about the global economy and its effect on end-market demand—combined with high utilization rates, inventories at set makers and increasing capacity—will likely weigh heavily on large-area display profit margins for the remainder of 2015 and even well into 2016," Annis said.