Founded in 1981 in central Taiwan, Chumpower Machinery Corp. is recognized as Taiwan's No.1 manufacturer of precision tooling chucks, with product line covering spindle accessories, drill chucks and tool holders for computer numerical control (CNC) machine tools.

The company's products are noted for high precision, high rigidity, and excellent clamping force. Its spindle clamping system, built around the specifications of OTT, Rohm and Berg of Germany, features high precision and high performance. Its chucks are suitable for high precision CNC machine tools for their high precision design, which enables tight gripping of cutter when glitch happens.

Chumpower has built a strong R&D team composed of engineers from various areas, enabling it to steadily introduce innovative solutions such as the keyless tool chuck, which it has contracted a well-known foreign drill manufacturer for production and distribution. 

When developing new products, the R&D team makes optimal use of computer simulation data and field tests prototypes to turn out ideal solutions that are truly helpful to the company's customers.

The company has deployed mechanized, precision and highly efficient CNC machines at its in-house machine center, which was built to meet the company's demand for independent precision machining.

The company has successfully replaced complicated processing procedures with streamlined ones to reduce production cost and shorten lead time while maintaining quality, mostly thanks to advanced production equipment, well trained employees, and efficient management.

Chumpower has adopted all types of efficient machining tools for the purpose of production improvement. It offers workers intensive, specialized training programs on regular basis to address machining principles and machine operation. All participants are scheduled to join various discussion groups weekly to exchange notes. 

Chumpower adheres to its management philosophy based on integrity, quality, innovation and service to stress fully satisfying customers. Most of its customers are in Europe, America, Japan, Germany, and Southeast Asia.

The company never compromises on quality, having heavily invested in advanced inspection tools and set up standards for life cycle of each product. It examines each product along every production stage from material restocking and component assembly to final test and delivery. All inspection data is stored in the company's computer system for future monitoring, tracking, and adjustment to meet customer need.

All the company's chuck components are put through their paces to ensure durability and qualitative consistency, thereby making "Chumpower" a trustworthy brand to customers.

After years of diligent work on product quality and design, the company has been ISO9002 certified and won awards, including the "Taiwan Excellence Award" and the "Rising Star Award of Taiwan."

In 1994, Chmpower branched out into the PET-product processing machine industry by making stretch blow molding machines, which has created lucrative business opportunities worldwide. It is now the leading manufacturer of PET blow molding machinery in Taiwan, accounting for more than 85 percent of the Taiwan-built machines shipped worldwide.

With years of diligent work on design improvement, the company has become one of handful equipment makers in Asia to release high-speed linear stretch blow molding (SBM) machine. Now, it is moving towards the goal of becoming one of Asia's top makers of all-electric, high-speed linear SBM machines.

The company has shipped such machines, including indexing, linear, and rotary types, to over 100 countries.

In the PET-equipment field, the company provides customers tailor-made machines with innovative solutions that boast cost efficiency and trendy design.

Its mold division, backed by capability of developing molds for all types and shapes of bottles, works with customers to develop molds that produce specified PET bottles at affordable cost.

The company provides customers turnkey PET SBM equipment that is much more competitive than competing machines.

Like its chuck products, the company's PET equipment has won many awards, including the gold medal of the Best Quality of Precision Plastic Machinery of Taiwan, the Taiwan Excellence Award and Best R&D Product for Plastic Industry, as well as meeting international standards as CE Mark and TUV ISO9001.

In 2012, the company expanded into the green-energy area by introducing electric golf carts and scooters in light of the massive potential of the market.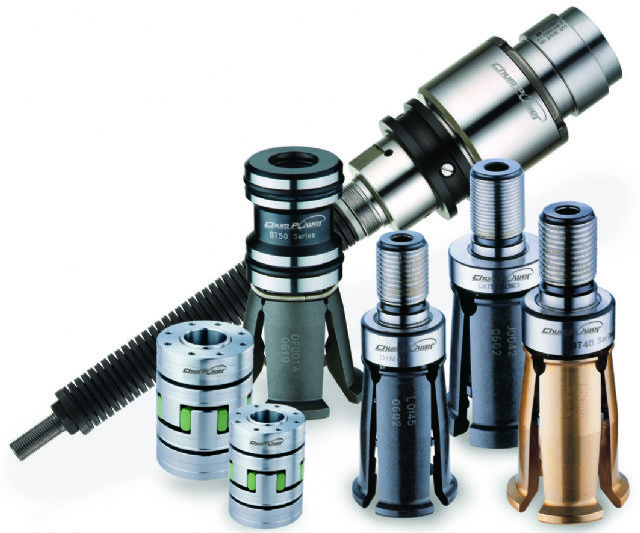 Chumpower's chuck products are suitable for high-precision machines.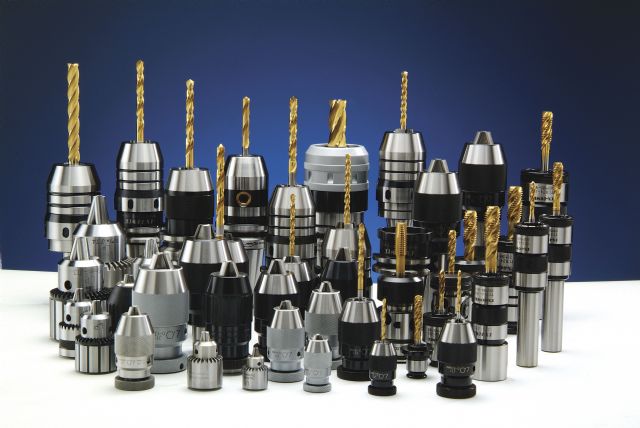 Spindle accessories from Chumpower.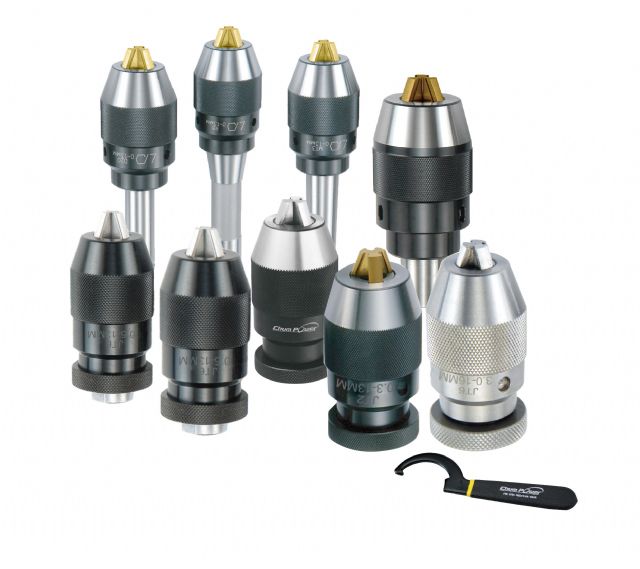 Tool holders and drill chucks from Chumpower.
Chumpower Machinery Corp.
No. 688-1, Chungshan Rd., Sec. 3, Wujih Dist., Taichung City, Taiwan 41453
Tel: 886-4-2338-8289
Fax: 886-4-2336-5626
Email: dali@chumpower.com
Website: www.chumpower.com