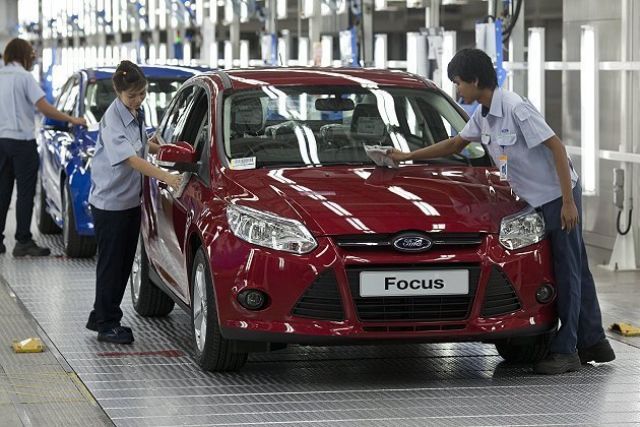 DOS says that the automotive sector is one of the few in Taiwan expressing optimism toward September. (photo from UDN)
Taiwan's Industrial Production Index (IPI) decreased 5.46% from a year earlier, or year-on-year (YoY), in August to 104.47, according to Department of Statistics (DOS), the Ministry of Economic Affairs (MOEA).
The island's IPI saw YoY drop for the past four months in a row, DOS said, and the rate of decrease in August was the steepest in 30 months; while DOS' deputy director general, K.H. Yang, forecasts the September IPI to also be discouraging.
Referring to the production status of each industry in August, DOS said, the manufacturing sector decreased 5.52% YoY, mining and quarrying decreased 5.37% YoY, electricity and gas supply decreased 7.28%, water supply decreased 2.82%, and buildings construction increased 2.95%.
Yang admitted that IPI's rate of decline in August was higher than originally expected, to which he attributes two major factors, including the power outage caused by a severe typhoon that affected production schedules, and a major petrochemical maker suffering equipment breakdown that  forced the company to advance its annual equipment repair and maintenance (longer than 45 days).
The deputy director general also said that in August all major components of the manufacturing sector saw obvious inventory-level increases. Among them, the automotive, petrochemicals and steel-making sectors were preparing their inventory for carrying out annual equipment repair and maintenance; while the semiconductor sector saw very slow inventory clearance due to weak market demand.
The DOS pointed out that Taiwan's IPI in July saw two positive indicators, including the increased production of optical components and gradually smoother inventory clearance at first-class semiconductor makers. Thanks to upcoming launch of new smartphone models by international vendors, Yang said, production of optical components in Taiwan continues to increase now.
However, Yang added, demand for both iOS and Android new smartphones from China has been slowing, leading to sagging demand for Taiwan-made semiconductor products. The DOS' statistics show that the semiconductor sector's IPI was 154.68 in August, down 1.09% YoY, putting an end to the 40-month YoY increase. The deputy director general said that semiconductor's IPI is expected to continue falling in September.
In addition to assembled automobile and auto parts, the DOS said, surveyed results of private makers of the other major sectors, such as electronic component, chemical material, base metal, computer and electronics, optical product, machinery equipment, etc., show that companies in these sectors are predicting lower revenues in September (compared to August).
After the traditional low month of business volume in August (overlapping the Chinese Ghost Month in which major consumer purchase decisions are typically postponed), the DOS said that the domestic automotive sector has normalized production and anticipates better IPI performance in September. However, the lack of good news from the other sectors is expected to result in continued YoY IPI drop in the fourth quarter.