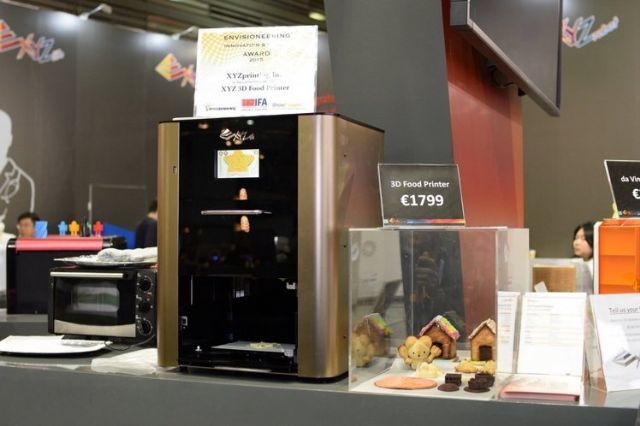 XYZPrinting's 3D food printer.
​
XYZPrinting Inc., a subsidiary of the consumer-electronics maker Kinpo Electronics, Inc. of Taiwan, will begin to market its 3D printers by the end of this year that earned the Innovation and Design Award during the ShowStoppers Design Competition at IFA 2015, a global tradeshow for consumer electronics and home appliances held in Berlin in September.
The products to be launched include a food printer, which creates food with capsules and edible ingredients, and a handheld scanner printer.
XYZPrinting executives point out that although the company had already released the food printer, it did not immediately make them available for sale because it had not completed the establishment of distribution channels and found suppliers of food materials for the food printer. So far, the food printer has successfully printed a range of dishes, from chocolate, cookies to pizza.
Now, the company is considering selling the food printers on online stores or directly to restaurant and bakery operators.
Also the company plans to begin shipping its 3D scanner printer in November, with Europe, America, Japan, South Korea, Taiwan and mainland China projected to be the primary markets in initial stage.
XYZPrinting executives point out the 198-gram scanner printer comes with a very convenient hook in the ear-hanger design, which enables the handheld scanner to firmly hang on a laptop or a tablet PC. Also, a USB port allows the scanner to read content inside flash sticks.
Simon Shen, XYZPrinting Chairman, feels optimistic towards market outlook of the company's 3D printers, saying that they will integrate with smart applications to make easier tasks that used to require more labor input.
Company executives point out that the company shipped around 20,000 3D printers for various purposes throughout the first half of this year, close to 70% of the number it delivered last year alone. They expect the food printers and miniature scanners to give a boost to the company's sales for the rest of this year.
In addition to 3D printers, the company also emphasizes the sales of its smart robots and smart heartbeat-sensing sports shirt. Company executives point out that the robot, dubbed XYZrobot, is the company's other new product that debuted at IFA this year.
This robot, equipped with global positioning navigation, monitoring, teleconferencing, and topographic functions, enables its users remote control via smartphones or tablet PCs connected to the Internet.
The smart sports shirt can detect a user's heartbeat to enable pulse tracking so one is more aware of the rigorousness of workout and calories burnt during exercise; while the garment is installed with five private coaching apps.