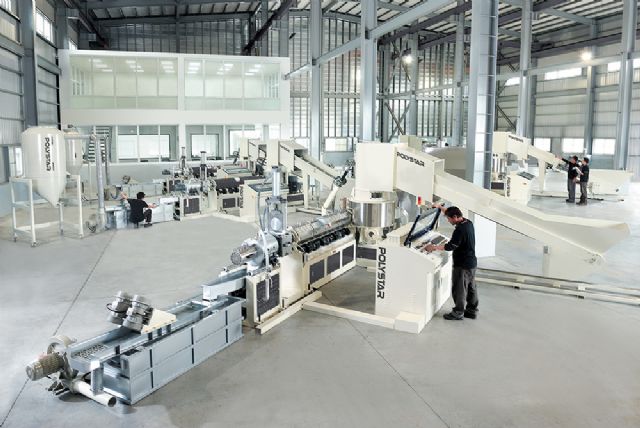 Polystar's plastic-recycling machines are assembled and tested in-house to strict quality standards.
With plastics widely applied as affordable, flexible packaging of food, crops, cosmetics and other consumer products in every corner of the world, ever more plastic-processing machinery is developed with advanced technology and components to improve performance and functionality. One supplier of this kind in Taiwan is Polystar Machinery Co., Ltd., whose blown-film machines, co-extrusion blown- film machines and plastic recycling machines for the flexible packaging industry are well received by distributors and end-users worldwide for the said reasons.
Established in 1988 in Taiwan's southern metropolis of Tainan, Polystar is a veteran developer and manufacturer in the line, able to compete globally mainly due its decades-long experience and rich knowledge of plastic processing machinery. Over the past decades, the firm has worked out many feature-packed machines.
Among the company's best-known seller is the NHT-V plastic recycling series, which is a three-in-one recycling line incorporated with a crusher/grinder, extruder and pelletizer, and can recycle waste bags, films, flakes of LDPE, HDPE, LLDPE, PP, BOPP and EPS. The high-efficiency, multi-tasking machinery requires only one operator to handle, and features effective mixing, stable extrusion and high productivity, with the screw diameter available in sizes from 65mm to 150mm.
The firm's HNT series plastic-recycling machines are also popular with packaging material makers on tight budget. For example, the firm says it has delivered several sets of its HNT-85V recycling machine to Kenya, mainly used for production of shrink films, shrink bags and sleeves, stretch films and PE sheets for packaging of dairy products, tea and coffee in the country.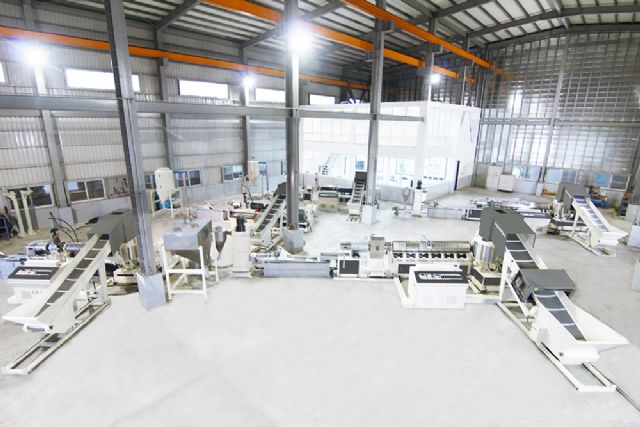 Polystar's integrated plastic-recycling system.
One feature among others behind the proven popularity of the machine model is the high quality of output, as reflected by the fact that plastic pellets produced from the recycling machines can be used as material for production with minimal reprocessing. This machine produces about 220 kilograms of recycled pellets per hour and consumes 10% less power than comparable models, being perfect for in-house recycling at packaging film production factories.
Also notable is that the cutter-integrated, easy-to-operate plastic-recycling machine recycles whole film rolls without the need for pre-crushing, pre-cutting, and then pre-conditions the material for the extrusion process, which streamlines material feeding.
Plastic-recycling equipment aside, the firm also supplies plastic pelletizers, inflation machines, film-recycling lines, and co-extrusion blown-film machines.
Aiming to become a market-leading player, the company draws on its know-how to not just supply high-performance, high-quality machines, but also offer all-around services, from spare parts delivery and online technical support to troubleshooting.
Obviously a world-caliber firm in the line, Polystar has been certified by European ISO-9001, CE, United States D&B and Taiwan's TAITRA, and has memberships in SPE (Society of Plastic Engineering, USA) and Anipa (Mexico), backed by solid reputation in the line.
Bolstered by abundant experience in OEM (original equipment manufacturing) for a European customer, the company has moved upmarket to OBM (original brand manufacturing) by launching its "Polystar" brand in 2010, and has successfully forged partnerships with quite a few large-sized clients worldwide. Today, this versatile supplier has built footholds in more than 70 countries.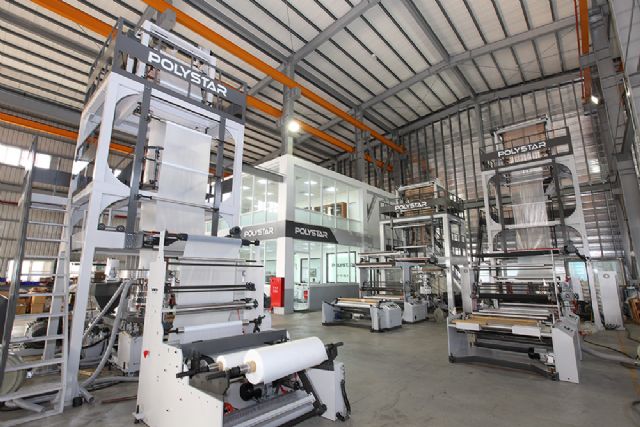 Polystar's co-extrusion machine.
Polystar Machinery Co., Ltd.
No. 101, Lane 279, Fuchiang Rd., Sec. 1, Yungkang Dist., Tainan City, Taiwan 710
Tel: 886-6-273-0889
Fax: 886-6-273-0887
Email: sales@polystarco.com
Website: www.polystarco.com