Siemens Limited Taiwan, the subsidiary of Siemens AG of Germany focusing on the areas of electrification, automation and digitization, recently announced to help Taiwan's Formosa I Wind Power Co., Ltd. (Formosa) to build the Formosa Phase 1 offshore wind farm, the first offshore wind-power project of the island and Siemens' first offshore project in Asia outside China, according to Erdal Elver, president and CEO of Siemens Taiwan.

Siemens Taiwan said that Siemens Wind Power and Renewables have signed a wind-turbine supply agreement for the Formosa 1 Offshore Wind Farm Phase 1 (Formosa Phase 1) offshore wind farm with the power provider Formosa, a reinvested subsidiary of Swancor Ind. Co., Ltd., a Taiwan Stock Exchange (TWSE)-listed company. The preparation work for the implementation of the project has been kicked off and will call for two wind turbines.

The Formosa Phase 1 project will be set up  around 6 kilometers off the west coast of the Miaoli district (central Taiwan) in the Taiwan Strait with water depths around 15 to 30 meters. The Siemens model SWT-4.0-120 wind turbines with the G4 product platform, each with capacity of 4 megawatts, will be used in the project. The Siemens wind turbines will be installed on monopile foundation to meet the specific seabed conditions at the site.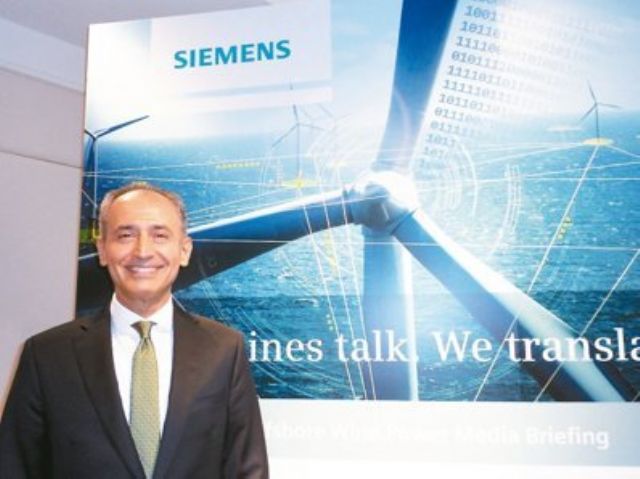 Erdal Elver, president and CEO of Siemens Taiwan, introduces the company's wind turbine product. (photo from UDN)
In addition, Siemens Taiwan said that it has been contracted by Formosa for 10 years to service and maintain the turbines to ensure reliability and optimal performance. From its remote diagnostic center in Brande, Denmark, Siemens will monitor the turbines so that service planning can be optimized, with the service agreement marking Siemens' first of its kind for an offshore wind project in Taiwan.
Formosa's chairman Robert Tsai said his company is a pioneering developer of offshore wind farms in Taiwan and is pleased to select Siemens as a strategic partner for its excellent turbine performance.
Formosa
Phase 1
As one of the first offshore projects in Taiwan, Formosa Phase 1 will play a key role for Siemens in the emerging Asian markets as well as for Taiwan. Elver said: "It symbolizes an important milestone on the development of Taiwan's renewable and offshore wind power. Through the cooperation between Siemens and Formosa, we are looking forward to helping Taiwan develop a diverse energy mix. Furthermore, it fulfills our 'Grow Taiwan Together' mid-term plan and enables us to move forward a big step to assist Taiwan to develop its clean energy and at the same time to pave the way for its sustainable energy future."
After having decided to decommission two nuclear power plants over the next few years, the Taiwanese government has adjusted its policy to expand offshore wind power generation to a total capacity of 4,000 megawatts by 2030, equaling the total power generated from about 800 offshore wind turbines.
In addition to the state-run power company Taiwan Power Co., the Ministry of Economic Affairs (MOEA) has chosen two other wind-power companies to take part in different offshore wind-power demonstration projects, including Formosa and Fuhai SPV (a reinvested subsidiary of Taiwan Generations Co. of Taiwan). The government requires the three companies each to complete construction of two wind turbines with capacity of over 3.6 megawatts by 2016.
Siemens' SWT-4.0-120 G4 platform wind turbines each supplies 4 megawatts for the Formosa Phase 1 offshore wind farm. (photo from Siemens Taiwan)
Taiwan Power has announced to invite bids to build two offshore wind turbines by year-end, and another one for 20 turbines by 2016. By 2020, each of the three companies is required to install offshore wind-power capacity of 100 megawatts.   
Elver said that Taiwan's west coast offers abundant offshore wind-power resources, and the potential capacity within water depth of 50 meters outstrips 6,000 megawatts, far higher than that in Europe. In as short as 14 years, he added, renewable energies in Europe account for 26 percent of total power generation, from 7 percent before, including 9 percent from wind power. Currently in Taiwan, renewable energies account for only 4.9 percent of overall power generation, including 0.8 percent from wind power.
Biz Opportunities
As result of Taiwanese government's announcement to invest some NT$27 billion (US$90 million) to install offshore wind-power capacity of 4,000 gigawatts, different parties have been watching closely the potentially lucrative business opportunities created from such projects, in addition to the said project involving Siemens.
In late July, Teco Electric & Machinery Co., an established heavy-duty electrical-machinery group in Taiwan, and China Steel Corp., recognized as the largest steel maker in Taiwan, launched a wind power joint venture targeting the offshore wind turbine business, with initial capitalization of NT$600 million (US$20 million) and Teco's chairman Liu Chao-kao elected also as chairman of the new company.
Backed by ample experience in the machinery and power generation industries, Teco has been aggressively developing wind-turbine business and has received both domestic and international orders. The new joint venture in a statement said that it plans to acquire wind turbine manufacturing technology from European firms and plans to develop its own products for markets in Asia and North America. In early September, the new venture also signed a technical cooperation agreement with Darwind of Netherlands.  
Teco's chairman Liu recently said that by the end of 2015, the joint venture will install its first offshore typhoon-proof wind turbine with capacity of 5 megawatts at the domestic Metal Industries Research & Development Centre (MIRDC) in southern Taiwan, and the new company will bid for Taiwan Power's wind-farm equipment contract scheduled late this year.
Through bidding for Taiwan Power's offshore wind-farm projects, Liu said that Teco and CSC are tapping opportunities in the development of the local wind-power industry. The new venture, Liu said, will purchase its first wind turbine from Darwind in the initial stage, and gradually raise the local content to 70 percent in the second stage, when the new venture will tender for Taiwan Power's scheduled wind-turbine project. In the third stage, when Taiwan Power will invite tenders for supply of 20 turbines, the venture is scheduled to raise the local content to about 90 percent. After which, the chairman said that the venture targets to win all the turbine orders in Taiwan and also plans to export such products.
The increasing investments in wind power in Taiwan is also creating a more rounded supply chain for making related equipment, of which Teco focuses on development and production of electro-mechanical equipment and motors, CSC on inverters and converters, Formosa Plastic Group (FPG) on carbon-fiber materials (for making turbine blades), etc.