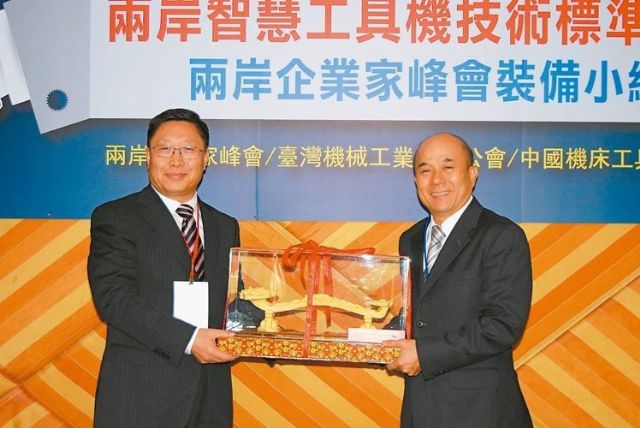 CMTBA's Chen (left) and TAMI's Ke suggest that machine-tool industry on Taiwan and the mainland to co-develop communication protocol standards.
Machine tool trade groups of Taiwan and mainland China have announced to co-develop communication protocol standards for Internet-connected machine tools to prepare for smart manufacturing projects worldwide, a trend that is gaining momentum and industry attention globally.
Taiwan Association of Machinery Industry (TAMI) and China Machine Tool & Tool Builders' Association (CMTBA) made the announcement after meeting on Oct. 21 in Taichung, the home to Taiwan's machine-tool industrial cluster.
Both TAMI Chairman C.B. Ke and CMTBA Chairman Chen Hui-ren pointed out that as pressure to transform intensifies in the Taiwanese and mainland Chinese machine-tool industry, without mentioning issues as labor shortage, rising costs and the expanding role of the Internet of Things in manufacturing, Internet-based smart manufacturing provides a good starting point for cooperation between the two trade groups.
Chen noted that smart manufacturing plays the pivotal role in the "Made in China 2025" project, an industry-promotion strategy announced by Beijing aimed at turning the mainland into a "world manufacturing power" from a "world manufacturing factory" by 2025, to be achieved by developing innovative information technology, high-end numerical control machine tools and robots, aerospace equipment, marine-engineering equipment and high-tech ships, railway equipment, energy-saving technologies and new-energy vehicles, nuclear or renewable power equipment, biochemical medicines and high-tech medical devices, nano-materials, and information integration system for agricultural machinery.
Ke said that given the coming smart-manufacturing era, Taiwan's machinery builders must make most of their advantages to develop smart machines. However, the lack of communication protocol standards for Internet-connected smart machine tools will undermine or defeat smart-manufacturing development if machine controllers, smart robots, sensors, mobile devices, Internet-linked machines, and industrial data from different suppliers use dissimilar protocols that prevent intercommunication. 
Accordingly, the two trade group leaders suggested that the industry on both sides should work together to develop standard protocols to enable symbiosis or complementary effect and strengthen cooperation.
By the end of this year, machine-tool industry representatives from both sides will work together on a developmental roadmap of smart manufacturing for the industry on Taiwan and the mainland and sign a cooperative framework agreement at a meeting scheduled to be held in Nanjing, China.
Ke pointed that out that the global economic slowdown has hit the machine tool industry on both sides, compelling Cross Strait manufacturers to develop high-end equipment.
According to statistics released by Taiwan's customs office, in the Jan.-Sept. period Taiwan shipped US$2.41 billion of machine tools, sinking 13.4% year on year. Mainland China alone absorbed 29%, or US$701 million, of the Taiwan shipments, down an annualized 23.2%. The mainland has been Taiwan's top export destination for machine tools, once accounting for a peak 40% of Taiwan exports.