Trade show hosts some 1,600 exhibitors from 42 countries or up 12% from 2009 edition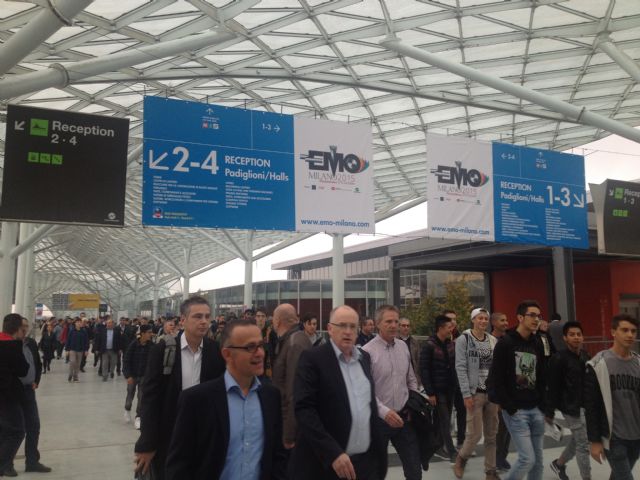 EMO Milano 2015 draws over 150,000 visitors during its 6-day run beginning October 5 in Milan, Italy.
With the European Central Bank recently hinting strongly of more quantitative easing to fuel the slowing economic recovery in the EU and amid growing optimism toward the continuous recovery of the global machine-tool market in 2015, EMO Milano 2015 rounded off with strong turnout and mixed impressions to help further pump growth momentum into the industry.
EMO is a globally top-2 exhibition for metalworking, industrial automation and machine tool sectors by size, alternatively held in Germany's Hannover and Italy's Milan every two years (twice in the former and once in the latter). The 2015 edition took place from October 5 through 10 in RHO Fiera Milano on the outskirts of Milan, Italy, which is recognized as one of the biggest exhibition facilities across Europe by gross area.
Organized by Efim-Ente Fiere Italiane Macchine SpA, and supported by Euroepan Association of the Machine Tool Industries, EMO Milano 2015 hosted some 1,600 exhibitors from 42 countries, 12 percent more than its earlier edition in 2009, with 66 percent coming from outside Italy, representing an increase of 2 percentage points.
During its six-day run, the show drew over 155,000 visitors and buyers worldwide, 51.4 percent being non-Italian. Of the total foreign visitors, 12.3 percent came from Germany, 6.9 percent from Switzerlands, 6.1 percent from Japan, 5.6 percent from France, 5.0 percent from Turkey and 4.4 percent from China. The turnout composed of a sizeable proportion of international visitors suggests a positive sign of robust market demand from all over the world.
Exhibits were well arranged. In Hall 1 and 3 were varieties of milling machines, boring machines, drilling machines, clamping devices, control and drive systems, key components and industrial robots; Hall 2 and 4 were full of turning machines, machining centers, gear cutting and surface finishing machines, parts and accessories, tooling systems, etc.; Hall 5 and 7 accommodated lathes, machining centers, transfer machines and unit heads, measuring instruments and machines, marking and engraving machines, disposal systems and safety equipment; Hall 6 and 10 were used to display cutting tools and tooling systems; Hall 9 and 11 were laid out with metalworking machines, 3D printing technologies and machines, electroerosive and electrochemical machines; Hall 14 featured grinding machines, tool grinding machines, honing, lapping and polishing machines, deburring machines, abrasive tools and products; and Hall 18 highlighted sawing and cutting-off machines, sheet metal cutting and forming machines, presses, bar, section and tube working machines, forging and extrusion machines, industrial ovens and heat-treatment systems.
Status of Major Machine-tool Builders
After widespread depression in 2013, the global machine tool industry experienced slow, but solid recovery in 2014, with the world's major supplying countries seeing mixed results. This, coupled with growing optimism among operators toward a better year in 2015, laid the foundation of encouraging turnout at EMO Milano.
According to statistics compiled by CECIMO (European Association of the Machine Tool Industries), global machine-tool output recovered to some euro 64 billion in 2014 from euro 62.76 billion in 2013, when the annual total significantly declined compared to euroe 72.41 billion in 2012. Of the 2014 total, 56.7 percent was generated in Asia and 36.1 percent in Europe. Meanwhile, global market demand also slightly grew 0.8 percent year on year to euro 62.5 billion.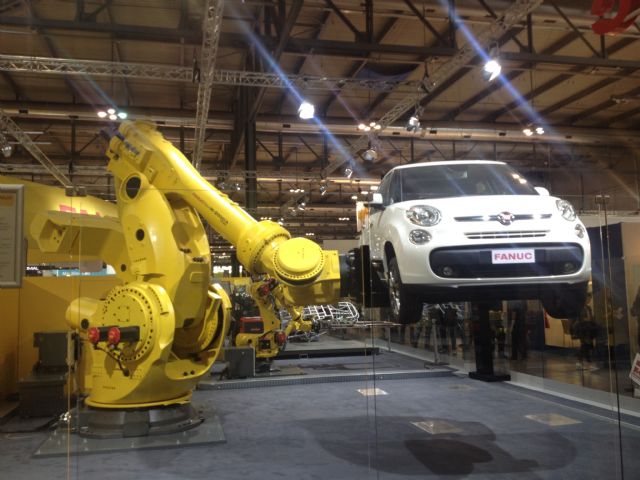 Robotic arms is a critical technology for industrial automation today.
China remained the world's largest machine-tool builder in 2014, with output value reaching euro 17.9 billion, 3.6 percent less than euro 18.57 billion in 2013. Contrasting the 2.1 percent drop in the country's overall market demand of euro 23.5 billion, the country's imports and exports showed impressing surge of 7.5 percent and 18.7 percent, respectively, to euro 8.15 billion and euro 25.5 billion, which suggests the local machine-tool industry may have just been reshuffled in the wake of the market meltdown in 2013. However, Chinese machine tool builders' future remains bright to some extent, given that the country has a policy to develop its own tech supply chains as part of its industrial restructuring plan.
Perhaps affected by lingering inertia among global buyers to invest in pricey fixed assets amid market uncertainty, Germany's machine-tool output dropped 3.8 percent yearly to euro 10.72 billion in 2014, while exports also dived 2.6 percent to euro 7.61 billion.
Benefiting from the cheap Japanese yen against the greenback, the Japanese machine-tool industry scored a strong growth of 22.4 percent in overall output of euro 10.19 billion, with exports surging 18.9 percent to euro 8.14 billion to make the country outstrip Germany as the largest machine tool exporter globally. In the meantime, the country's domestic market demand also sharply soared 31.5 percent to euro 2.71 billion in 2014, mostly thanks to various investment incentives offered by the Japanese government to local manufacturers. Despite its buoyant domestic market, the nation's import dependence rate, however, stood at only 24 percent in the year, when annual imports were valued at euro 66 million.
Europe's second-largest machine-tool builder, Italy, saw its output value grow 8.1 percent year-on-year to euro 4.32 billion in 2014 to become the world's fourth-largest player in the field. Regardless a 3.7 percent decline in its exports of euro 3.07 billion, the country remained the world's No. 3 exporter. Worth mentioning is that the country's domestic demand impressively picked up by 39.5 percent to euro 2.14 billion, indicative of the gradual recovery of the country's economy amid high unemployment and lingering debt trouble.
In Taiwan, the industry's output rebounded 7.8 percent to NT$145 billion (about euro 4.14 billion) in 2014, with exports also growing 5.8 percent to approximately euro 3.41 billion, according to statistics from the Taiwan Association of Machinery Industry (TAMI), the island's only trade group of machinery builders.
As to the outlook in 2015, global machine-tool output is expected to remain on par to 2014, or to keep growing. Boding well for potential growth is Japan's strong export orders, which totaled 939.1 billion yen during January-July for a 13.3 percent increase over the same span of 2014 as reported by Japan Machine Tool Builders' Association. Among market observers who are optimistic is Global Industry Analysts, Inc., which forecasts the global machine-tool market to expand to US$80.07 billion (around euro 70.8 billion).
Output Value of Top-10 Machine-tool Building Countries Unit:euro Bn.
Country

Output Value in 2013

Output Value in 2014

Year-on-year Growth Rate

Global Market Share in 2014

China

18.577

17.908

-3.6%

28.0%

Germany

11.145

10.720

-3.8%

16.7%

Japan

8.326

10.192

22.4%

15.9%

Italy

3.997

4.320

8.1%

6.7%

S. Korea

3.996

4.237

6.0%

6.6%

The U.S.

3.732

3.687

-1.2%

5.8%

Taiwan

3.416

3.537

3.5%

5.5%

Switzerland

2.356

2.560

8.2%

4.0%

Australia

0.888

0.906

2.0%

1.4%

Spain

0.937

0.891

-4.9%

1.4%

Source: European Association of the Machine Tool Industries
Industrial Robots
Driven by increasingly promising market prospects as mentioned above, many globally leading firms chose this year's EMO Milano to exhibit their most impressive technologies and machine models; while various advanced industrial robots applicable to machine tools for enhanced efficiency and productivity helped to set the tone.
For instance, Germany-based KUKA, a world-leading developer in the sector, promoted its brand new "LBR (lightweight intelligent robot) iiWA" series based on the concept "ii Feel You." Developed as an "intelligent industrial work assistant" to realize safe, efficient human-robot collaboration, the multi-axis-articulated robotic arm is built with integrated torque sensors in all seven axes for excellent tactile detection capability and programmable compliance, which enables automation of delicate assembly tasks of force-controlled joining operations and process monitoring.
Thanks to precision sensors coupled with unique safety technology for collision protection, the LBR iiWA responds to the slightest external forces to reduce velocity immediately in case of unexpected contact. Also, the robotic arm, with the kinematic system based on human arm, is incredibly agile and easily reaches positions as programmed with minimal limits. Payload capacity of the series is 7 and 14 kilograms, with gross weight of only 22.3 and 29.5 kilograms, respectively. With unparalleled functionality along with sleek, futuristic exterior, this robot signals the arrival of a new era of sensitive robotics to live up to KUKA's slogan.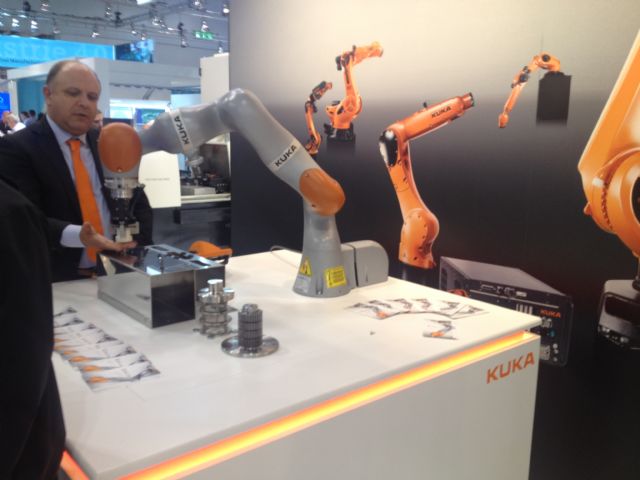 Kuka's LBR (lightweight intelligent robot) iiWA opens a new era in sensitive robotics.
Not to play second fiddle to KUKA, Japan's Fanuc also showcased a full line of dexterous small, medium and heavy-duty robotic arms at the show, including CR-35iA, which, Fanuc emphasizes, is the world's first collaborative robot with 35- kilogram payload, and highlights special sensor technology to ensure completely safe stop-on-contact and enable side-by-side work with humans without need for additional safety fences and devices. More notable is that the CR-35iA is covered in a soft, fire-resistant skin that covers pinching points and sharp edges while providing cushion against impact.
Also setting the CR-i35A apart from competing models is Fanuc's independently developed, optional object-recognition sensors, including 3D Area Sensor, which enables the robot to pick randomly distributed parts from a bin, and Vision Sensor, which enables the device to locate workieces, read bar codes and sort items by colors. The six-axis, 990-kilogram articulated robotic arm is ideal for repetitive work that easily exposes workers to the risk of strain and injuries, while being durable and resistant to dust and moisture.
The two firms' safety-oriented robotic arms address the growing concern about safety of human-robot work environment, especially significant after a robotic arm crushed during maintenance a worker to death in Volkswagen's factory in Germany in late-June 2015. So, more and more robotic arms are developed with advanced sensor and detection technologies to become not just safer, but more dexterous and functional, which, in turn, make industrial automation using robotics more feasible in the near future.
Heavy-duty Machine Tools
Mainly applied in processing large-sized, complicated workpieces for energy, automotive, aerospace, etc. industries and requiring higher technologies and techniques to produce, heavy-duty, multi-task machine tools have become attention grabbers at global machine-tool trade fairs over the past few years, including this year's EMO Milano.
Soraluce from Spain provided a striking example by demonstrating its SORALUCE FMT multitask center, highlighting precise milling and turning of large and complex parts to show versatility and safety. This machining center has an X, Y and Z axis traveling 4,000mm, 1,800 and 1,300mm, with spindle power of 43kW and a tool magazine storing over 150 tools. The machine can complete turning, milling, boring, drilling and threading in a single run for various critical components and parts. A large work area aside, the machine also features "total accessibility," achieved by extensive glass surfaces in both the front and sides, and complete front and upper opining of doors and large-sized enclosure.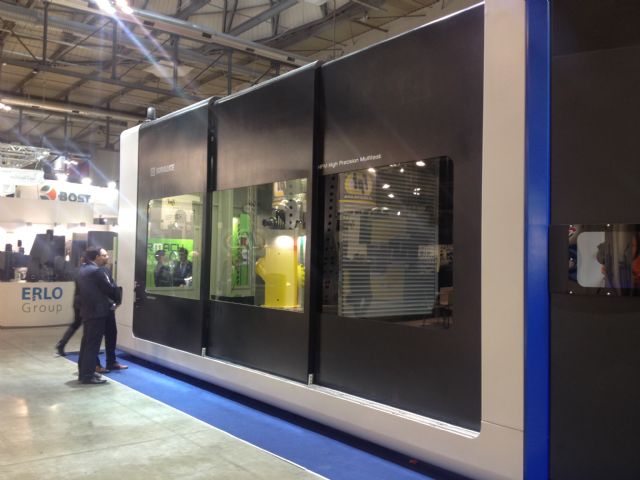 High visibility and accessibility to large work area is common feature of large-sized machining centers.
The Italy-headquartered Pama S.p.A. did not disappoint by showcasing large-sized machining centers, boring and milling centers and floor type horizontal milling machines. The Vertiram series vertical machining centers come in gantry and movable table type, both of which are available with a fixed or movable crossrail and turning table. The series is noted for a wide range of clearance between the columns from 2,100 to 10,100mm, with Z-axis traverse from 1,300 to 2,500mm. The X- and Y-axis move via rack and preloaded double pinions, or dual drive, for backlash-free operations, while the W-axis movement is controlled by two independently driven, high load-capacity rotating ball screws for well paired balancing. The Vertiram targets mainly end-users from aerospace, die & mold, earth moving, diesel engine, energy and other industries involved in general machining of large parts.
Also from Italy was Lazzati S.p.A., which displayed its floor-type high-performance boring-mills. The machine features traverse of 700-1200mm in W axis (boring spindle), 700-2000mm in Z axis (ram), 2000-7000mm in Y axis (headstock) and 4000-N°x1000mm in X axis, as well as the firm's independently developed hydrostatic spindle bearings, which help to enhance processing accuracy of internal boring and external milling.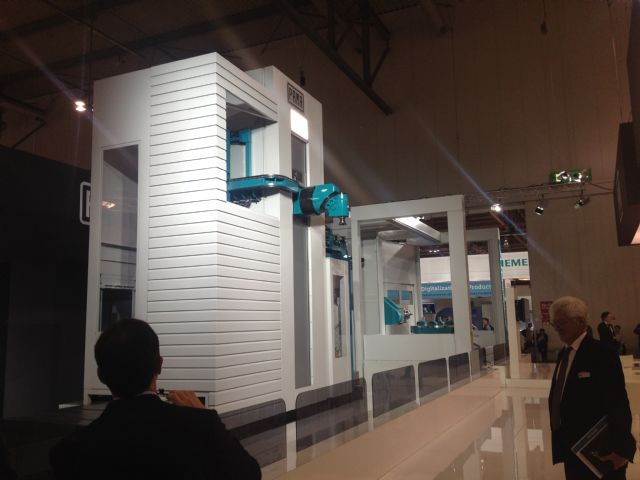 Large machining centers for heavy-duty machining of complex workpiece attract ample attention.
High-profile Machines from Japan
Machine tools made in Japan enjoy solid recognition comparable with those of German-made models, and have gained increasing popularity in the past few years when the weak Japanese yen has made them even more attractive to buyers fond of high-performance machines from the most industrially advanced country in Asia. This year's EMO Milano saw Japan's most globally prestigious machine-tool builders again impress visitors from all over the world.
For example, Yamazaki Mazak occupied an open, spacious booth in Hall 7 to showcase a full line of its machining centers, including Integrex multi-tasking machines, 5-axis machining centers, CNC turning centers, vertical machining centers, horizontal machining centers, laser processing machines and various peripherals such as gantry loader systems, robot smart cells, laser FMS (flexible manufacturing systems), etc. for industrial automation.
The Integrex i200s horizontal multi-tasking machine has four axes (X, Y, Z and B) on the upper turret and two on the lower turret, with a main spindle, second spindle and milling spindle inside, enabling multiple-side, complex machining operation to be completed in a single setup. Ergonomically designed shape aside, the machine also features excellent accessibility to its large working area, efficient set-up, easy operation, large touch screen, centralized maintenance (parts and components requiring frequent maintenance are designed in one central area of the machine), high visibility of machining area for easier operation control, etc.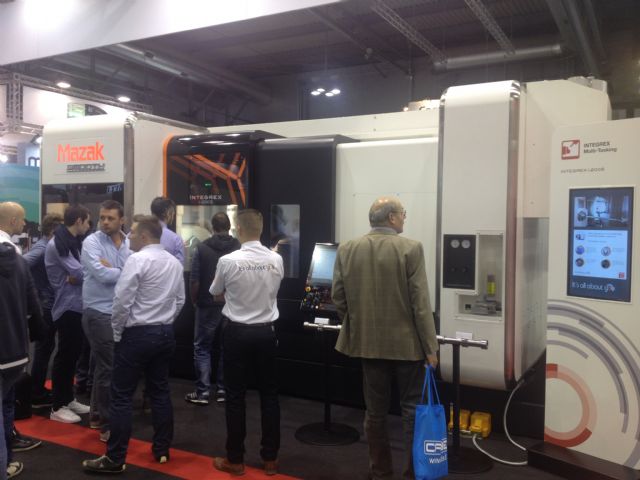 Yamazaki Mazak's Integrex i200s multi-tasking machine piques interest among visitors.
Understanding that profitability can be also gained by small footprint of machines along with high speed, Brother Industries, Ltd. promoted its compact machining center series, such as S500X1. The S500X1 is noted for not just its comparatively small size, but high speed achieved by greatly improved acceleration of X, Y and Z axis travel. In case the machine loads a workpiece around 150 kilograms in weight, the acceleration of X and Y axis can reach 2.0G and 1.3G, respectively, with acceleration of Z axis to hit 2.2G.
Another popular exhibit by Brother was the Speedio series R450X1 with pallet changer, featuring non-stop machining function achieved by the QT (quick turn) table, a high-speed, 2-face pallet changer developed originally in-house, which enables high-speed pallet change without lift-up operation, according to Takayuki Koyasu, supervisor of the firm's technical team and machine tool sales department, who said the machine can process any kind of metal parts with complex shapes.
Meanwhile, Takamatsu Machinery exhibited its newest XW-130m 2-spindle, 2-turret precision lathe, equipped with a power tool unit suitable for 8-inch chucks and maximum capacity of 20 power tools stored at once, to speed up the cycle time and achieve high productivity. The machine also drew ample attention from visitors for its patented spindle base cooling system, which, equipped as standard component, helps enhance stability of dimensional accuracy by suppressing thermal displacement of the bed and minimizing changes over time; as well as the patented vibration damping construction with built-in functional materials that reduce vibration.
Masatoshi Shimizu, vice president of Takamaz Machinery EUROPE GmbH, noted that significant improvement in work convenience with the set-up change is also among attractions of the XW-130m, attained through the low-center-of-gravity construction with spindle height optimized to only 1,000mm, which therefore allows operators to replace chucks and workpieces in a comfortable posture. Additionally, overhead lighting is installed as standard equipment to ensure improved work efficiency through a well-illuminated work area.
Japan's Brother showcases a full line of its Speedio series compact machine tools.
In addition, around 30 of Japan's best-known machine-tool builders, such as Yasda Precision Tools, Siemens Japan, Mitsubishi Electric, DMG Mori, Sodick, Okuma and Takisawa Machine Tool, were also present, all led by the Japan Machine Tool Builders' Association, which held a press conference on the second day of the show to promote the upcoming Japan International Machine Tool Fair 2016 (JIMTOF 2016), scheduled at the Tokyo Big Sight Exhibition Center from November 17 through 22. Foreign buyers who missed out Japan's top-grade machine tools at EMO Milano 2015 may attend JIMTOF 2016, which features bigger size than ever with new exhibition halls to retain its reputation as Asia's most significant and a globally top-5 machine tool exhibition.
Taiwanese Suppliers
Reputed for supplying reliable, affordable machine tools with high performance and functionality, around 140 Taiwanese exhibitors also turned heads at the show, mostly led by TAMI that occupied two stands in Hall 9.
Among Taiwanese exhibitors, Fair Friend Group, world's largest maker of machining center by size and operator of several brands, including Feeler, Leadwell and EQUIPTOP, promoted a wide range of machining centers at its booth that took up nearly half of Hall 2, including the U-800 5-axis vertical machining center.
The U-800 features a large work space that enables operators to more easily and clearly observe machining and milling process to control quality, and helps enhance efficiency of lift-up operation for large-sized workpieces; the U-shaped base and column which are made of high-quality casting and proven effective to eliminate possible gaps in the jointing interface; and three overlapped axes with two rotating axes, a design that helps better control curve tolerance and errors during 5-axix machining.
The machining center also has other features, including filing or debris removal function, an improved ATC (automatic tool changing) system consisting of a flat tool magazine accommodating up to 32 tools and servo tool changer, and built-in dual-drive turntable that provides high torque and high load capacity.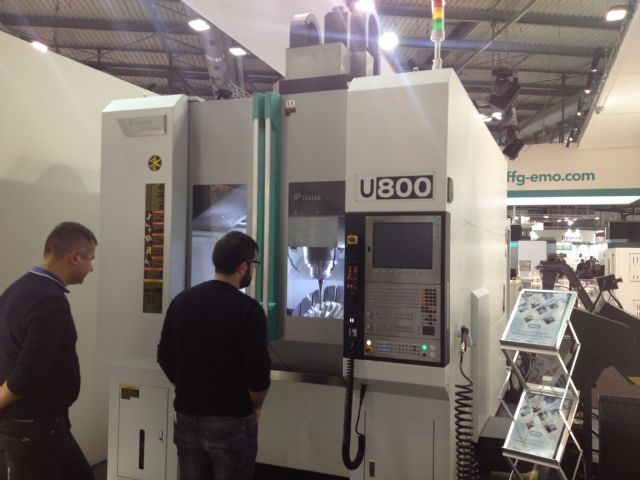 The U-800 from Taiwan's Fair Friend Group.
Awea Mechantronic, a Taiwan-listed subsidiary of Goodway Machine Tool Group, demonstrated its HD-3012 super-rigid bridge-type machining center, noted for its strengthened main cast structure that increases overall rigidity by 30 percent; a 6,000-rpm gear spindle equipped with a 26kW high-power spindle motor for heavy-duty cutting; X and Y axes adopting roller-type linear guideways along with Z axis using a high-rigidity box way, an optimized axial system enabling heavy table load and fast movement; large-sized ballscrew on X-axis that greatly improves capability of axial load and extends service life; and superior 7-kW servo motor on X-axis for enhanced axial thrust.
Goodway Machine Corp., flagship firm of Goodway Machine Tool Group, showcased its GTW-1500Y turret/gang tooling turning center, noted for the combination of turret and gang tooling systems for convenient programming, high efficiency and cost efficiency. Its brand new design of X-axis on sub-spindle provides high work efficiency, given that the gang tooling can be continued after the workpiece is fed from the sub-spindle. The machine's ability to machine complex workpiece with high accuracy is greatly enhanced thanks to the twin Y-axis function with driven turret coupled with the gang tooling system and C-axis.
Also holding booths in Hall 2, Tongtai Machine & Tool Co., Ltd. promoted its VU-5 Rotary Type Ultraonic-assisted Machining Center, which employs a PZT (piezoceramic) vibrator and horn and ER11 collet incorporating the firm's outstanding ultrasonic control technology to achieve tool axial vibration frequency of 15-45 kHz and maximum spindle speed of 20,000 rpm with incredible stability. Through periodical tool axial vibration, cutting resistance is decreased while finish quality is enhanced.
With X, Y and Z-axis, the VU-5 is noted for its modular design, equipped with the BBT-30 tool holder and high speed spindle to enable high efficiency machining, and the ultrasonic machining technology that not only reduces chipping but also enables the machine to handle micro-hole machining on hard and brittle materials, including sapphire, zirconia, ceramic, glass, hardened steel, etc. With coolant flowing through the spindle, chips can be effectively removed, while tool wear caused by high temperature and abrasive materials can be kept to minimum to prolong tool lifespan.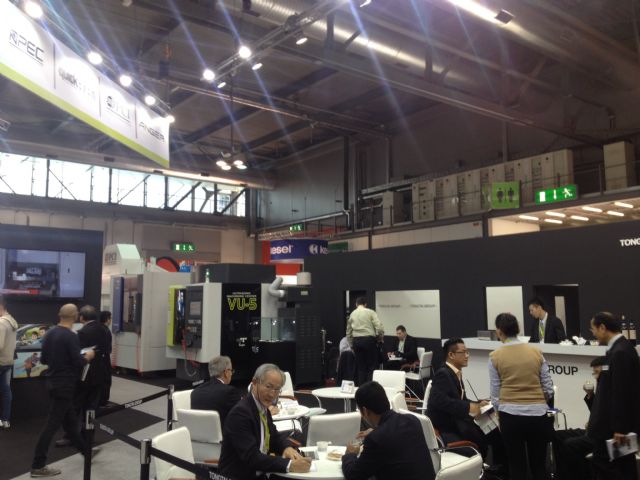 Tontai's booth in Hall 2 draws influx of buyers interested in the UV-5.
Other Taiwanese exhibitors with significant presence in the global supply chain of machine tools also included Hiwin Technologies Corp. (precision motion control components and robotic arms), Ching Hung Machinery & Electric Industrial Co., Ltd. (electrical discharge machines), Luren Precision Co., Ltd. (gear cutting tools, hob sharpening machines, worm threat grinding machines, etc.), Victor Taichung Machinery Works Co., Ltd. (milling and drilling machines, metal cutting bandsaws, etc.), Yoeng Chin Machinery Industries Co., Ltd. (CNC lathes, CNC turning and milling machines, etc.), and many others, who will continue to impress global buyers with mid-to-high-end machines at the Taiwan International Machine Tool Show, to be staged November 23-27, 2016 in Taipei.
As the most established, experienced export media from Taiwan, CENS held a booth in the Hall 1 to provide useful buyer guides, including 
Taiwan Machinery,
 and real-time business matchmaking services to global buyers sourcing high-performance plastic and rubber machinery from Taiwan. With extensive information about Taiwanese suppliers of nearly all kinds of machinery, CENS publications were sought-after by buyers.
The next EMO, scheduled September 18-23, 2017, will move back to Hannover, Germany.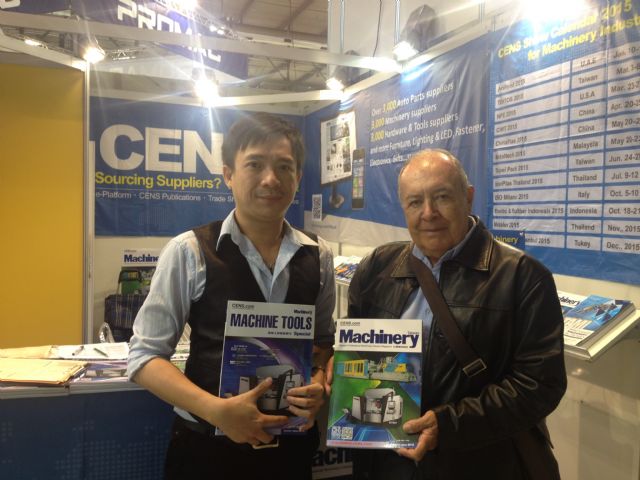 CENS buyer guides continue to be welcome among foreign buyers sourcing quality, high-performance machine tools from Taiwan.