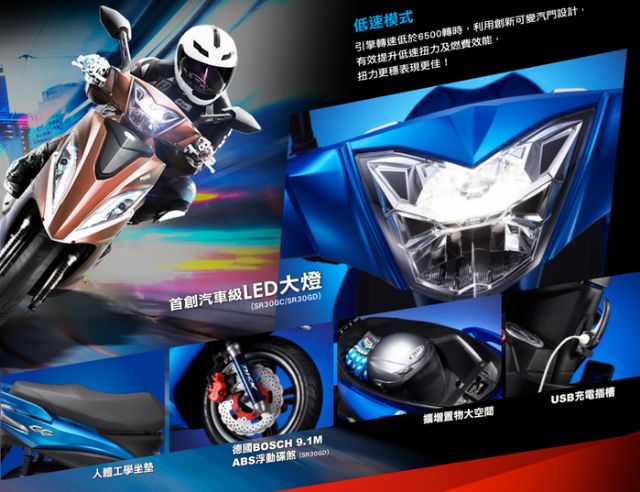 An upgraded 150cc scooter with Kymco's new variable valve-lift control system (VVCS) technology. (photo from KYMCO)
Sales of new powered two-wheelers (PTWs) in Taiwan continued on a recovering trend in September, increasing 4.8 percent from a year earlier, or year-on-year (YoY), to reach 74,156 units, according to statistics compiled by the Ministry of Transportation and Communications (MOTC).
However, September's sales volume was lower than originally expected, reaching only about 80 percent of the forecast by major PTW vendors; while the YoY growth rate was also lower than that in the previous months, which often outstripped 10 percent.
The lower-than-expected sales volume in September, a traditional peak month for new-PTW sales in Taiwan due partly to back-to-school purchases, also made Ke Jun-bin, president of Kwang Yang Motor Co., Ltd. (KYMCO), the No. 1 PTW vendor in Taiwan for 15 years in a row by volume sold, adjust down his forecast for the overall new-PTW sales volume on the island, from over 700,000 units to 670,000-680,000.
In the first nine months, accumulated new-PTW sales in Taiwan totaled 545,036 units, up 4.2 percent from a year earlier.
Local PTW vendors said that September and October are traditionally the peak months for new-PTW sales, as demand comes mainly from purchases by university freshmen who need commuting vehicles. They originally predicted that there would be about 80,000 units sold in September.
Ke attributed the lower-than-expected overall market volume in September to the advanced release of result for the university-entrance examination in June; and a big typhoon that hit the island in late September that delayed new-PTW licensing processes. 
New PTW Sales in Taiwan (Jan. - Sept., 2015)
Maker
Sept. Volume
Market
Share
YoY
Jan.-Sept.
Volume
KYMCO
28,234

38.1%

-2.1%

221,886

Yamaha Taiwan
25,505

34.4%

1.6%

169,615

SYM
11,330

15.3%

35.3%

87,136

PGO
4,570

6.2%

28.6%

31,394

Overall
74,156

100.0%

4.8%

545,036

Source: MOTC

Most PTW vendors are reserved toward rising sales in the fourth quarter, due to relatively weak GDP growth forecast and consecutively dropping exports in the last 9 months to sap the overall economic strength in Taiwan.
KYMCO again retained its lead in September by delivering 28,234 new PTWs, down 2.1 percent YoY but giving it a market share of 38.1 percent. The firm sold 221,886 units in the first nine months. The No. 1 vendor only suffered YoY volume drop in September, in which its market share also dropped to the rarely-seen 38.1 percent (typically over 40 percent). Ke explained that his company's new-model demonstration this year was a bit late due to delayed supply of some high-end key parts from foreign suppliers, coupled with the delay of the development project of the new variable valve-lift control system technology for a 150cc scooter. The relatively late demonstration of its new, high-end models led to decreased sales volume. The president, however, is still very confident in Kymco's retaining a market share of over 40 percent in 2015.  
Sanyang Motor Co., Ltd. (SYM brand, formerly Sanyang Industry Co., Ltd.), the No. 3 vendor, sold 11,330 units in September, for 35.3 percent YoY growth, the highest among the top-four. The company attributed the high growth rate to the lower comparison base of the same period last year. Since July 2014, SYM has been strictly asking all its distributors to clear inventories to render "realistic" sales figures.