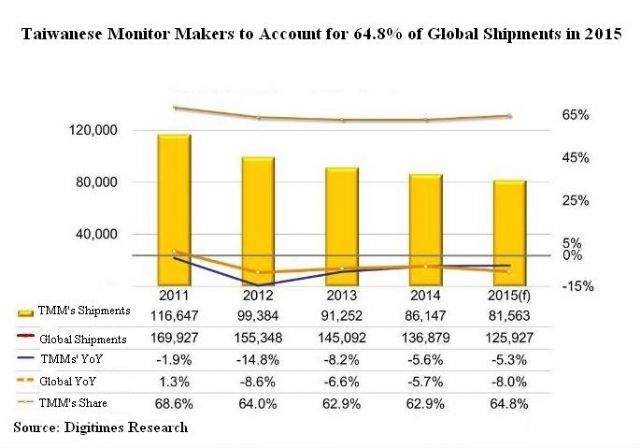 Taiwanese LCD monitor makers to account for 64.8% of global shipments in 2015. (Source: Digitimes Research)
Major Taiwanese makers together shipped some 20.61 million liquid crystal display (LCD) monitors in the third quarter of 2015, down 7 percent from a year earlier, or year-on-year (YoY), but up a modest 0.7 percent over the previous quarter, or quarter-on-quarter (QoQ), according Digitimes Research of Taiwan.
The average screen size is getting bigger, including the over-20-inch models for the first time accounted for over 70 percent of the overall shipments from Taiwanese makers. The falling prices of thin film transistor-liquid crystal display (TFT-LCD) panels, however, led to minor increase in monitors' average selling prices (ASP). In the third quarter, Taiwanese monitor makers' total production value was about US$2.35 billion.
Hon Hai Precision Ind. Co. Ltd., recognized as Taiwan's largest EMS (electronics manufacturing services) provider, reported an 8.1 percent QoQ shipment growth, the highest among Taiwanese counterparts; while in the third quarter the Taiwanese company pulled ahead South Korean rival Samsung Electronics to be the world's third-largest monitor maker. Hon Hai's major monitor clients include Dell, HP, Lenovo, etc.
Regarding prospects in the fourth quarter, Digitimes Research says that overall monitor shipments from Taiwanese makers are expected to see a 5.3 percent QoQ shipment growth in the fourth quarter, to about 21.7 million units, which is still a 2.4 percent drop from the same period of 2014.
The research firm has adjusted down its forecast for global LCD monitor shipments in 2015 to about 126 million units, an 8 percent drop from the previous year. It previously forecast a lower YoY decline of 4.8 percent. To 2015's global monitor shipments, Taiwanese makers are expected to contribute about 81.56 million units, representing market share of 64.8 percent, compared to 62.9 percent in 2014. The top-two Taiwanese makers of LCD monitors this year will not change, the company said, to be Hon Hai and Qisda Corp.
Digitimes Research noted that Intel's new Skylake processor has been just announced in August and September, creating only limited growth in global desktop PC shipments in 2015 (and monitor shipments as well). The firm also added that Samsung and LG's monitor sales suffered higher decline rates compared to that of major rivals such as Dell, HP and Lenovo; while Chinese monitor vendors' shipments are also seeing decrease. That means, it added, Taiwanese monitor makers' total global share will further rise this year.