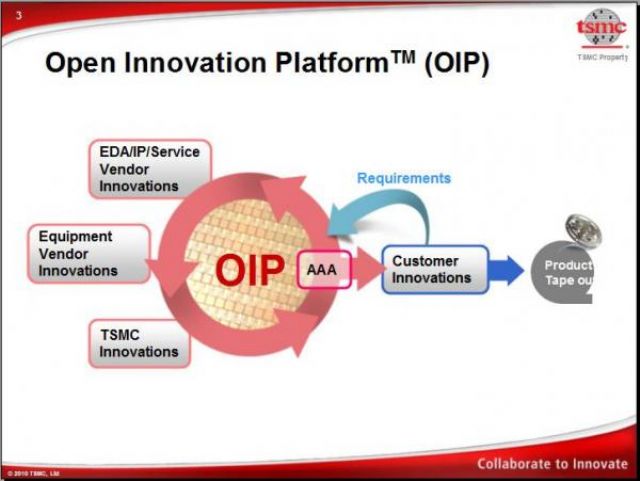 The concept of TSMC's Open Innovation Platform. (photo from Internet)
The Industrial Development Bureau (IDB) of the Ministry of Economic Affairs (MOEA) recently announced survey results related to the top-20 Most Innovative Companies in Taiwan 2015, of which technology companies continue to account for the lion's share.
This regular survey, kicked off in 2011, is organized by the IDB and implemented by Boston Consulting Group (BCG). The rankings are derived based on four factors: overall development in a company, company's innovation strategies, investments in innovation and innovation management.
Taiwan Semiconductor Manufacturing Corp. (TSMC), recognized as the world's largest integrated circuit (IC) foundry, grabbed the top ranking in the 2015 survey thanks to the company's "Open Innovation Platform". The maker says that the TSMC Open Innovation Platform hastens the pace of innovation amongst the semiconductor design community, its ecosystem partners and TSMC's intellectual property (IP), design implementation and design for manufacturing (DFM) capabilities, process technology and backend services.
Examples of innovation capability are also found in traditional manufacturers, making Giant Manufacturing Co., Ltd., recognized as the largest assembled-bicycle maker, and Hiwin Technology Corp., a developer and maker of precision machinery components that is the No. 37 Most Innovative Growth Companies 2015 according to Forbes, the the No. 9 and No. 13, respectively, in the 2015 survey. Textile company Eclat Textile Co., Ltd. ranked 11th thanks to its continuous launches of value-added textile products.
Hota Industrial Manufacturing Co., Ltd., a supplier of precision automotive transmission parts and an original equipment (OE) parts supplier to international automakers, is the only newcomer this year in the top-20 list. The firm is honored this year thanks to its capability in coordinating development with international customers.
Six companies in the service industry were in the top-20 list this year, including President Chain Store Corporation (operator of 7-Eleven chain-store), Taiwan FamilyMart Co., Ltd. (operator of Family Mart convenience chain-store), PXmart (operator of supermarket chain) etc., as well financial companies as CTBC Holdings and E.SUN Commercial Bank.
Wowprime Corp., the No. 2 in 2014, fell to No. 15 this year, to which IDB officials attribute relatively lesser number of recommendations.
Analyzing this year's survey, BCG said that its survey findings show that about 80 percent of the surveyed enterprises in Taiwan take "innovation" as their top-priority business development strategy, especially companies in technology, telecom, tourism and restaurant, healthcare and bio-technology etc. industries. However, the toughest challenge for companies pursuing innovation is the lack of talented professionals.
Regarding innovation strategies, BCG said that all companies with higher innovative capability and better strategies target international markets.
In addition, factors that continue to expand their influence on Taiwan's innovation capability include Big Data, Internet of Things (IoT) and cloud computing. Among them, Big Data can improve the quality of products and services, predict future business opportunities, upgrade decision-making efficiency; while IoT will create lucrative business opportunities in wearable device, industrial, and automotive product applications.
Some local semiconductor makers said that TSMC deserves the title of the most innovative company in Taiwan, as the IC maker has led in both local investment and R&D investment in the past four years in a row, which are a major indicator that the company has been gradually moving from targeting mainly innovating new business models to technological innovation. They also said that TSMC used to focus on catching up to counterparts in industrially advanced nations, but now the Taiwanese enterprise has become the world's leading wafer foundry service provider.
Furthermore, they added, TSMC always insists on technical independence, so the company has been investing intensively in R&D. TSMC's R&D/revenue ratio is as high as global semiconductor giants such as Intel. Currently, TSMC is accelerating its R&D work and trial-production of 10- and 7-nm processes. Amid the delayed 10-nm process of Intel, TSMC's production technology is expected to pull ahead Intel in 2017.
Top-20 Most Innovative Companies in Taiwan 2015

2015 Ranking

2014 Ranking

Company

1

1

Taiwan Semiconductor Manufacturing Co.

2

4

Asustek Computer Inc.

3

3

Hon Hai Precision Industry Co.

4

10

Largan Precision Co.

5

5

President Chain Store Corp.

6

7

MediaTek Inc.

7

15

FamilyMart

8

14

Advantech Co.

9

8

Giant Manufacturing Co.

10

6

HTC Corp.

11

13

Eclat Textile Co.

12

12

Pxmart Co.

13

11

HIWIN Technologies Corp.

14

16

Yulon Motor Co.

15

2

Wowprime Corp.

16

9

Delta Electronics Inc.

17

28

CTBC Financial Holding Co.

18

26

Chunghwa Telecom Co., Ltd.

19

--

Hota Industrial Manufacturing Co.

20

20

E. Sun Financial Holding Co.

Source: IDB