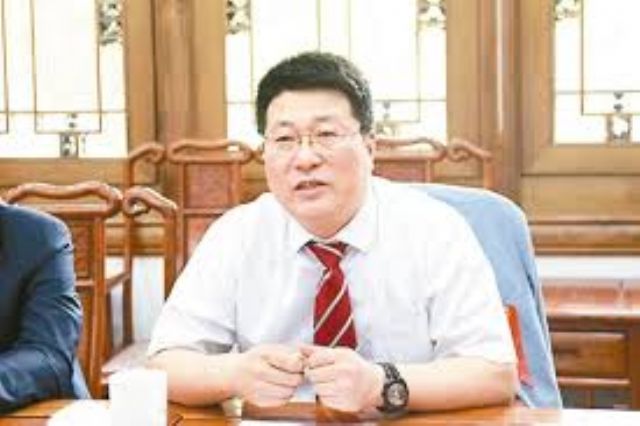 Tsinghua Unigroup Chairman Weiguo Zhao.
Shortly after acquiring a quarter stake in the Taiwanese IC assembler Power Technology Inc. (PTI) for NT$75 per share, Tsinghua Unigroup Chairman Weiguo Zhao says he will immediately meet with his counterpart at the Taiwanese IC design house MediaTek Inc., M.K. Tsai, to discuss the merger of his company's Spreadtrum Communications Inc. and RDA Microelectronics Inc. with MediaTek to take on Qualcomm Inc., recognized as the world's No.1 wireless chip vendor, if the Taiwan government lifts its ban on mainland Chinese investments in the island's IC design companies.
At an international microelectronics forum held late October in Beijing, Zhao suggested that while further fostering the mainland's pivotal semiconductor companies by setting up more projects, Beijing should pressure Taiwan to open its IC design industry to mainland's investors by threats of prohibiting the island from selling Taiwan-made chips carrying Taiwan brands in the mainland. "Trade is a two-way street. So, don't feel shy to tell them," Zhao says as he implied that China allows Taiwanese investments to warrant reciprocity. 
Fear Triggered
Zhao's bold suggestion has triggered fear among Taiwan's chip companies given that Tshinghua Unigroup is a pivotal company in Beijing's ambitious plan to build a homegrown, integrated chip-making supply chain covering design, foundry, testing and packaging capabilities with a fund of around RMB150 billion (US$23.77 billion).
Taiwan's industry executives concede that once the mainland's authorities accept Zhao's advice, Taiwan's semiconductor industry stands to be pummeled, with heavyweight makers including Taiwan Semiconductor Manufacturing Co. (TSMC), Inotera Memories Inc., Nanya Technology Corp., and MediaTek to be hit the hardest.
They say most of the island's fabless companies still depend on local silicon foundries and chip assemblers due to the mainland's relatively weaker capacities in the two chip-making techniques.
A Laggard
The mainland's semiconductor industry is a laggard so it has to depend on foreign sources for most of its equipment, making the world's No.2 economy the globally leading market for semiconductor devices. Qualcomm, for instance, generates around half of its revenue, which posted at US$26.5 billion including a net profit of US$7.97 billion in 2014, from sales to mainland China's smartphone makers.
Since most of Qualcomm's profit in the mainland comes from its costly royalty charge on many basic patents it has long monopolized, early this year the mainland's authorities fined it RMB6.08 billion (US$964.81 million) for such domination. Zhao suggests the mainland's authorities use the fine to finance R&D projects of the mainland's wireless-chip designers, including Spreadtrum.
To quickly build its chip-making industry, the mainland's authorities are financing local chip companies like Tsinghua Unigroup in global acquisition projects. Jiangsu Changjiang Electronics Technology Co., Ltd. has used the fund to acquire the Singaporean chip packager and tester STATS ChipPAC Ltd.; Hua Capital Management Co., Ltd. has acquired the American design house OmniVision Technologies Inc.; and Montage Technology Group Ltd. has issued an offer to purchase Pericom Semiconductor Corp. of the U.S. for US$430 million.
Spate of Deals
Tsinghua Unigroup itself has acquired Spreadtrum and RDA to become the world's No.3 wireless chip vendor, next only to Qualcomm and MediaTek. Also, it has bought into the American computer hard-disc maker, Western Digital Corp., and issued an offer to acquire Micron Technology Inc. of the U.S., a world leading DRAM chipmaker that partly owns Inotera.
Moreover, it has poached a former MediaTek executive and the former chairman of both Nanya and Inotera, Charles Kao. In Taiwan, the company's most prominent deal is taking over a 25 percent stake in PTI for around NT$19.5 billion (US$596.33 million), to become the largest shareholder of the Taiwanese chip assembler.
Zhao stresses that although Nanya and Inotera are world-leading DRAM chipmakers, his company has no plan for the time being to tap the market. Instead, this company is building up its NAND flash memory capability and the acquisition of PTI will make the work more complete. "Compared with DRAM, NAND flash memory has wider application range," Zhao says. Cooperating with Intel Corp., Zhao emphasizes, enables his company to set up manufacturing and R&D capability for NAND flash memory.
Zhao adds that Kao has not been invited to help the company enter the DRAM market, but, instead, will provide knowledge on chip-factory building and management not to mention his well established personal network.
After the PTI deal, Zhao says that his company has no plans nor need to buy any other Taiwanese memory chipmaker.
Profit-oriented
But his company is eager to invest in Taiwan's IC design houses, MediaTek in particular. Zhao stresses that the only motivation behind such investments is to create maximum benefit for both Taiwanese and the mainland's chip companies on the global market through cooperation. "Pursuing profit is the primary goal of an enterprise going global," he says.
Zhao points out that the U.S. owns the world's strongest IC design industry mainly because the nation adopts measures that are opposite to those employed by Taiwan's authorities. "America has a liberalized investment environment whereas Taiwan imposes too many restrictions on investments," he notes.
With such restrictions, Taiwan's IC design industry has fewer tools to lure capital for expansion, thereby making it less active and positive. "If the restrictions target investments from mainland China, they won't be conducive to the development of semiconductor industry on both sides of the Taiwan Strait," Zhao says.
Mixed Views
Views on Tsinghua Unigroup's holding of PTI and Zhao's tough stance on Taiwan's ban on mainland Chinese investment in the island's IC design houses are quite divided. PTI Chairman D.K. Tsai indicates that his company has not felt any threat from the rising "red supply chains" of the mainland nor the need to partner with the mainland's manufacturers until the mainland's competitors began vigorously building global presence by entering into strategic alliance and buying into international competitors.
Taiwanese designers depending more on Western markets than on the mainland market are not feeling any urgent need to open the island's IC design industry to the mainland's investors.
MediaTek Chairman and Chief Executive Officer (CEO) M.K. Tsai notes that Zhao's suggestion of cooperation between the semiconductor industry on the two sides coincides with his company's stance.
Some local industry executives feel that MediaTek's open-arm gesture to Zhao's partnership talks hinges on the company's heavy dependence on the mainland market, where it is recognized as the No.1 supplier of mobile chips, and the mainland's energetic fostering of the competitor Spreadtrum.
Some say whether it is good or not to open Taiwan's IC design sector to the mainland's investors should be decided on a case-by-case basis, and the government should observe instead of intervene.