Due to a new model that has been designed to appeal to younger, fashion-conscious urban commuters launched few months ago, sales of electric scooters (e-scooters) in Taiwan hit a record monthly high in October since January 2012.

Statistics compiled by the Ministry of Transportation and Communications (MOTC) show that 1,237 e-scooters were licensed in Taiwan in October, compared to 897 units sold in the previous month. A total of 433 units of the Gogoro Smartscooter, said to be the world's first high-performance, battery-swappable, smart e-scooter designed to work with the Gogoro Energy Network (an advanced battery-swapping infrastructure for cities) were licensed in October on the island, making the new Gogoro brand the No. 1 vendor, compared to the 412 units sold by China Motor Corp. (CMC), which had been the top e-scooter vendor in Taiwan for several years by often taking a market share of over 80 percent.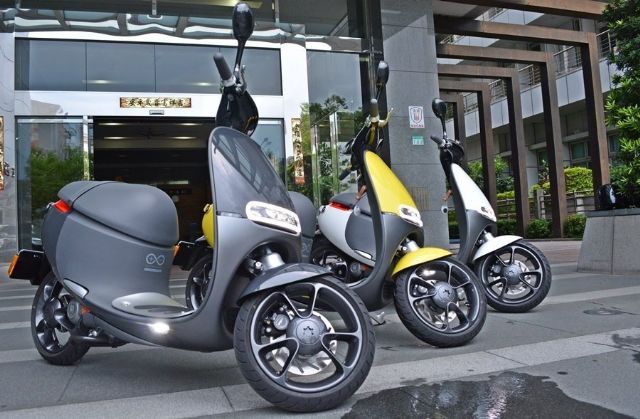 The Gogoro Smartscooter Lite, the entry-level version of the e-scooter, successfully helps Gogoro elevate sales volume and market share in Taiwan. (photo from UDN)
Kwang Yang Motor Co., Ltd. (KYMCO brand), Yamaha Motor Taiwan Co. (Yamaha) and Sanyang Motor Co., Ltd. (SYM), the top-3 vendors of internal combustion engine (ICE) powered two-wheelers (PTWs) last month sold 93, 51, and 1 e-scooters, respectively.  
E-scooter Sales in Taiwan (Oct. 2015)

Brand

Oct. Volume

Sept. Volume

Gogoro

680

330

CMC

412

464

KYMCO

93

69

Yamaha

51

31

SYM

1

0

Overall Market

1,237

897

Source: MOTC

Gogoro Inc., the developer and vendor of  Gogoro Smartscooters, is a relatively young Taiwanese company aiming to transform energy distribution and management in megacities. Not too many people were optimistic about the newcomer, especially when each of the Smartscooter is priced at more than NT$100,000 (US$3,333) excluding the lithium-ion battery pack, amid frequent news in Taiwan of stagnant wages, relatively low pay for college graduates that typically are lower than US$1,000 monthly, the bearish stock market of late, and discouraging news of the slowing economy in China.
Most of Smartscooters sold in October went to customers living in Taipei City and New Taipei City of northern Taiwan. In conjunction with market-expansion southward, however, Gogoro says it aims to sell 3,000 Smartscooters by the end of 2015 (the company kicked off vending the model in late July 2015). Gogoro confronted the big challenge of very low sales volume when it launched the Smartscooter in Taiwan, which is much more expensive than typical counterparts on the market, which drove the firm to decide to price the entry-level Smartscooter Lite at NT$62,000 (about US$2,000 with governmental subsidy; the original price is about US$2,900), down about 30 percent from the standard-equipment model. The more affordably priced entry-level model hence effectively stimulated purchase willingness.
According to MOTC's data, Gogoro sold only 330 Smartscooters in September, while its October sales volume increased 106 percent month-on-month (MoM) to command a share of 55 percent in the domestic e-scooter market. If taking only northern Taiwan into consideration, Gogoro in fact took a market share of 93.5 percent. In Taipei City only, the capital of Taiwan, Gogoro won a market share of 6.1 percent in overall PTW sales in October, making it the No. 4 PTW vendor; while in New Taipei City, Gogoro also has a 3.3 percent share in the overall PTW market.
Ming-i Peng, vice president of marketing at Gogoro, pointed out that in October, sales of other-brand e-scooters did not decrease, so the Smartscooter shows appeal to riders to further expand the domestic e-scooter market. He explained that the launch of Smartscooter has motivated many e-scooter potential buyers to make decision to enter the market, having been mostly influenced not by the price but functionality and stylishness of the e-scooter. Among the 680 Smartscooters sold in October, the vice president said, over 50 percent were the top-end "Plus" version, each of which is priced for NT$82,000 (about US$2,733 with governmental subsidy).
Gogoro said that since July this year, there have been some 1,700 Smartscooters licensed, so its first-year sales volume goal of 3,000 units is expected to be achieved smoothly. The company has kicked off establishing battery-swapping stations in cities outside Taipei and New Taipei, including targeting setting up 20 stations by year-end in Taoyuan, northern Taiwan. Such move, Gogoro said, is expected to motivate more customers in the near future.