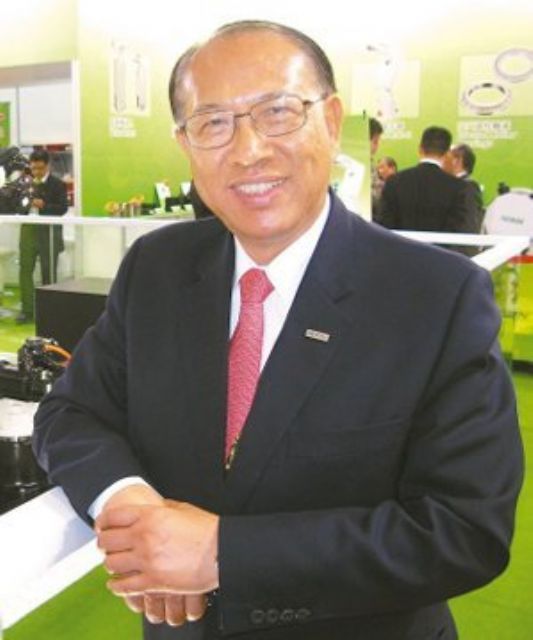 Hiwin Technologies Chairman Eric Chuo.
Chairman Eric Chuo of Hiwin Technologies Corp., recognized as Taiwan's No.1 maker of ball screws and linear guideways for machine tools, has announced his company's landing an order from one of the island's top chipmakers for 200 units of its wafer production line robots, which pick up and install silicon wafers.
The company will begin to deliver the order in the final quarter this year, marking its first step into the market for chip-making equipment.
Chuo concedes that the market for machine tool components remains weak into the fourth quarter, but brisk demand for industrial robots and automation equipment holds hope for his company to expect bright outlook for revenue in the fourth quarter.
Chuo also says the company will make an impressive breakthrough in its sales of industrial and medical robots next year.
A survey recently released by the mainland Chinese market consultancy, Shenzhen Gaogong Industry Research Co., Ltd., indicates that the mainland's 3C (consumer electronics, computer, and communications) industries have become a huge market being pursued by global industrial-robot makers. Hiwin rises among the top-10 the first time on the list of potential suppliers compiled by Gaogong to rank the No.9, with the others including Seiko Epson Corp., the ABB Group, Yaskawa Electric Corp., Kuka AG, Kawasaki Heavy Industries, Ltd., and Mitsubishi Electric Corp.
Chuo points out that the company's robotic gait-training system will be certified and licensed in the mainland by the end of this November and available in the mainland and Japan next year; while the company's robots designed to help bathe handicapped patients will hit markets in Taiwan and Japan next year.
His company, he says, is planning to develop robots used as bitcoin transaction platform in cooperation with relevant manufacturers.
The company has spent NT$2 billion (US$62.50 million) in the first three quarters of this year to boost its robot production lines and will spend NT$500 million (US$15.62 million) to NT$1 billion (US$31.25 million) the rest of this year on  expansions. Next year, the company's expenditure for expansion is set between NT$3 billion (93.75 million) and NT$4 billion (US$125 million).
In the third quarter alone, the company had consolidated revenue of NT$3.75 billion (US$117.46 million), sinking 13 percent from the previous quarter and 11 percent year on year due to the weak global economy, partly caused by the slowing economic growth in mainland China.
Operating gross income was NT$1.27 billion (US$39.75 million), representing a gross margin rate of 33.8 percent, down 2.1 percentage points from a quarter earlier.
Operating net income was NT$402 million (US$12.56 million), representing a net margin rate of 10.7 percent.
The company's income from non-core business in the third quarter totaled NT$244 million (US$7.62 million) partly thanks to the gain of NT$305 million (US$9.53 million) from foreign exchange transactions.
The non-core business earnings helped swell the company's after-tax net income for the third quarter to NT$596 million (US$18.62 million), or NT$2.21 per share, increasing six percentage points from a quarter earlier to be the company's best quarterly net income for this year. In the first three quarters, its earnings were NT$5.72 per share.