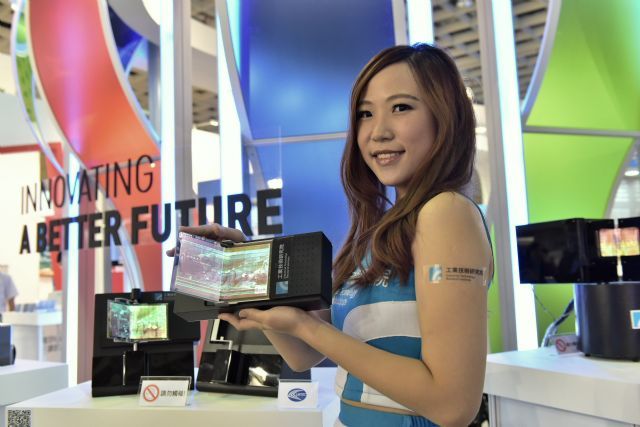 A foldable AMOLED panel produced with ITRI-developed on-cell touch AMOLED technology. (photo from ITRI)
With thin film transistor-liquid crystal display (TFT-LCD) and active matrix organic light-emit diode (AMOLED) panels being the mainstream displays of handheld devices, the consumer electronics market continues, true to the rapid deterioration of shelf life and ever changing tastes of consumers for information technology products, to be on the lookout for something new.
As a result, demand for lighter, slimmer, more durable and ergonomic displays for product designs able to stand in futuristic scenarios is creating a potential market size of billions of US dollars for flexible panels, drawing manufacturers from the U.S., Taiwan and Korea to jump onto the bandwagon for next-generation displays, according to Nancy Liu, analyst of Industrial Economics & Knowledge Center (IEK) under Taiwan's Industrial Technology Research Institute (ITRI).
The TFT-LCD has been the dominant display technology for years; however, the emergence of portable devices has been driving demand for light, slim, durable and ergonomic displays that can be designed into products for new applications. The idea of flexible displays has attracted a lot of attention from the industry for its groundbreaking potential to, for example, realize handheld devices with non-geometric or curvilinear forms.
Due to the limitations of cell gaps and backlight module designs, it is difficult to make flexible substrates with TFT-LCD. The OLED and e-paper, which do not require backlight sources, have become the solution for flexible displays. Given the current trend for full-color and the requirement to support animation, flexible OLED has, as a result, become an important option as the next-generation display technology in handheld devices.
In 2013, Samsung was the first manufacturer to launch handsets using flexible AMOLED in a limited edition of Galaxy Round; while another Korean vendor LG later followed suit by introducing the LG G Flex. The launch of these two models represents the first commercialization of flexible AMOLED in the handheld-device market. In order to meet demand for a plethora of devices for anytime and anywhere usage, displays have to be flexible so that they can be designed into devices of different shapes for different environments. Hence it is imperative to develop the processing technology of flexible substrates, Liu explains.
Liu continues that the flexible AMOLED was first adopted in smartphones and later in wearables. Currently, the wearable-device market is about US$3 million to US$5 billion, which is forecast to reach US$30 billion to US$50 billion in the period between 2016 and 2018, as an increasing number of smart watches, fitness trackers and smart glasses have entered into the booming segment. Apple, Sony and Samsung have already launched smart watches. Google is hoping to enter the market with Google Glass. The displays for wearable devices will have to address the needs, technologies, costs and regulations so as to expand the market size.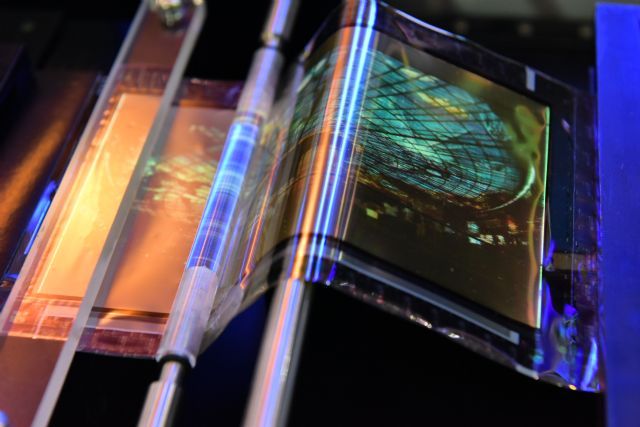 ITRI-developed triple-foldable AMOLED technology. (photo from ITRI)
Longer Life for Panels
The IEK analyst also says that oxide TFT technology combines the advantages of both a-Si TFT and low temperature poly-silicon (LTPS) TFT. It can utilize the sputtering process on existing production lines without making many changes. Meanwhile, low-temperature coating becomes possible with the use of IGZO (indium gallium zinc oxide) and this opens up more possibilities for flexible AMOLED.
The key to make substrates flexible is to overcome the challenges to which TFT components are subjected. It is also necessary to adopt packaging materials that are comparable to glass in terms of moisture and oxygen insulation so as to lengthen lifetime of organic components, Liu says. Currently, the industry is focusing on film packaging.
Taiwan's Focus
Only with the joint efforts from material and equipment suppliers will it be feasible to effectively reduce flexible AMOLED's production costs and shorten the lead time for mass production, Liu says, and it is critical for Taiwan to build its own complete supply chain by supporting equipment and materials manufacturers.
Achieving early-bird advantages require always being one-step ahead of competitors in the construction of a complete supply chain of materials and panel manufacturing. This will lead to profitability previously unseen and enhance Taiwan's competitiveness in next generation display technology, the analyst concludes.