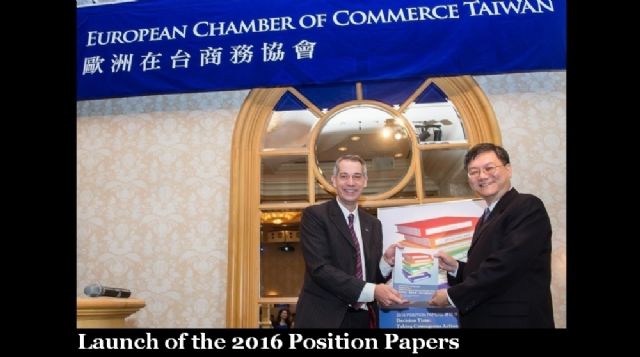 ECCT Chairman Bernd Barkey (left) presents the chamber's 2016 Position Papers to National Development Council Minister Duh Tyzz-jiun.
The European Chamber of Commerce Taiwan (ECCT) suggests in its 2016 Position Papers that the Taiwan government should revamp its regulations and statutes to international standards to help its bid to enter the Trans Pacific Partnership (TPP) Agreement.
With the title "Decision Time: Taking Courageous Action in Uncertain Times," the 2015 ECCT papers include separate submissions from 23 of the ECCT's 29 industry and support committees to raise 130 issues, including 76 unresolved from the previous years and 54 new issues.
ECCT Chairman Bernd Barkey points out that the chamber raised 122 issues in last year's papers, with five completely resolved and 14 mostly resolved and six partially resolved, a level of progress similar to that of the past three years.
In the 2016 papers, the chamber points out that Taiwan faces very difficult medium and long-term challenges related to demographic changes, globalization, energy security, healthcare, the environment, infrastructural development and securing talent. Playing a part to help Taiwan through uncertain economic times and deal with the multiple and complex challenges, the ECCT suggests the nation will require creative thinking, making some tough decisions and taking courageous action on the part of the government.
The chamber points out economic uncertainty in the face of global economic slowdown presents Taiwan with the most pressing and immediate challenge. It says while the government has no control over global economic conditions, it could act to improve the economic and regulatory environment that would put Taiwan in a better position to face challenging global conditions.
Also, the authorities should always bear in mind that Taiwan is part of the global village and must adapt to the challenges of globalization by embracing international trends, standards and the best practices.
The papers list many examples where Taiwan has yet to adopt or adapt local standards to the best international standards and practices, including automobile emissions and parts, financial services, cosmetics, customs and logistics procedures. In addition, the papers urge authorities to recognize internationally-accepted test reports, eliminate the need for double-testing and other technical barriers to trade.
The papers also call for fair and reasonable regulatory procedures, pointing out that in Taiwan there are too many instances of important policy changes that are not fully communicated to industry. In addition, the period and number of opportunities provided for public feedback and consultations are often too short and insufficient. Before issuing regulations, rulings or policies, authorities are urged to make the information fully transparent and give industry sufficient time to study draft proposals and provide feedback. After announcing any regulatory changes, authorities should allow sufficient time for industry to adjust their current procedures, operations or systems in order to be in full compliance with new legal requirements.
The chamber indicates energy security being another tough challenge to Taiwan, whose electricity reserve ratio fell below five percent in the summer of 2015, raising concerns of future electricity shortage for business leaders. Moreover, Taiwan, currently depending on fossil-fuel based sources for about 90 percent of its energy mix, has committed to cutting its greenhouse gas emissions to half of 2005 levels by 2050.
The papers recommend a comprehensive long-term master plan for energy security, a streamlining of government agencies with overlapping responsibilities, a final decision about nuclear energy, electricity liberalization, an increase in energy efficiency and an aggressive expansion of renewable energy capacity.
Taiwan's rapidly-shifting demographics will pose increasingly-difficult challenges to authorities in the years ahead in terms of labor, pensions, healthcare and other social spending costs. The papers caution against allowing social spending to overwhelm "spending for the future" and therefore urge the government to continue investing in education, research and to upgrade Taiwan's infrastructure, which are vital to ensure Taiwan's future economic prosperity.
The papers point out Taiwan's changing demographics will pose new challenges to securing labor and talented people with appropriate skills and qualifications. According to the World Economic Forum, Taiwan ranks lower in the capacity to attract various talents than Hong Kong, China, Singapore, Malaysia, South Korea and Thailand.
The papers recommend that authorities review labor policies in those countries with higher rankings than Taiwan and adopt the best practices in Taiwan to ensure Taiwan has sufficient qualified labor to sustain growth and competitiveness.
Currently, Taiwan's healthcare system puts too much focus on budgetary concerns over quality and healthcare outcomes, thereby putting pressure on healthcare facilities and personnel. To address these issues, the papers recommend establishing a fair pricing system for medicines, reform of the drug review and reimbursement process, an increase in compensation and a reduction in workloads of nurses and doctors and creative ways to redirect patient flow from overcrowded hospitals to community clinics.
While the challenges facing Taiwan are complex and varied, they are not insurmountable if the government continues along the path of internationalization and takes bold and decisive action to address them, the papers say.