Apparently economy of scale and production efficiency, which fortunately result in lower retail prices of flat panel displays, can ironically work against supplier. In the last 6 years, the retail price of a 32-inch LCD TV made by a Taiwanese brand has dropped by about half in Taiwan.

The flat panel display (FPD) industry is facing life-and-death challenge amid the harshest market conditions ahead, with panel prices close to makers' material costs; panel prices are expected to continue falling; and makers expect continued losses, according to IHS Inc., a major global source of critical information and insight.

IHS just held the 2015 Taiwan Smart Display Conference in Taipei, where it warned that AU Optronics Corp. (AUO) and Innolux Corp., recognized as the top-two thin film transistor-liquid crystal display (TFT-LCD) panel suppliers on the island, are expected to suffer losses for at least two quarters following the fourth quarter of 2015, with the downtrend in prices forecast to be steeper than even during the global-recession after 2008.

Global FPD supply will continue to outstrip demand in 2015 and 2016, which will be the "most dangerous" two years for global the FPD industry, IHS said, on which both Innolux and AUO refused to comment.

Speaking at the 2015 Taiwan Smart Display Conference on the topic "Display Market Outlook & Technology Strategy", David Hsieh, Senior Director, IHS Technology, pointed out that panel suppliers are forecast to alternately cut production and lower inventory levels starting the first quarter of 2016, as they no longer can withstand the panel-price collapse resulting from supply-demand imbalance. Such moves by the makers, he added, are expected to lead to a panel-price rebound in the second quarter of 2016, albeit the 2016 panel market remains generally dim. 

Currently, Hsieh said, global panel makers' average equipment utilization ratio is 85 percent, with the only exception of Sharp, whose 10th-generation (10G) utilization has been adjusted down to 75 percent due to decreasing demand for over-60-inch TV panels. In the first quarter of 2016, the senior director added, the average ratio will drop to about 80 percent, which is expected to narrow the supply-demand gap and slow panel-price falls.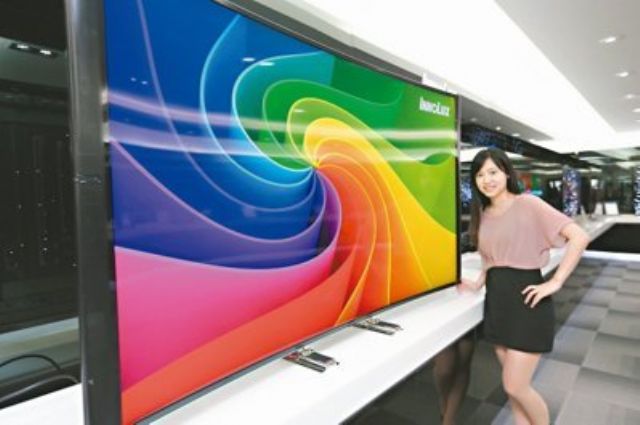 IHS, a major global source of critical information and insight, warns of arctic market conditions to hit the FPD industry. (photo from UDN)
According to Hsieh, panel prices have fallen 20 percent to 30 percent in 2015, including each square meter of a large-sized (larger than 10-inch) panel having fallen to US$220, nearing the material cost of panel suppliers. He noted that Chinese panel makers have the cost advantage achieved by government subsidies, with Taiwanese players, like AUO and Innolux, to have to weather continued losses over the next two quarters.
J.P. Yang, research director, IHS Technology, explained that Chinese panel makers continue to start up new production capacity to win government subsidies, while choosing 32-inch panels as major products, the easiest way for mass production. Such development, she added, has led to oversupply in the market, forcing counterparts to raise production of 42-, 43-, 49-, and 55-inch panels, which result in fierce price-cutting competition in the market.
Yang equates the price-falling trend in the FPD industry to encountering arctic conditions, forecasting that the rage of price-fall might be harsher than even that during the global recession after 2008.
Threat from China
The rise of the so-called "red supply chain," referring to the fast-growing cluster of tech industries cultivated by the Chinese government, is posing a major threat to global panel suppliers.
Hsieh forecasts that in conjunction with the continued start-up of new 8.5G panel-production capacity in China, the overall Chinese FPD production capacity is expected to outstrip Taiwan's in the fourth quarter of 2016, and pull ahead of South Korea by late 2017, when China will become the world's No. 1 production nation of FPDs.
With unmatched advantages, including strong government supports and being in the world's largest market, Hsieh said, Chinese panel suppliers have been growing at a high speed. However, their major disadvantage is the relatively lagging technological advancement.
Another downside of the rapid development of the FPD industry in China is the high concentration of 8.5G production lines, whose product sizes are limited to lead to oversupply of some panel sizes, Hsieh said.
Regarding major Taiwanese panel suppliers, despite the top-two AUO and Innolux being profitable in the first three quarters, Hsieh said, they did not carry out big and new investment projects. The result is, he said, that local panel suppliers can only wait for Chinese rivals to overtake them in terms of production capacity, whilst trying to produce more niche products.