Obviously Gogoro Inc., an upstart with ambitions to develop and sell the Gogoro Smartscooter electric-scooters as well as aim to transform energy distribution and management in megacities, is serious about its plan to popularize its line of stylish e-scooters in Taiwan, in the wake of cutting prices of its erstwhile upscale-priced scooters, having recently announced it has tied up with President Chain Store Corporation (PCSC and operator of the 7-Eleven chain in Taiwan) to provide e-scooter battery-pack swapping service.

At the press conference for the tie-up, PCSC announced the inauguration of the GoStation battery-swapping station at a 7-Eleven store in downtown Taipei.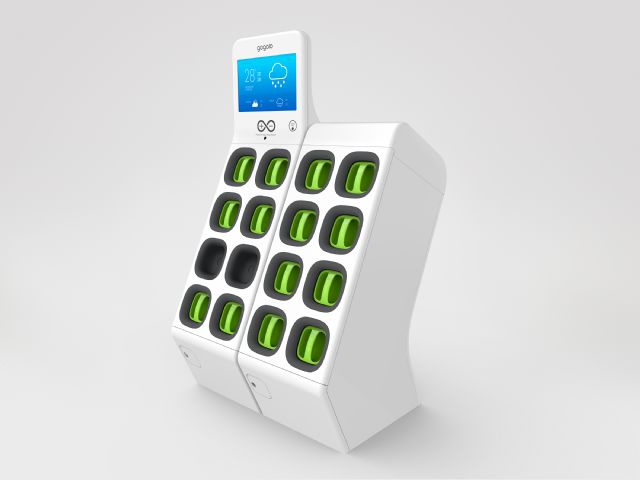 Starting late November 2015 more Gogoro GoStation battery-swapping stations will be seen at 7-Eleven stores in Taiwan. (photo from Gogoro)
Gogoro also said that it has been stepping up the installations of an increasing number of GoStations in northern Taiwan, with the number expected to outstrip 100 by the end of November. In December, Gogoro will continue to set up more stations in other major cities in northern Taiwan, including Taipei City, New Taipei City, Keelung, Taoyuan and Hsinchu.
Industry sources said that the tie-up in e-scooter battery-swapping service will be a win-win for both parties. The strategy takes advantage of the current status of 7-Eleven being the largest chain-store brand in Taiwan with over 10,000 stores throughout the island (highest convenience store density in the world), making the ubiquitous chain store the ideal platform to realize easily accessible battery packs for riders, who are typically worried about shortness of cruise range and the inconvenience of running out of fuel. So the partnership with 7-Eleven should help to promote Gogoro products and services and its user-friendliness, especially when Gogoro targets not only vending innovative e-scooters, but also emphasizes its capacity to provide a key feature of building truly practical e-scooter culture: battery-swapping services.
The partnership between Gogoro and 7-Eleven is expected to greatly enhance user-convenience of Gogoro SmartScooter riders, and as a result effectively upgrade consumer acceptance of such environmentally-friendly transportation vehicle. Peng Ming-i, vice president of marketing at Gogoro, said that his company and 7-Eleven jointly chose to kick off the operation of a GoStation in downtown Taipei, and the two parties will look for other locations to set up more battery-swapping stations given positive consumer response. Peng added that the battery-swapping service is expected to further elevate foot traffic at 7-Elevens with the GoStation.
Other e-scooter vendors, in fact, also tried to utilize 7-Eleven's extensive locations to provide battery-swapping service before, including China Motor Corp. (CMC), the No. 1 e-scooter vendor in Taiwan before Gogoro launched its models in 2015. However, the high labor and warehouse costs as well as low charge per service of NT$50 (US$1.6) proved cost-ineffective to have driven out all e-scooter vendors, except on some Taiwan's offshore islands.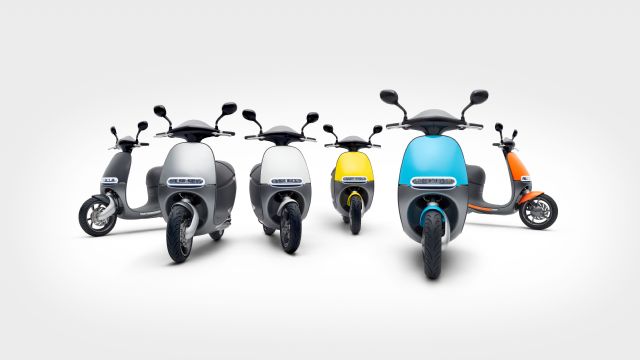 Licensing of 680 units of the Gogoro Smartscooter in October makes the new brand the No. 1 e-scooter vendor with about 55 percent market share in the segement. (photo from Gogoro)
New Business Model
Some industry insiders are more optimistic about the cooperation between Gogoro and 7-Eleven, mainly because of Gogoro's business strategy to separate sales of the Smartscooter from the battery pack. A Smartscooter owner has to lease a battery pack from Gogoro to power the vehicle, but Gogoro's GoStation battery-swapping system outside a 7-Eleven store allows DIY operation by an e-scooter rider, without adding warehousing and labor costs to the convenience store.
If the first 7-Eleven GoStation succeeds, Peng said, Gogoro plans to duplicate such business model at other 7-Eleven stores to develop a battery-swapping service network throughout the island.
Increasing Sales Volume
Sales of Gogoro's Smartscooters, said to be the world's first high-performance, battery-swappable, smart e-scooter designed to work with the Gogoro Energy Network (an advanced battery-swapping infrastructure for cities), have been increasing after its kick-off delivery in July 2015.
Statistics compiled by the Ministry of Transportation and Communications (MOTC) show that 1,237 e-scooters were licensed in Taiwan in October, compared to 897 units sold in the previous month. A total of 680 units of the Gogoro Smartscooter were licensed in October on the island, making the new Gogoro brand the No. 1 vendor, compared to the 412 units sold by China Motor Corp. (CMC), which had been the top e-scooter vendor in Taiwan for several years by often taking a market share of over 80 percent.
Gogoro, in fact, delivered 36 Smartscooters (for a market share of 6.3 percent in the domestic e-scooter segment in July, with the initial delivery having started on July 25), 433 units in August (55.1 percent share), 330 in September (36.8 percent) and 680 (55 percent) in October. Some 600 units are expected to be shipped to riders in November, the company said.
Just a few months ago, not many people on the island paid attention to nor considered buying the Gogoro Smartscooter, especially when each e-scooter model was priced at more than NT$100,000 (US$3,333) excluding the lithium-ion battery pack, considering the frequent news in Taiwan of stagnant wages, relatively low pay for college graduates, the bearish and volatile stock market of late, and discouraging news of the slowing economy in China. But sales turned around in October, driven by Gororo's decision to spark sales by launching the Smartscooter Lite, an entry-level version about US$1,000 cheaper than the fully-equipped version.
The Smartscooter is also changing the landscape of the domestic e-scooter market, in which sales used to be concentrated in southern Taiwan, due to personal transport preference, vehicle charging convenience, relatively sunnier climate, and company fleets used for express home delivery. In the past few months, more Smartscooters were sold to consumers living in northern Taiwan, especially in Taipei City and New Taipei City.
Currently, Gogoro operates only four sales points on the island—three also providing repair and maintenance services—with such limited facilities and service staff also undermining potentially higher sales. Peng is very optimistic about increasing sales volume in the future, especially with the company's tie-up with 7-Eleven.