The expanding shipments of low temperature poly-silicon (LTPS) thin film transistor-liquid crystal display (TFT-LCD) panels have been raising the penetration of full high-definition (FHD)-screen smartphones to about 25 percent, from about 18 percent in early 2015, according to WitsView, a market research division of TrendForce.

WitsView also predicts this year's global LTPS production capacity by area will reach about 9.4 million square meters, with that in 2016 to top 10.7 million square meters. 

Both Innolux Corp. and AU Optronics Corp. (AUO), recognized as the top-two TFT-LCD panel suppliers in Taiwan, are scheduled to start up their new LTPS capacity in 2016 to tap more business opportunities in the smartphone-application market. But, WitsView says, the continuously falling LTPS-panel prices are expected to undermine panel suppliers' profitability.

Boyce Fan, senior research manager of WitsView, points out that major LCD panel makers have been continually investing in new fabs to produce LTPS LCD panels since 2013, to capture demand in the high-end smartphone market. However, with capacity expansions to continue in 2016, WitsView expects no relief from the oversupply situation and further squeezing of margins of LTPS products.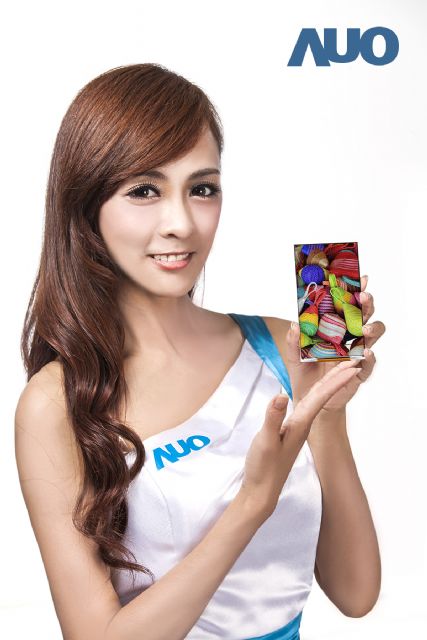 FHD-resolution smartphone models is forecast to account for at least 25 percent of the overall market in 2016. (An LTPS smartphone panel from AUO shown)
Innolux & AUO
Innolux, recognized as the largest TFT-LCD panel maker in Taiwan, is installing equipment and carrying out trial production at its sixth-generation (6G) LTPS panel factory in the Southern Taiwan Science Park (STSP), where it is scheduled to kick off mass production in the first quarter of 2016.
AUO is also scheduled to start mass production of LTPS panels in 2016, at its factory in Kunshan, Jiangsu Province of China, in the second half of next year. The company says that it has been suffering insufficient supply of LTPS panels, and the Kunshan LTPS factory is expected to be very competitive in the business.
Industry sources say that these two major Taiwanese panel suppliers used to lack LTPS production capacity, but their new factories are expected to help increase shipments of high-end cellphone panels from 2016.
Trends in Slowing Smartphone Market
Fan points out that the 2015 global smartphone market will undergo slowing growth, with the growth rate not to be double-digits as before. The market's growth momentum will shift from shipment volume to specs upgrades, he adds, such as increasing display sizes (5-inch and larger), upgrading display resolution (HD and FHD), and more advanced (such as the in-cell touch display that has become a prevalent feature in high-end smartphones).
The research manager also outlines three major trends developing in the smartphone-panel industry in 2016. The first, he says, is  the smartphone panel market will undergo  another round of shakeout as expansions in LTPS capacity drive down panel prices.
In the LTPS panel market, Fan explains, Japanese and South Korean suppliers currently have the advantages in both shipments and technology. However, their leads will wane as other panel makers have been aggressively trying to elevate LTPS capacity. The slowdown in the smartphone market and the increase in the overall LTPS capacity will, Fan notes, soon spark a price war that may result in another of shakeout in the panel market. The winners of this competition will be players who can achieve high yield rates at their LTPS fabs earlier than others, coupled with having the cost and pricing advantages in the initial stage. By owning the advantage of lower prices is crucial to dominating the oversupplied LTPS panel market, since this advantage will further help secure loyalty of clients and expand channels of consumption.
The second trend is the share of FHD-resolution smartphones worldwide will continue to grow in 2016. Fan says that HD-resolution is now the prevailing display spec for entry-level smartphones, while the prices for HD-resolution smartphone panels have touched bottom. Therefore, the core display spec of mid-range and high-end smartphones has shifted to FHD. FHD resolution will be higher than 400 PPI (pixels per inch), and LTPS is suited for the production of such panels. Panel makers with LTPS fabs are thus potential suppliers of mid-range and high-end smartphone panels, says Fan.
Though the number of LTPS panel suppliers is still very limited, these companies have begun to cut their FHD-product prices since early 2015, so as to capture market share and strengthen relationships with clients, Fan says. As a result, later entrants to the LTPS market will face enormous challenges in staying profitable in the competition. At the same time, branded smartphone vendors will release more devices featuring FHD displays. By resolution specs, Fan estimates that FHD models will account for 18 percent of the smartphone market this year, and this share will increase significantly to at least 25 percent in 2016.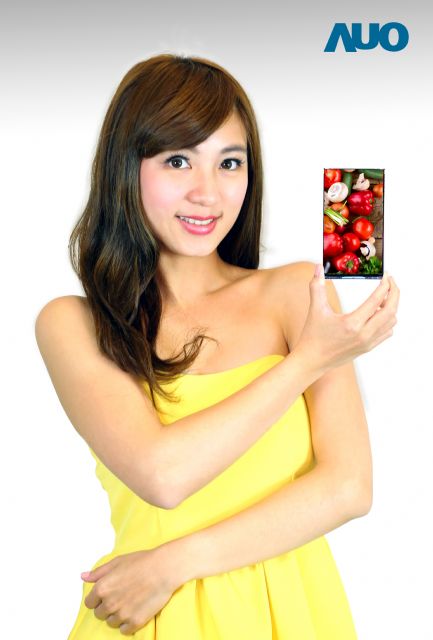 Alternative high-resolution display technologies compete against LTPS. (photo of AUO's 5.5-inch FHD, a-Si smartphone display with high resolution, brightness and low power consumption)
Alternative Technologies
Smartphone suppliers, however, are using other alternative display technologies instead of LTPS to grab more business opportunities created by higher-resolution demand.  These alternative display technologies include a-Si (amorphous silicon) LCD, oxide TFT-LCD and AMOLED (active-matrix organic light-emitting diode).
Samsung Display Corp. (SDC) has made steady progress in supplying AMOLED panels to customers outside of the Samsung brand this year and is expected to expand its effort in this area in 2016, squeezing the shares that LTPS panels have in the mid-range and high-end smartphone markets. More suppliers with different technologies also means intensifying price competition in the FHD smartphone panel market.
The third trend in the global smartphone-display market is narrow bezels and flexible panels, which will inspire new smartphone designs.
According to Fan, exterior and stylish designs have been a major area of competition in the smartphone market, and that is expected to be even more crucial in the next few years. Narrow-bezel has emerged as a design trend in recent years, and the frames around smartphone screens are expected to become much thinner (with borders of some panel modules being less than 1mm). Another source of design innovation comes from AMOLED panels, which are light and thin as well as offering high color saturation, as well as enabling the creation of flexible displays. Samsung's Edge series, for example, has smartphones that features AMOLED displays that curve to the edges. On the whole, the market scale for flexible display design is expected to grow further next year.