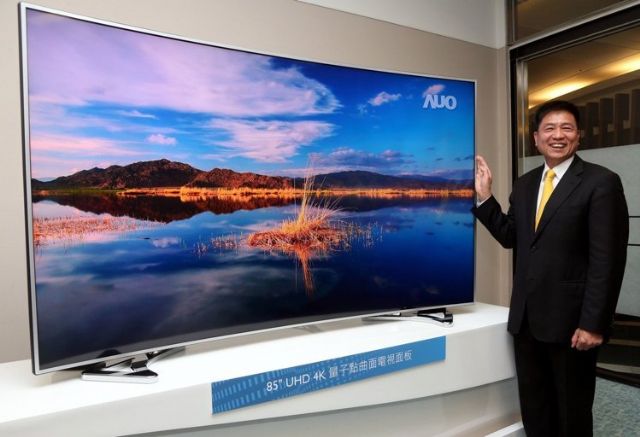 IDC Taiwan says TV panel is expected to be the only product category to see annual shipment growth in 2015. (photo from UDN)
Global shipments of large-sized (larger than 10-inch) thin film transistor-liquid crystal display (TFT-LCD) panels in the third quarter of 2015 increased by 3.4 percent quarter-on-quarter (QoQ), but dropped by 12 percent year-on-year (YoY), to about 207 million units, according to IDC Taiwan, the local subsidiary of the global market intelligence provider, which forecasts that panel shipments will continue falling in the fourth quarter.
Kevin Chen, market analyst of global assembly research at IDC Taiwan, points out that the large-sized panels are generally made for different application categories including tablet-PC, information technology (IT, including notebook PC and monitor), and LCD TV.
He attributes the QoQ shipment increase in the third quarter to strong demand for tablet-PC panels as vendors ramped up parts inventory to prepare for the year-end demand peak. In addition, demand for monitor-application panels also increased during the period. However, Chen adds, the new Windows 10 operating system (OS) has not realized as many replacement purchases for notebook PCs as expected; while most panel suppliers have adjusted down their equipment utilization ratios, leading to decreased shipments of notebook PC panels.  
Driven by the new capacities opened by Chinese panel suppliers, who have been utilizing their 8.5th-generation (8.5G) panel lines to focus on production of 32-inch TV panels, coupled with TV vendors raising their panel inventory for year-end demand peak, shipments of TV panels saw continued growth in the third quarter. TV-application panel, Chen says, is expected to be the only product category to enjoy positive growth throughout 2015.
Quoting the IDC Worldwide Large Sized LCD Panel Qview for the third quarter, IDC Taiwan says that in the third quarter the world's top-five large-sized TFT-LCD suppliers were LG Display (South Korea), Innolux Corp. (Taiwan), Samsung Display (South Korea), BOE (China), and AU Optronics Corp. (AUO, Taiwan), whose combined shipments made up 85 percent of the world's total of large-sized panel shipments in the quarter, albeit all of them suffering YoY shipment decreases.
LG Display remained top global counterparts in shipments of notebook PC and monitor panels. Innolux was the No. 2 in notebook PC panel category; while another Taiwanese company AUO was the second-largest supplier of monitor panels. Samsung Display pulled ahead LG Display and Innolux to be the largest supplier of LCD TV panels; while BOE was the No. 1 in tablet-panel shipments.  
IDC's worldwide assembly research team holds a cautious attitude towards global shipments of large-sized panels in the fourth quarter, due mainly to the demand slowdown.
Shipments by World's Top-5 Large-sized TFT-LCD Panel Suppliers

Maker

Q3'14 Market Share

Q3'15 Market Share

Q3'15 / Q3'14

LG Display

20.3%

20.9%

-9.4%

Innolux

17.7%

16.8%

-16.5%

SDC

16.0%

15.5%

-14.7%

BOE

16.6%

14.7%

-22.2%

AUO

13.5%

13.3%

-13.9%

Others

15.9%

18.9%

4.7%

Total

100%

100%

-12.0%

Source: IDC Worldwide Large Sized LCD Panel Qview, November 25, 2015