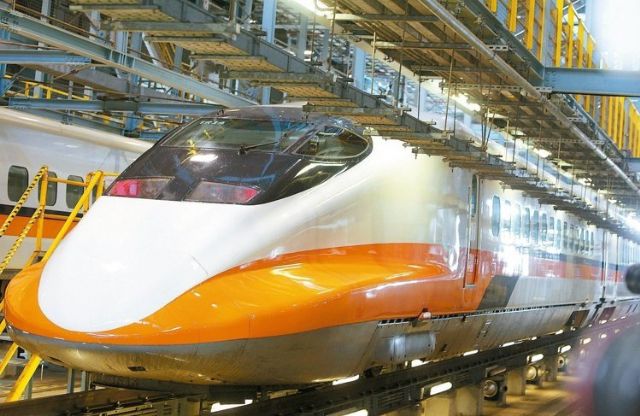 After nine years of operation, different sub-systems of the Taiwan High Speed Rail enter into replacement period. (photo from UDN)
After nine years of operation and despite occasional news reports of its money-losing status, different sub-systems of the Taiwan High Speed Rail line (running about 345 km from north to south along the west coast of Taiwan) have already entered into the replacement period. The first major sub-system slated for replacement is the traffic control center, the nerve center of the overall network.
The THSR system, which pushed Taiwan's aging railway into the modern era, is based primarily on Japan's Shinkansen technology, widely seen as world-leading comparable with the GTV of France. The Japanese system provider have reportedly quoted more than NT$10 billion (US$312.5 million) to supply the traffic control center system, with the Taiwan High Speed Rail Corp (THSRC), operator of the high-speed rail, aiming to cut the price to about NT$7 billion (US$218.75 million). Price negotiations between the two parties are ongoing, and the final agreement is expected to be signed by early 2016. Unfortunately, industry sources say, having to look to Japan to replace the traffic control center is a major indicator of THSR's over-dependence on Japanese technologies; while earlier news reports say that China has locally built carriages for its bullet trains.
Insiders say that THSRC procured different core electro-mechanical systems from Japan for NT$100 billion to NT$200 billion (US$3.13 billion to US$6.25 billion) to construct the bullet train network on the island, including trains, traffic control system, signal, communication, power, railway lines, etc. Each system has life cycle limitation, with the trains themselves having the longest operational life as long as 25 to 30 years under proper repair and maintenance.
Regarding the traffic control center that needs to be replaced at this time point, including the traffic control center, repair and maintenance depot, and train/station traffic-control system hardware and software, it is originally designed to be operated for 12 to 13 years.
Victor Liu, chairman of THSRC, points out that to assure the operational safety of the THSR, the traffic control system has to be upgraded regularly, just as typical PCs. This time, he addsd, THSRC will purchase both the new hardware equipment and software for upgrading, and that the existing system from Japan is quite reliable and has not had any malfunction in the past nine years or more, including trial-operational period. So, THSRC has decided to continue purchasing the upgraded version of the original system from Japan, rather than try to find a local system provider.
According to THSRC, the existing system was jointly developed and produced by the three major Japanese conglomerates Toshiba, Hitachi and Mitsubishi. Related system procurement details have been almost finalized, with the price still under negotiation. When the procurement agreement is finalized, the rail operator says that replacement works are expected to kick off from mid-2016, in sequence of traffic control center, train depots, train stations, and the onboard traffic control.
To minimize THSRC's dependence on the Japanese Shinkansen technology, THSRC says that the company has been carefully evaluating and referring to Shinkansen's related procurement and operational projects to make sure its own rights are not compromised.
Local R&D Alliance 
To decrease dependence on key-parts supply from Japan to cut procurement and operational costs, THSRC has tied up with different research and academic institutes in Taiwan to set up a THSR technical team, which aims to locally develop and produce more THSR parts and systems for higher local content. The team members include THSRC itself, Academia Sinica, Chung-Shan Institute of Science and Technology, National Kaohsiung First University of Science and Technology.  
THSRC chairman Liu says that most systems of the THSR come from the Japanese Shinkansen, which inevitably results in procurement of parts from Japanese suppliers. As with buying of original equipment car parts, such dependence on Japanese suppliers for repair and maintenance of the high-speed rail system in Taiwan results in relatively higher cost. With the technical team accumulating technical strength, R&D capacity, and specialized expertise via the partnership, the chairman says that the team members are expected to effectively help the THSR to lessen reliance on Japanese suppliers in addition to other operational aspects.
For example, THSRC's training simulator purchased from Japan has malfunctioned previously, but the procurement cost of a replacement simulator is too high to accept. THSRC hence decided to turn to CSIST, the major R&D hub of defense technologies in Taiwan, to provide necessary technical help. Eventually, CSIST helped develop the needed software to greatly cut the operational cost of THSRC.
In addition, THSRC has been carrying out exchanges with other Shinkansen or bullet train operators in Japan, including JR Central, JR West to learn their operations and repair/maintenance models. JR West, for example, is operating the Shinkansen 700-series trains equipped with the 500 series bogies, with such combination able to extend the life cycle up to 12 years to lower operating cost. So THSRC has decided to duplicate this model and kick off the life-cycle extension project of its own in 2016 to first target the train system.