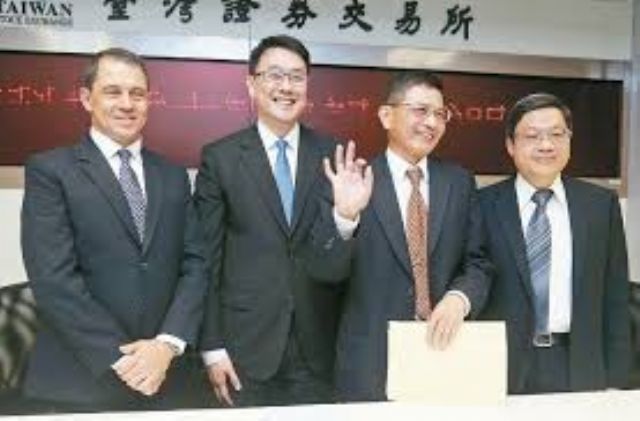 Chairman P.Y. Lee (second from right) of Inotera and President Scott Meikle (first from left) co-announced selling Inotera to Micron.
Micron Technology, Inc., reportedly the world's No.3 dynamic random access memory (DRAM) chipmaker headquartered in the United States, has decided to wholly acquire Taiwan's staple-memory chipmaker, Inotera Memories Inc., its joint venture with Taiwanese memory chipmaker Nanya Technology Corp.
Micron will offer NT$30 per share, a premium of around 30.4 percent to the closing price on Dec. 14, to buy the remaining 67 percent ownership it still does not own in Inotera, putting the total expenditure at around NT$130 billion (US$3.93 billion).
Currently, Inotera's major shareholders are Micron (33 percent), the Formosa Plastics Group (32 percent) and Nan Ya Technology (24.2 percent).
The deal is predicted to close in the second or third quarter next year. Once done, Inotera will be de-listed from Taiwan's stock market.
The sale suggests that Taiwan will completely phase out of the staple-memory industry since Inotera is Taiwan's last chipmaker specializing in the memory chips crucial to personal computers. The other memory chipmakers, including Nan Ya and Winbond Electronics Corp., are vigorously developing niche types of memory chips, reportedly to command higher profit margins, to keep profitability.
Nan Ya, held by Formosa Plastics, will receive proceeds of around NT$47.6 billion (US$1.44 billion) from the ownership transfer. But its pledge to buy Micron shares for around NT$31.5 billion (US$954.54 million) in a private placement will reduce the revenue from the deal to NT$16.1 billion (US$487.87 million).
This deal will generate not just cash for Nan Ya but also the opportunity to license the 10-nanometer process technology from Micron, which has licensed Nan Ya to use its 20nm process technology.
Industry executives believe Micron is offering the acquisition for its plan to work with the Tsinghua Unigroup of mainland China, which is the corporate linchpin in Beijing's ambitious plan to build a homegrown, integrated chip-making supply chain covering design, foundry, testing and packaging capabilities with a fund of around RMB150 billion (US$23.77 billion).
By turning Inotera into a company 100-percent owned by a foreign company, Micron, industry executives say, may be able to keep its assets in Taiwan, including Inotera from being scrutinized by Taiwan's government when it starts plans like selling all of its assets to Tsinghua of China.
Although the executive director general of the Investment Commission of the Ministry of Economic Affairs (MOEA) notes that if Tsinghua takes over Micron as reported, it will have to unload all of its ownership in Inotera according to Taiwan's regulations, which prohibits the mainland's investors from holding controlling stake in the island's semiconductor companies.
Nevertheless, some question as to how the government will move to discourage or even abandon its attempt to take over Tsinghua. Even if Tsinghua agrees to sell its holding in the company, who will be positioned to take over the company's ownership under the circumstances that a Tsinghua-controlled Micron would be unlikely to continuously license Inotera its advanced technologies?
The question is totally relevant and pressing when Lenovo's acquisition of IBM's PC asset is brought up. The Taiwan government did not ask Lenovo to sell its ownership in an IBM PC division's subsidiary in Taiwan when the mainland China's No.1 PC maker acquired the business division.
Such question would become more complicated since Nan Ya will become a Micron shareholder.  
By buying into Micron through Nan Ya, Formosa Plastics pledges it will not phase out of the DRAM industry. The petrochemical business group founded DRAM maker Nan Ya in 1995, but the subsidiary had undergone six years of loss beginning 2007 with a total deficit of NT$59.9 billion (US$1.81 billion).
Industry executives estimate that Formosa Plastics has put as much as NT$52.4 billion (US$1.58 billion) into the DRAM business, excluding the losses. Although Nan Ya and Inotera have begun making money in 2013, the two subsidiaries still have not become the parent company's steady moneymakers, reasoning the executives' speculations that the company was willing to sell Inotera to Micron when Micron had made the proposal.
The deal will leave only three DRAM makers on the global market—Samsung Electronics, SK Hynix Semiconductor Inc. and Micron.