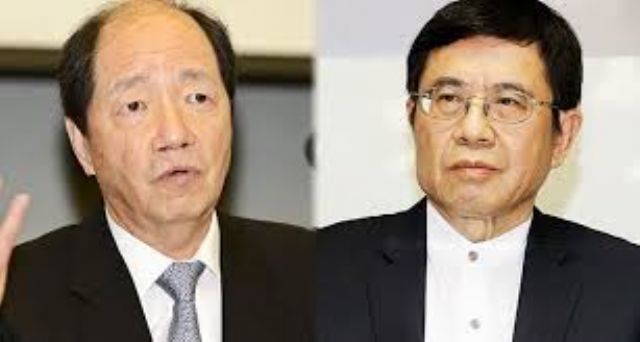 Corporate battle brews between ASE Chairman Jason Chang (left) and SPIL Chairman W.B. Lin.
Chip assembly giant Advanced Semiconductor Engineering Inc. (ASE) has announced the offer to buy the whole Siliconware Precision Industries Co., Ltd. (SPIL) only three days after the Tsinghua Unigroup of mainland China publicized its acquisition of a 24.9 percent ownership and a 25 percent ownership each in SPIL and ProMOS Technologies (Bermuda) Ltd. of Taiwan.
ASE's offer is a premium NT$55 per SPIL share, equaling Tsinghua's offer, to put the acquisition expenditure at an estimated US$4 billion. Including the already spent NT$3.52 billion (US$1.06 billion) for a 25 percent stake, ASE will lay out a total of NT$166.5 billion (US$5.04 billion) on SPIL, the largest acquisition in Taiwan in years.
ASE's decision is deemed as a strategy to regain its ownership lead of SPIL, ASE's closest rival that has fought off ASE's acquisition bid on suspicion that ASE has been plotting to take whole ownership by first depressing value of its shares to enhance cost effectiveness of takeover. 
To fend off ASE, SPIL has attempted to invite the Foxconn Technology Group in a private placement, a move which was vetoed by its major foreign institutional investors that resulted in SPIL's invitation of Tsinghua of China. ASE's ownership in SPIL will be diluted to 18.77 percent if the China's No.1 IC design house is finally approved by Taiwan's government for share purchase. 
Mainland Chinese investors are restricted by Taiwan's regulations to hold shares in certain tech sectors in Taiwan without playing a part in the management.
ASE has sent acquisition letter-of-intent and asked SPIL to respond by Dec. 12 in writing. 
ASE Chief Financial Officer H.S. Tung, who came up with the acquisition proposal for ASE's board of directors, stresses that the acquisition offer is designed on the idea of grouping Taiwan's chip packagers and testers against rising international competitors, namely mainland China's manufacturers, and further boosting the competitiveness of Taiwan's chip packaging and testing sector on the international market.
Tung urges SPIL Chairman W.B. Lin to tone down his personal bias against ASE's attempt to retake lead ownership so they may set a good example for Taiwan's manufacturers in using teamwork to take on international competitors.
The CFO further promised that the company will not change SPIL's existing staff regulations, compensation and benefits after the takeover of majority share.
Industry executives expect the government and foreign institutional investors to support ASE's acquisition of SPIL on grounds that the offer is based on the principle of fortifying Taiwan's chip assembly industry without diluting SPIL's shares.
Given plenty of precedents of malicious, inconsiderate corporate moves reported in Taiwan and many that are covered up or white-washed, some feel that SPIL will continue to fend off ASE's offer simply due to absence of even allusion to leave SPIL's management in tact, with the company's managers including Lin himself worrying about the possibility of demotion to ASE's rank and file.
Regardless of the anticipated support from government and foreign institutional investors, industry executives still predict ASE to confront hurdles, also expecting Tsinghua to offer a premium on the bid to jack up the offer to to drive away ASE.
Also, although the merger of ASE with SPIL may not break antitrust rules in terms of their combined share in the global chip-assembly market where they hold 30 percent or so together, ASE's ownership in SPIL will exceed the ceiling of 25 percent set by the rules in many countries. Moreover, ASE and SPIL are estimated to hold approximately 80 percent of the global market specifically for the high-end flip-chip packaging service after the merger, likely subjecting them to scrutiny of antitrust rules.
Some foreign institutional investors are in favor of the Tsinghua-SPIL deal on grounds that Tsinghua can help SPIL to win bigger share of the mainland market, which is the world's biggest semiconductor market that depends on overseas manufacturers for around 80 percent of supplies. Also, the mainland's aggressive plans to foster its homegrown semiconductor industry are expected to create more customers for Taiwan's IC companies like SPIL.
It seems like a tug-of-war between ASE and Tsinghwa over SPIL, but industry executives feel that even if SPIL shareholders choose to marry the company off to Tsinghua in the end, ASE Chairman Jason Chang and Tsinghua Chairman Zhao Weiguo could team up to take over SPIL's management for future cooperation since the two top executives have a history of amicable relations.
If the speculations so far reported turns out as expected, Lin, they say, may have set the scene for backfire, or to have initiated the merger to result in potentially negative consequence for himself.