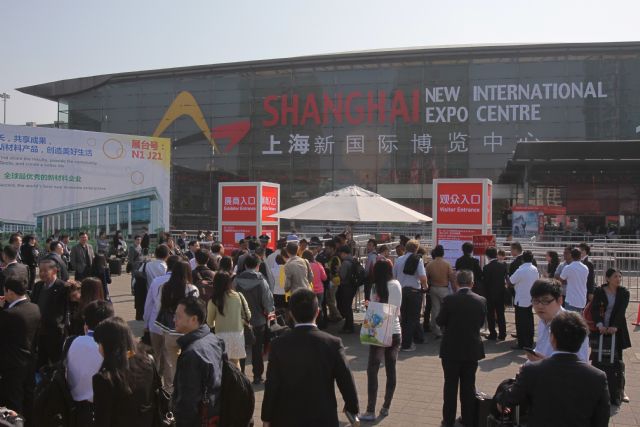 CHINAPLAS 2016 is scheduled April 25-28 in the Shanghai New International Expo Centre.
CHINAPLAS 2016, the 30th annual edition of Asia's largest plastics and rubber trade fair, looks to build on last year's record-setting performance when it will take place in Shanghai next April 25-28.
More than 27 percent of the 2015 edition's 128,000 attendees in Guanghzou came from overseas, underscoring the event's growing prominence as a global event. Already the second-largest such polymer trade show in the world, after only the triennial K Fair in Germany, CHINAPLAS 2016 is expecting upwards of 140,000 attendees, including participants from an estimated 150 countries and regions.
And, in keeping pace with China's ongoing evolution from "factory of the world" to a growing innovator and purveyor of advanced manufacturing technology in its own right, the show will have plenty on display to entice and educate visitors. For starters, more than 3,200 exhibitors will cover in excess of 240,000 square meters of exhibit space. The event provides advanced but practical plastics and rubber solutions to buyers.
It's worth noting that travel-related costs in China — such as accommodation, transportation and dining — typically are lower than in Western countries. The show's owner and organizer, Adsale Exhibition Services Ltd., is taking numerous steps to assist potential visitors with their show-related planning and travel. These include:
 * Providing a formal invitation letter (available for download online) to facilitate the China visa process;
 * Partnering with travel agencies worldwide to offer group tours to those visiting CHINAPLAS;
 * Recommending a local travel agency as well as preferred accommodations in Shanghai at special rates;
 * Offering on-site privileges to overseas delegations of 15 or more people that have been organized by travel agents, trade associations or other enterprises.
The Shanghai New International Expo Centre, or SNIEC, in the Pudong region of the city, is a world-class facility that is centrally located and easily accessible via public transportation, including Shanghai's fast, modern subway, and plentiful, inexpensive taxis.
Shanghai itself is a safe, dynamic and international city, with sights and cuisines to suit every taste. A multicultural metropolis with both modern and traditional Chinese features, Shanghai offers everything from world-class restaurants, vibrant nightlife and glitzy, brand-name shopping to bustling markets, historical treasures, lovely gardens and easy getaways to natural wonders.
When it comes to dining, some of China's most renowned delicacies come from the Shanghai and Hangzhou cuisines and offer foreigners a vast range of tasty treats, from steamed pork buns, dim sum and fresh seafood to aromatic vegetables, Beggar's Chicken, and delicious duck.
From sparkling malls to high-street storefronts, nearly all of the world's leading clothing, jewelry and other such brands have a presence in Shanghai or, if you prefer, you can test your bargaining skills at one of the city's many markets.
Take one of any number of city tours to see many of Shanghai's highlights in an afternoon, stroll along the Bund, take a cruise on the Huangpu River, or go further afield by taking a day trip to neighboring regions. The picturesque cities of Hangzhou and Suzhou are among the most scenic places in China, and can be reached in less than one hour by express train from Shanghai. Additionally, visitors also can take the opportunity to visit factories in surrounding areas, such as Zhejiang and Jiangsu provinces, which are leading manufacturing bases for sectors such as automotive, electronics and medical. 
Shanghai's multicultural scene and globally popular tourist attractions will add charm to CHINAPLAS 2016.
The culture, shopping and amenities are lovely, but for anyone attending CHINAPLAS, their first priority is business.
The scope of exhibits at the show is vast, covering all the major plastics materials and processing technologies, plus automation, 3-D printing, ancillary equipment, additives, tooling, software, testing and measurement, recycling, finishing and decorating, parts and components. The materials, machinery and services on offer will cover all the major end markets, to include the latest in packaging, medical, automotive, electrical and electronics, building and construction, furniture, wire and cable, toys and more.
Adsale also is bringing a successful feature from the most recent show to the 2016 event in Shanghai. Through a series of exhibit displays, open forums and experiential activities, "Design x Innovation" will provide new perspectives to visitors on how plastics technology can combine with industrial design, material application and sustainability to help drive tomorrow's new product development.
China, of course, remains a manufacturing powerhouse. It manufactures more than double the number of automobiles as the United States, and, according to recent data, ships 35% of the world's mobile phones, 85% of its electrical appliances and half of its plastic pipe, to name just a few. Shanghai and its surroundings, as the cultural and economic powerhouse of China, is a center for innovation, research and development for many of the world's most influential, multinational companies. It also, of course, is home to many leading Asian firms, such as Alibaba, China Hongqiao Group, Geely Automobile, Huadong Medicine, Hangzhou Wahaha Group, Jiangsu Yanghe Brewery and SAIC Motors.
CHINAPLAS is a must-see event whose size and scope make it both exhausting and exhilarating at the same time. Don't miss CHINAPLAS 2016 in Shanghai next April. For more information, visit www.chinaplasonline.com.
About CHINAPLAS 2016
CHINAPLAS 2016 is organized by Adsale Exhibition Services Ltd., and co-organized by the China National Light Industry Council - China Plastics Processing Industry Association, China Plastics Machinery Industry Association, Messe Düsseldorf China Ltd., The Plastic Trade Association of Shanghai and Beijing Yazhan Exhibition Services Ltd. The event is also supported by various plastics and rubber associations in China and abroad.
First introduced in 1983, CHINAPLAS is China's only plastics and rubber trade show approved by UFI (The Global Association of the Exhibition Industry). CHINAPLAS has been exclusively sponsored by the Europe's Association for Plastics and Rubber Machinery Manufacturers (EUROMAP) in China for the 27th time. CHINAPLAS is currently Asia's No.1 and world's No.2 plastics and rubber trade fair.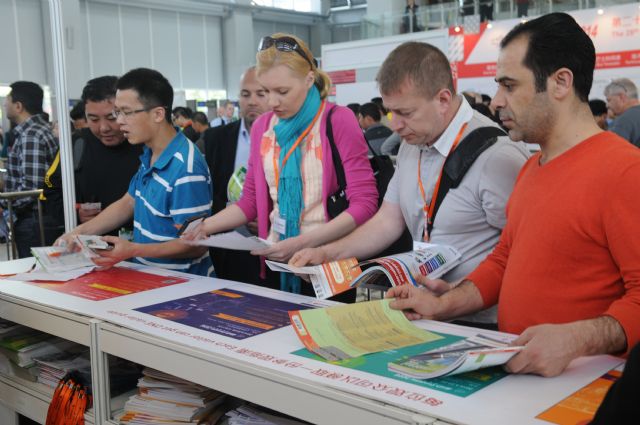 The show is expected to draw over 140,000 visitors worldwide to remain world's second-largest trade fair for global plastic, rubber and machinery industry.