Sales of printers in Taiwan, including SFPs (single-function printers) and MFPs (multifunctional printers), reached 151,763 units in the fourth quarter of 2015, down 6.0 percent quarter-on-quarter (QoQ) and 9.0 percent year-on-year (YoY), according to IDC Taiwan, the local branch of the global provider of market intelligence.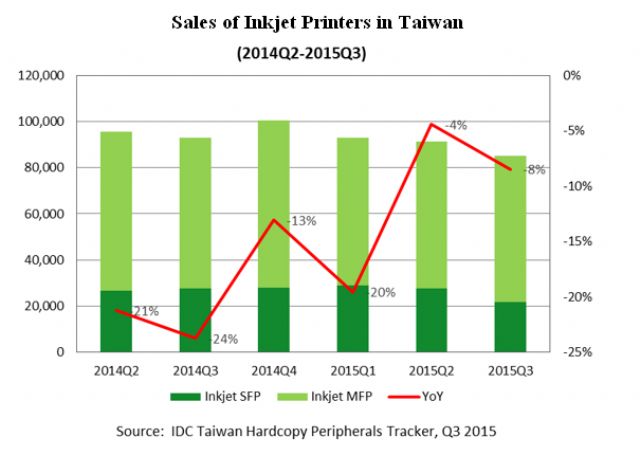 Inkjet Printer Sales in Taiwan Q2, 2014-Q3, 2015. (Source: IDC Taiwan, December 2015)
The mainstream inkjet printer shipments totaled only 85,131 units, down 7.0 percent QoQ, and an 8.0 percent YoY decline. The inkjet printer market in Taiwan started to see volume decline from the first quarter of 2015, to have continued throughout the first three seasons.
Thanks to vendor's new-model launches, shipments of inkjet MFPs dropped only 1.0 percent QoQ to 63,116 units. Shipment of inkjet SFPs suffered over-20-percent QoQ and YoY declines, respectively to only 21,965 units; due mainly to vendors' sales clearance of older models in the first half. In the third quarter, inkjet SFP's quarterly shipments hit the lowest level in the past four years, indicative of a sign of market shift. 
Emma Liu, Associate Market Analyst of, PC & Peripherals Group at IDC Taiwan, pointed out that shipments of inkjet printers in Taiwan have been shrinking in conjunction with the increasing popularity of laser printers, and vendors have been trying to launch models able to lower cost-per-printing to appeal to consumers. Epson, for example, launched its large-capacity inkjet printer models in 2011, hoping to stimulate consumers' purchase willingness, and such move has been driving other players to join the arena. As a result, large-capacity inkjet printers that are popularly priced made up 35 percent of the overall shipments in the Taiwanese printer market in the third quarter.