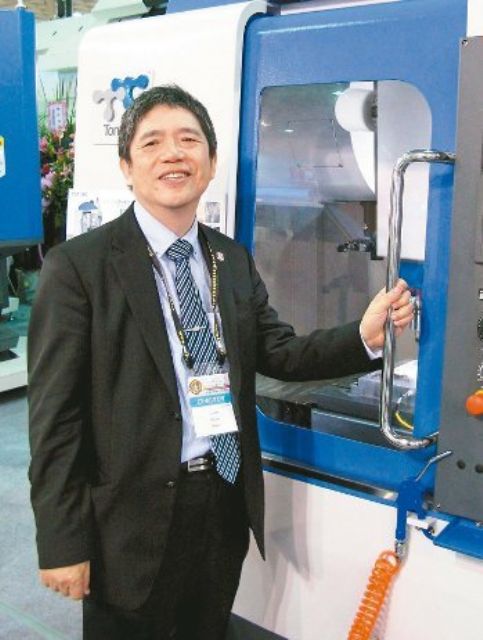 Tongtai continues to build sales of aircraft-making machine tools. (Pictured is group chairman, R.X. Yen)
The Tongtai Group of Taiwan estimates machine tools for making aircraft parts to rise to account for 10 percent of its revenue by 2016, up from the projected five to seven percent for 2015.
Although machines for making automotive and motorcycle components remain the group's major revenue earner, the group has reportedly diversified into the field of aircraft-making machine tools and teamed up with the Aerospace Industrial Development Corp. (AIDC), formally a Taiwan-government-owned aircraft-parts maker and aircraft assembler.
The group is moving forward a strategy to sell its machine tools to AIDC, which has earlier promised to install Taiwan-made machine tools in its factory in the Gangshan District in the southern Taiwan city of Kaohsiung.
The group's efforts have paid off as it has won a contract to supply AIDC with 16 units of machine tools valued at approximately NT$600 million (US$18.18 million), with the delivery for the order having begun in the third quarter of 2015.
Tongtai Group chairman, R.X. Yen, points out that the group will supply AIDC a variety of machine tools, including five-axis horizontal machining centers for making outer combustor casings for aircraft engines, ones boasting 20 percent more efficiency than imported machines.
Other group members, in addition to the parent Tongtai Machine & Tool Co., Ltd., including subsidiaries Honor Seiki Co., Ltd. and Asia Pacific Elite Corp. are also building machine tools for making aircrafts, with Honor Seiki having delivered a total of 210 units of machine tools for making engine components in 12 years to 31 buyers in 12 countries.
Yen says that his group has developed various dedicated machine tools that are based on the unique requirements specified by aircraft-building customers, or has worked with customers to develop machine tools that have the capacity for more specialized functions.
He notes that aircraft manufacturing differs from other fabrication sectors in its overall complexity, including having to turn out massive parts with complicated shapes, involving hard-to-cut materials and composites, all of which have to be machined to high precision, high quality. But the overriding challenge for parts suppliers is having to deliver such diversified parts in low quantity, not to mention being equipped with machine tools capable of carrying out the said work. 
Also, the group is integrating smart-control technologies to take advantage of Internet-of-Things, or to tap Big Data, smart technologies in tune with the rising global trend of automated production that is partly enabled by the Internet.
Yen points out that although the market for aircraft-making machine tools is relatively small by unit volume as compared with that for vehicle-making machine tools, the former command higher added-value and hence prices to provide Taiwan's makers an opportunity to evade competition against strong foes as Japanese makers, and find new opportunities with European and American makers.
He notes that Japanese machine-tool makers have taken advantage of the weakened yen, which has devalued to around 120 to one US dollar from 80-to-1 in three years, to boost their shipments to Taiwan by 30 percent each of the past two years, to have seriously encroached on the Taiwanese makers' share of the domestic market for vehicle-manufacturing machine tools.