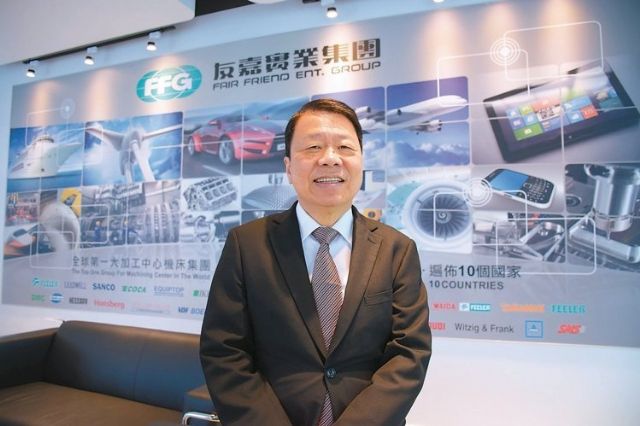 Fair Friend CEO Jimmy Chu continues to rely on M&A to overtake many international competitors.
The Fair Friend Group has emerged as the world's No.1 maker of automated turnkey plants for the automotive industry after taking over the German MAG Group's industrial automation system business, according to chief executive officer (CEO) of the Taiwanese machine-tool manufacturing conglomerate, Jimmy Chu.
He says the acquisition will help his group quickly snatch shares of the European machine-tool market to build presence and reputation in the global automotive-equipment industry. Conversely, MAG can rapidly enter the Asian market through Fair Friend.
Chu notes that the automotive industry uses 40 percent of the machine tools shipped worldwide to be the biggest user of such machines.
Generating revenue of around US$600 million a year, the MAG industrial automation system business, Chu says, is the world's primary, most-advanced manufacturer of turnkey automotive plants for making engine and chassis components in terms of know-how.
Major Supplier
Running seven workshops staffed with around 1,500 workers in Germany, the U.S., mainland China, India, and Hungary, the former MAG subsidiary supplies to top-end and mid-range carmakers including Mercedes Benz, BMW, Rolls-Royce, Volkswagen, Audi, GM, Ford, Toyota, Nissan, and FAW-Volkswagen Automotive Co., Ltd.
MAG's industrial automation system business has bagged over 30 percent of the global market for machine tools for making car engines and gear boxes, around 35 percent of the global market for such machines for making crankshafts, approximately 20 percent of the global market for the machines used to machine gears not to mention the fact that it is a globally top-3 supplier of the machines for making automotive molds or toolings.
By acquiring the MAG business unit, Fair Friend now has the capacity to supply the most complete range of machines for the automotive industry.
The acquisition, completed in August 2015, marks one of the group's many global takeovers, which Chu stresses aim to sharpen the group's strength and brand to take on international competitors.
Other Acquisitions
Over the past two years or so, the group has also acquired several prominent international competitors including Pfiffner of Switzerland and DMC of South Korea. Such acquisitions have elevated Fair Friend among the world's top-3 makers of metal-cutting machine tools from the former top-10, trailing only DMG MORI and MAZAK of Japan, by increasing the number of its brands to 32 and manufacturing sites to 50 in Germany, the U.S., Taiwan, China, Switzerland, Italy, South Korea, Japan, and India, not to mention bringing in additional revenue of NT$23 billion (US$696.96 million).
Although Taiwan is already the world's No.4 machine-tool supplier in terms of export value, the island's manufacturers in this line are no match against global peers in manufacturing capacity or brand recognition, Chu concedes.
Taiwan exported US$3.75 billion of machine tools in 2014, trailing Germany, Japan and Italy, according to Directorate General of Budget, Accounting and Statistics (DGBAS) of Taiwan's Cabinet or its executive ministry.
Showing ROI
The companies that Fair Friend has acquired have already begun showing return on investment. Huller Hille, another German company Fair Friend acquired two years ago, has begun bringing in revenue estimated at over US$10 million a year after completing four production lines for China's Chang'an Automobile Group Co., Ltd.
Ikegai of Japan has also begun placing orders with Fair Friend from Japanese buyers for machine tools used to make electronic products after the group purchased the Japanese maker in 2014.
The acquisition of Pfiffner helps elevate Fair Friend's position in the automation-equipment industry since the Swiss firm is a globally known maker of rotary-transfer type, automated multi-axis machining centers for automotive applications as well as pneumatic and hydraulic industries.
Fair Friend has also risen to be a globally top-5 supplier of aircraft-building machines after acquiring Italian makers Jobs Sachman, Rambaudi, and Sigma; Japanese maker Ikegai; and German makers Hessapp and Huller Hille, whose major customers include Boeing, Airbus, Rolls Royce, and Pratt & Whitney.
Jobs Sachman and Ikegai have helped Fair Friend vault into the top-3 supplier rankings of machine tools for nuclear-power facilities.
M&A Continues
Chu stresses that his group will not stop its acquisition program until achieving leadership as a machine-tool making conglomerate. Over the next two years, the group plans to take over a heavyweight maker each in Japan and South Korea, whose annual revenue is around 45 billion yen (US$381.35 million) and US$1 billion, respectively. In addition, the group plans to buy into a mainland Chinese machine-tool maker.
In 2015, the conglomerate acquired MAG's industrial automation system business, Pfiffiner and DMC. Three years ago, it took over six of MAG's machine tool subsidiaries including Modul and Hessapp.
Acquiring the six MAG subsidiaries enabled the group to raise its European manufacturing sites to 10 and its revenue from European operation to NT$20 billion (US$606.06 million) from NT$7 billion (US$212.12 million), giving it capacity to square off against Grob and Heller in Europe.
Chu projects the companies his group has acquired or will acquire will likely help boost the group's revenue at annual rate of 15 percent over the next five years.
Taiwanese machine-tool makers are using international acquisitions to expand the application range of their products to penetrate high-end markets and develop presence on the international markets, which is already a trend, comments Chu.
Example Cited
Chu cites the Tongtai Group of Taiwan as an example of the said trend, saying the Taiwanese peer has acquired PCI-SCEMM of France and MBI of Austria to break into the international market for high-end machines for the automotive industry.
Chu's group is restructuring its subsidiaries towards opening a holding company for its planned IPO in Taiwan in 2018. With over 60 manufacturing sites in 10 nations and 26 brands worldwide, the group, Chu says, will become the biggest publicly held automation-system provider both on Taiwan and China by market revenue. He projects the group's sales revenue at NT$60-70 billion (US$1.93-2.25 billion) from machine-tools by 2018.
He estimates the group's machine-tool business to generate revenue up to NT$100 billion (US$3.03 billion) by 2020 and help increase the group's total revenue to NT$200 billion (US$6.06 billion) two years following the listing.
Like most of the island's machine-tool makers, Fair Friend has also seen orders falling due to the weakening global economy. However, Chu says international acquisitions and joint venture deals will keep his group growing robustly into 2016.
Rally in 2017 
He feels that that global machine-tool market in 2016 will pretty much stay unchanged relative to 2015 without rallying at least until 2017. He observes that in 2015 the U.S. was the only market showing exceptional growth, with the European market being flat, the mainland Chinese market lackluster, and the Asian and Latin American markets bleak.
For Taiwan's exporters of machine-tool makers among other products, the strong NT-dollar-to-greenback rate relative to weaker counterparts of South Korean won and Japanese yen has further dampened their competitiveness on global markets. To help the island's exporters enhance such competitiveness, Chu suggests the NT-dollar-to-greenback rate of 34:1.