Joehome Precision Co., Ltd., having been in the injection-molding machine industry for over 20 years, is promoting its D-series hydraulic-clamping machines with force ranging 90 tons to 420 tons, V-series twin-cylinder direct-clamping injection molding machines with force ranging 25 tons to 45 tons, R-series dual-color direct-clamping machines with force ranging 200 tons to 300 tons and M-series twin-platen direct-clamping machines with force ranging 550 tons to 1,600 tons.

Thanks to stringent quality control, the company's products are classified as high-performance machines that meet industry standards including ISO9001 to be also CE marked. Its machines mostly are shipped to Europe, America, Southeast Asia and Africa.

Although Joehome is relatively a new brand in the industry, the company's R&D team is made up of specialists with 20-plus years of experience in the field, as well as adept ability to analyze mechanical structure and function to come up with optimal solutions to meet wide-ranging customer requirements.

The company has a solid reputation to consistently deliver orders and provide after-sales service without failure thanks to a distribution and technical support network it has set up worldwide.

In addition to machinery, the company also makes packaging materials and conveyors for its injection-molding machines.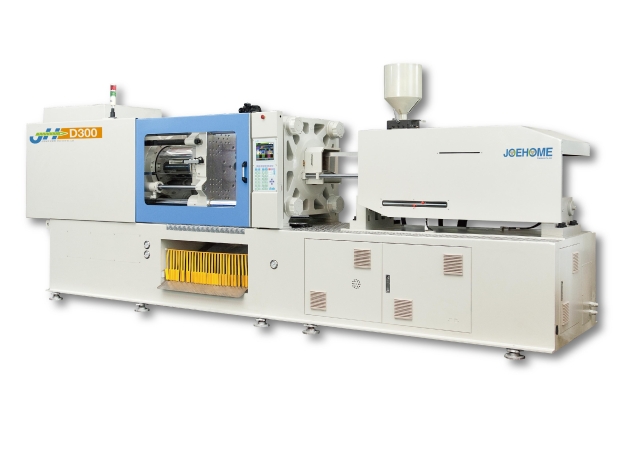 Joehome`s injection-molding machines are known for efficient functionality.
Joehome Precision Co., Ltd.
No.284-11, Zhongzheng 1st Rd., Lingya Dist., Kaohsiung City 802, Taiwan;
Tel: 886-7-7517283;
Fax: 886-7-7233983;
Email:info@joehome.com.tw;
Website: www.joehome.com.tw