Globally top-3 ICT trade fair to serve as coliseum for global ICT startups with impressive innovations.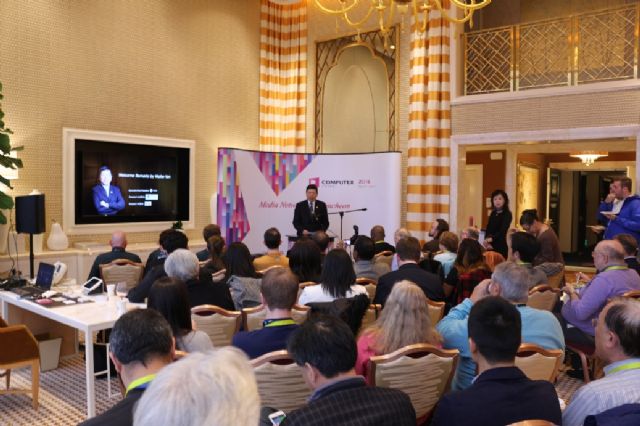 TAITRA held an international pre-show press conference during this year's CES in Las Vegas, the U.S.
COMPUTEX TAIPEI is set to open from May 31 to June 4, 2016. As the ICT industry has been developing, expanding and transforming from just computers and accessories to IoT and endless innovations for the past few years, this year's COMPUTEX TAIPEI will impress visitors with various new features to retain its reputation as a globally leading trade fair for tech industries.
Ever since established in 1981, COMPUTEX TAIPEI has evolved into one of the most influential ICT shows globally. Co-organized by the Taiwan External Trade Development Council (TAITRA) and the Taipei Computer Association (TCA), the exhibition plays off its proximity to Taiwan's ICT industry cluster to cover the whole spectrum of businesses from upstream components-manufacturing all the way to system assembly and IoT applications. With over a third of the world's computing devices made by Taiwanese companies, the annual exhibition has turned Taipei, capital of Taiwan, into a logical destination for buyers looking for partners in Internet computing ecosystems.
At an international pre-show press conference held during CES (the Consumer Electronics Show), held January 6-9 in Las Vegas, the U.S., Executive Vice President Walter Yeh of TAITRA announced the following new features of the upcoming COMPUTEX TAIPEI 2016.
New Position and Themes
IoT related applications and innovative products are today's trends. And to keep up with the global trends, COMPUTEX TAIPEI is in transition with a new position featuring Building Partnerships in Internet Computing Ecosystems with main focuses on IoT applications, innovative startups and business solutions. Participation is still soaring from industry leaders such as INTEL, MICROSOFT, ARM, HAIER, HISENSE, SUPERMICRO, MEDIATEK, ACER, ASUS, BENQ, THERMALTEK, COOLERMASTER, E-LEAD and SIEMENS to premier their latest innovation and launch new products. Other new participants include the GERMAN PAVILION and INDIA PAVILION.
New Exhibits
Three new exhibits are generated to highlight the new position and themes for COMPUTEX TAIPEI 2016. New exhibit, SmarTEX, attracts about 200 exhibitors to display the newest in IoT and smart tech applications with emphases on home and entertainment, smart security control, smart car & automotive electronics, and wearables. IoT in turn brings innovative startups and new exhibit, InnoVEX, is a perfect platform especially for ICT & IoT innovators. Organizers are expecting 100 innovative startups, incubators and startup accelerators to participate. Invitations are extended to global startup competition winners to participate. Another new exhibit, iStyle, is a special showcase for Apple certified peripherals, accessories, and software.
COMPUTEX d&i Awards
Since 2008, TAITRA has been collaborating with International Forum Design (iF) for the COMPUTEX d&i awards. These awards honor products with excellent design as well as technical innovation. Since the award first held, participating companies grew more than 100%, reflecting recognition for the Awards. At the last year's show, a total of 271 competing product entries were received while 72 winning products from 9 categories were chosen by a group of international juries and 5 were selected for the gold awards. In addition to displaying the winners at COMPUTEX TAIPEI, TAITRA will send these winning products on a world tour to CES, MWC, IFA, IndoComtech, and COM-IT in 2016.
More events before and during COMPUTEX TAIPEI 2016 are as follows:
1. COMPUTEX TAIPEI International Press Conference, to be held on May 30, 2016. New product announcements will be made by prominent exhibitors as well as display of 2016 COMPUTEX d&i awards winning products.
2. Keynote & summit forums to be based on the themes of FUTURE TECHNOLOGY + INNOVATION along with IoT ecosystems and IoT applications such as smart home and entertainment, smart solutions, wearables, security application and automotive electronics.
3. Startup forums for New exhibit, InnoVEX, to take place at TWTC Hall 3. Startups are invited to share experience and demo new innovations, definitely to attract venture capital, crowdfunding platforms and strategic partners for further cooperation.
4. More than 100 new product announcements by world brands throughout the show period.
5. TAITRA organizes professional B2B procurement meetings where buyers' needs are matched with right suppliers. 
COMPUTEX APP
COMPUTEX APP has numerous unique features, the best being the indoor positioning & navigation system. By opening the APP, visitors can get short cuts to any booth, and never get lost. Once log-in thru the APP or COMPUTEX TAIPEI website, desired events, exhibitors and products can be added to "My collection". Exhibitor recommendation will be made to registered visitors for their interested products.
COMPUTEX TAIPEI is more than just a sourcing hub for high technologies; it's a global bridge for new innovations and ideas. For more info on COMPUTEX TAIPEI, please go to the official website: www.ComputexTaipei.com.tw.