Taiwan's executive ministry or Cabinet recently announced that its subsidy program to promote electric-scooter (e-scooter) adoption on the island has achieved some initial success.

To help grow the development of the local e-scooter industry as well as promote the sales of such eco-friendly, short-distance commuting vehicles in Taiwan, the Cabinet set up a policy in 2009 aimed at replacing 50cc internal combustion engine (ICE) light scooters with e-scooters. In 2014, the "Intelligent EV development Strategy and Action Plan" was passed, after which the government began subsidizing e-scooter purchases and has carried various e-scooter demonstration projects (especially on closed circuits or roads such as school campuses). The e-scooter subsidies program will remain effective throughout 2017.

According to the government, annual sales of e-scooters reached 11,087 units in 2015, higher than the originally targeted 9,000 units and for the first time outstripped 10,000 units annually. In the past few years, the government has subsidized about 43,000 e-scooter purchases. A piece of encouraging statistic is that e-scooters accounted for more than 60 percent of Taiwan's overall light powered-two-wheeler (PTW) market (including motorcycles and motor scooters) in 2015, up from only 0.3 percent in 2009.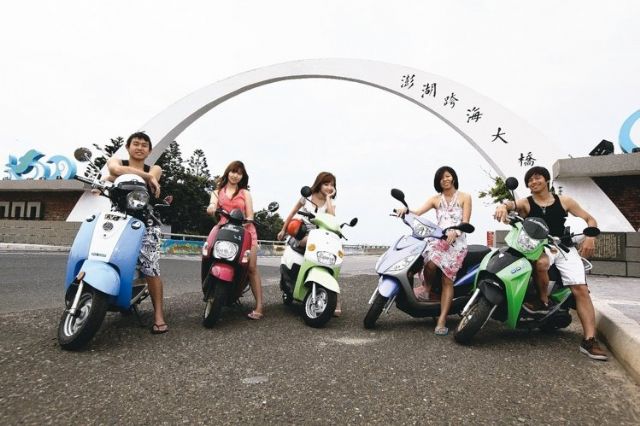 Increasingly more e-scooters are leased to tourists on Taiwan's offshore islets. (photo from UDN)
Alongside the e-scooter subsidy program, the government has also been promoting low-carbon tourism on Taiwan's offshore islands by subsidizing various e-scooter leasing projects. A good example is I Sun Green Energy Co., Ltd., an e-scooter leasing firm established by auto leasers, which has purchased 2,444 e-scooters for operation on Penghu, Kinmen, Green Island, which are islets off Taiwan that are popular tourist destinations. Many other e-scooter leasing companies have followed suit, won government subsidies, purchased between 200 to 400 e-scooters, and are leasing the scooters on the said offshore islets.
As of the end of 2015, the government said, 6,981 e-scooters have been available for lease by various operators throughout Taiwan and on offshore islets. The government's program to promote e-scooter adoption and green tourism in Taiwan continues to drive the eco-conscious cause that is politically-correct, as well as enable such green vehicles to be bigger players in urban, short-distance commuting.
From 2013, the Ministry of Economic Affairs (MOEA) also began helping private companies develop new e-scooters business models based on telematics. Gogoro, a new and innovative vendor of premium e-scooters and battery-swapping solutions, for example, has developed a platform with the telematics concept under governmental assistance. Gogoro's telematics platform tracks operational status and rider safety of each Gogoro Smartscooter sold, as well as monitor the powertrain condition to inform the owner with recommended repair and maintenance information. From August, 2015, MOEA began subsidizing Gogoro's new business model--independent sales of the e-scooter and battery pack--in northern Taiwan, with more than 3,200 Smartscooters having been subsidized. Each month, MOEA said, more than 600 new Smartscooters are expected to be subsidized.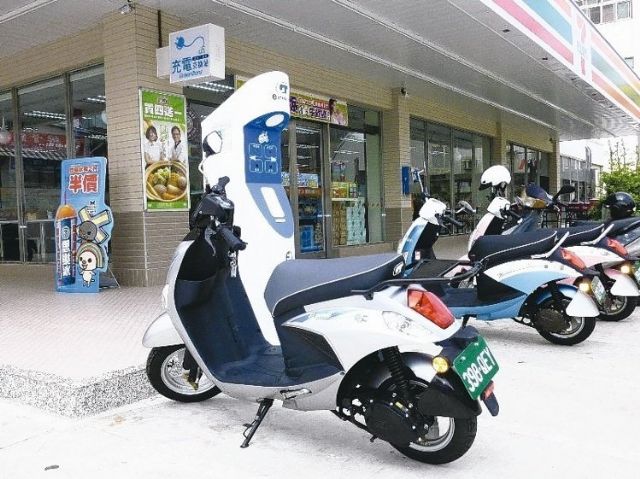 Governmental promotion is helping an increasing number of e-scooter charging or battery-swapping stations to be installed in Taiwan.
Beside the governmental vigorous efforts to expand the domestic e-scooter market, MOEA has also been aggressively helping local e-scooter makers explore overseas markets. A delegate consisting of senior Industrial Development Bureau (IDB) officials visited Yamaha Motor of Japan in late October 2015 to promote the superior quality of made-in-Taiwan e-scooter products.
With Taiwan already a significant  production base of small-displacement ICE scooters for Yamaha that are exported to Japan and other regions worldwide, so the IDB delegation looked to proposing to Yamaha the idea of making Taiwan one of its R&D and production base of e-scooters and related products.
Driven by the joint efforts of the government and the private sector, according to MOEA, Taiwan exported 1,035 assembled e-scooters in 2015 (compared to 883 units in 2014), 784 units of which were exported to Yamaha Japan. The MOEA is also helping Gogoro develop footholds in Europe, a major e-scooter market in the world. Gogoro is scheduled to set up its flagship European e-scooter dealer in Amsterdam, the Netherlands in the first half of 2016, to enable gradual expansion into international sales thereafter.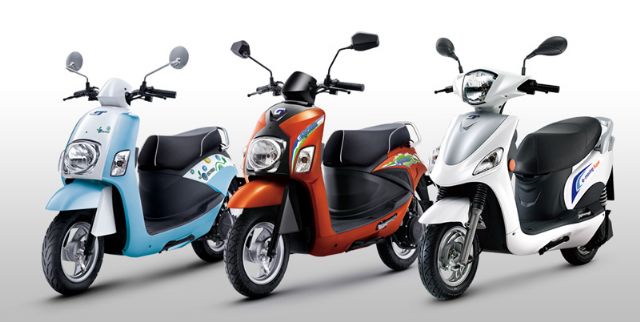 Export volume of Taiwan-made e-scooter continues to increase in recent years.