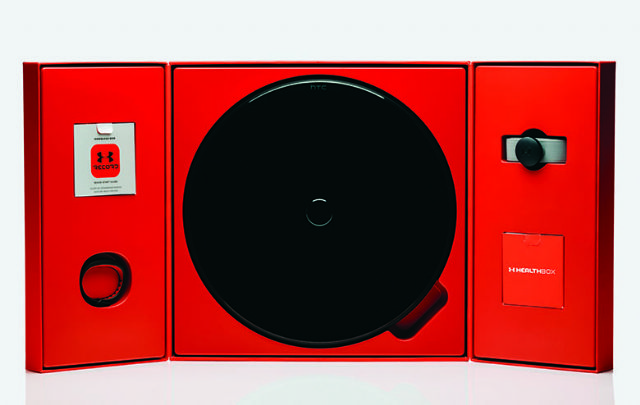 The UA HealthBox, world's first connected fitness system that measures, monitors, and manages the most important drivers of health and fitness. (photo from UA)
HTC Corp. of Taiwan, a smartphone vendor of its eponymous line of products, and Under Armour (UA), a relatively new vendor of athletic clothing, shoes and gear, recently jointly unveiled the UA HealthBox at the CES 2016, held January 6-9 in Las Vegas, the world's first connected fitness system that measures, monitors and manages the most important drivers of health and fitness — sleep, fitness, activity and nutrition. This is another product-diversification effort carried out by HTC, whose smartphone sales worldwide and stock price have plummeted due mainly to lack of innovative models, market saturation and fierce competition from big Chinese rivals.
Designed and manufactured by HTC and powered by UA Record, the UA HealthBox includes a fitness band, heart rate monitor and smart scale that all connect seamlessly with UA Record to provide data to enable individuals to improve health and fitness. The new UA Record is available for download from the Google Play store and App Store.
With an HTC smartphone, or other Android or iOS smartphone, UA Record serves as the dashboard for daily activities that help users to monitor one's activity level. Following the same philosophy of HTC when designing smartphones, UA HealthBox removes the barriers and complexity of technology with a simple set- up and easy to use system.
"This system contains everything a consumer needs to better manage their health and fitness," said Wolfgang Muller, Executive Director - Connected Products, HTC. "Whether you are a high performance athlete or simply committed to improving your health, UA HealthBox is the only system that delivers the complete picture and provides the information and motivation needed to achieve your goals."
According to HTC, the UA Band is designed to be worn all-day, every day. It tracks daily activity, workouts and sleep. All day activity capture allows one to set a daily goal and track progress on the band. UA Band utilizes a seamless exterior shell with a display that is discreetly hidden under an outer layer to mask the technology when it is not in use. Designed with athletes in mind, the band offers an advanced workout mode with a display that stays on during workout, as well as an LED that indicates heart rate zone when paired with UA Heart Rate. UA Band comes in black with a red textured underside to allow for moisture wicking.
The UA Heart Rate is a compact heart rate monitor with an innovative micro-snap technology designed to make it undetectable during workouts. The chest strap and removable sensor helps individuals monitor intensity and train smarter. The UA Heart Rate was created to provide an accurate calculation of calories burned. Combined with the UA Record app, UA Heart Rate enables users to customize heart rate zones.
UA Scale is beautifully crafted with a Wi-Fi enabled scale in an iconic circular design. The scale utilizes a sheet of glass with advanced conductive paint technology that enables weight and body fat percentage readings. The hidden LED display behind the glass makes the technology invisible when not in use. The scale can support up to eight users and syncs with the UA Record app for individuals to view trends with weight as part of their overall dashboard. UA Scale comes in black with a red textured underside.
Because of its unique approach, UA HealthBox is intended to be an integral part of an individual's daily life, and as such the importance of design was paramount. UA HealthBox has been designed to unify the portfolio of products and user experience.
"At HTC design is an uncompromising part of our culture. It is our DNA and we have an obsessive focus on delivering beautiful design not just on the outside but on the inside too," said Muller. "UA HealthBox is beautifully designed with no detail overlooked, but it was also designed to be a comprehensively connected system that is easy to use throughout the day and every day. This is what sets it apart from anything on the market today."
HTC and UA announced at the CES 2016 that the UA HealthBox will be available on January 22 in the U.S. with pre-orders already being taken on HTC and US website. The UA HealthBox (including UA Band, UA Heart Rate and UA Scale) will retail for US$400, and roll out to additional US retailers in the first quarter and internationally throughout 2016.