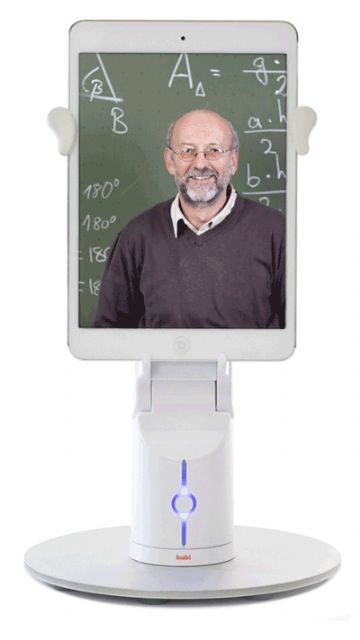 Kubi, a simple, engaging telepresence robot for tablet PCs. (photo from Revolve Robotics)
Driven by an aggressive program towards product diversification partly due to thinning profit margins and decreasing market share of personal computers, Acer Inc. of Taiwan, a major global PC vendor, recently showcased its achievements in smart medical devices at the Consumer Electronics Show (CES), held January 6-9 in Las Vegas, by teaming up with partners such as Omron, CoAsia, Revolve Robotics, etc.
As the information and communication technology (ICT) industry moves through a paradigm shift from PC-centric, mobile-centric, to IoT (Internet of Things)-centric, Acer said that it has proposed the new IoB (Internet of Beings) concept, a human-centric network based on an intelligence network.
Acer showcased its latest developments in the healthcare realm, which it identifies as one of the key areas of the IoB. As part of the firm's BYOC (Build Your Own Cloud) platform, Acer displayed solutions based on the Acer Open Platform (AOP) with its hardware partners, who exhibited applications spanning from health monitoring to remote diagnostics.
"The World Health Organization expects that the proportion of the world's population of 60-plus-year-olds will nearly double between 2015 and 2050. With the aging society, we expect that long-term care will be a key area in the upcoming developments of healthcare technology. Healthcare has always been one of the focus applications of Acer's BYOC developments. We strive to create total solutions integrating elements from different verticals, to enable remote diagnostics so that seniors or those with chronic ailments can monitor their health status from the ease and comfort of their own home," said Maverick Shih, President of BYOC Business Group, Acer Inc.
Acer's solutions demonstrated at 2016 CES included health monitoring and remote diagnostics. Regarding health monitoring, Acer said that those under care can measure their vital signs or home air quality daily through blood pressure and air quality monitors. The data can be continuously recorded and uploaded to a management platform through the AOP for medical professionals to analyze, and provide medical advice or notify healthcare providers upon detection of any abnormalities.
Regarding remote diagnostics, Acer said, those who do not require intensive medical care, but need to be monitored for extended periods, can interact with medical professionals through smart devices or interactive telepresence equipment for remote diagnostic purposes. Vitals such as blood pressure, blood sugar, and body temperature can be uploaded to a management platform through the AOP, for recording and analysis. Those in need of treatment can receive professional advice and feedback in real time, thereby lowering the cost of long-term care.
The partners who participated in Acer's BYOC showcase include Omron (a medical device and family healthcare leader), CoAsia (indoor air-quality monitoring provider), and MivaTek (a comprehensive smart home and care service provider); while Acer's platform-providing partners were myDevices (an IoT solution middleware provider) and Revolve Robotics (manufacturer of Kubi, the simple, engaging telepresence robot for tablet PCs).
Acer has invested funds into the Kubi project, which is for distance learning, remote work, telehealth, training, customer service and more. The Taiwanese PC vendor said that the Kubi is ideal for tele-healthcare, thanks to its interactive designs enabling tele-diagnosis.