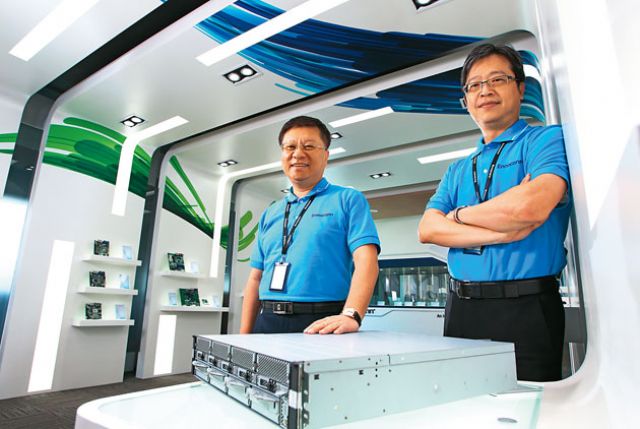 Ennoconn's impressive sales record in industrial computer market acts like magnet to Taiwan's PC makers.
Swayed by obviously robust business prospects, Ennoconn Corp., a Foxconn Technology Group subsidiary, is convinced that the industrial-computer market has more potential to be tapped, setting an example that is being emulated by an increasing number of Taiwan's personal-computer makers that are vigorously pushing into this profitable sector, especially when their core business struggles due to overcrowded market.
Industry executives say that Ennoconn, whose parent company is recognized as the world's biggest contract electronics supplier, plans to boost production capacity in 2016 to tackle flooding orders from big-name multinational buyers.
Ennoconn's impressive sales record has inspired the island's heavyweight PC makers, including Quanta Computer Inc., Asustek Computer Inc., Qista Corp., and Compal Electronics Inc. to enter this sector.
Qista and Compal have bought stakes in industrial computer makers DFI Inc. and Avalue Technology Inc., respectively, to develop presence. Asustek's industrial computer subsidiary, Aaeon Technology Inc., plans to go public on Taiwan's stock market. Quanta is branching into the industrial computer sector by having its subsidiary, Quanta Storage Inc., develop automation systems.
Industry executives analyze Ennoconn, DFI and Avalue have developed sizable presence in the industrial computer market mostly thanks to their success in cutting production cost and securing steady orders by teaming up with heavyweight manufacturers.
In the third quarter of 2015 alone, DFI successfully maintained its gross margin rate at the 32.3 percent range mostly thanks to lower expenditure on materials and improved production efficiency after teaming up with Qista.
Industry executives estimate DFI's revenue for 2016 to grow at double-digit rate from 2015, with earnings likely to hit a new post-2008 high.
Avalue Chairman L.C. Liu expects the company's 2016 revenue to grow from 2015 on grounds that Compal and his company have integrated and adjusted their resources for over a year since Compal acquired its shares.
Quanta Storage, after three years engaged in robotics, presented its first collaborative robot TM5 at the Tokyo International Robot Exhibition 2015, which was held in December.
Industry executives point out that migrating to industrial computer production enables Taiwan's PC makers to restart idle production lines previously dedicated to PCs not to mention cutting production cost through joint purchasing with partners.
They note that since industrial computers still command higher profit than PCs, whose profit margins have been cut paper-thin, to migrate to the sector will help PC makers restructure themselves.
However, it is hard for PC makers, whether contract or brand-name, to completely adapt themselves to the new sector right away since orders for industrial computers are typically highly customized and in low volume, which totally differs from the PC market.
Although in many cases an order is only for 30-50 industrial computers that involves relatively long lead time or lengthy production schedule, a maker stands to win steady orders once having become a supplier of international big-name buyers.