AU Optronics Corp. (AUO), recognized as the second-largest maker of thin film transistor-liquid crystal display (TFT-LCD) panels in Taiwan, recently said that it topped global counterparts in 2015 in shipments of four types of value-added products, including curved TV panels, 15.6-inch on-cell integrated notebook PC panels, high-resolution notebook PC panels, and automotive panels for center-console application.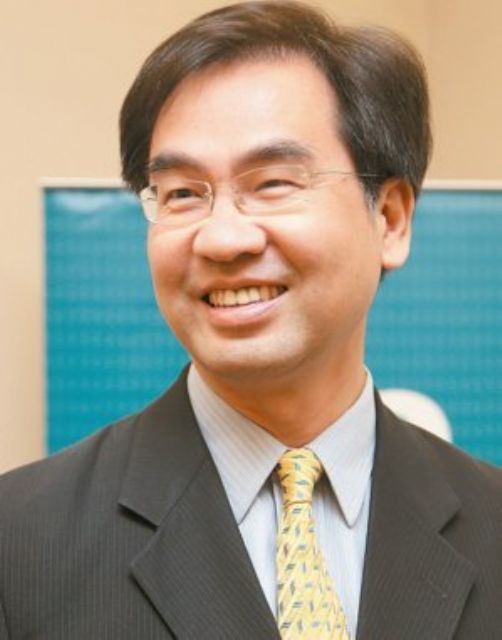 Michael Tsai, AUO's president-COO nominated in late 2015. (photo from UDN)
Michael Tsai, AUO's new president and chief operating officer (COO), said that the company's commercial-application panels accounted for more than 20 percent of overall corporate revenue for the first time in 2015, and the growth of such products looks to be unlimited.
Paul Peng, chairman of the panel maker, pointed out that the profit margins of AUO's value-added products have been relatively stable, with TV and IT products in even highly competitive segments also maintaining their margins. AUO has been carrying out joint development projects with various customers, Peng said, which often aim to differentiate in high-end markets, which helps to build higher customer loyalty.
For example, Peng added, the shipments of AUO's curved TV panels have been increasing quarter by quarter, with that of Advanced LCD (ALCD)-technology panels also showing steady increase. Though notebook PC panels have become a big-volume item in the panel market, the chairman added, AUO's 15.6-inch on-cell notebook panels can generate higher margins. Since the fourth quarter of 2014, the president continued, AUO has been the world's largest supplier of automotive center-console panels, providing high-quality products to many international automakers.
ALCD
Technology
AUO said that its ALCD technology achieves a breakthrough in LCD TV image quality, whereby it exceeds current technological specifications for LCD TVs by integrating UHD 4K ultra-high resolution, curved design, quantum dot wide color gamut, and HDR (High Dynamic Range) technologies to create the ALCD technology, also delivering image quality comparable to that of active matrix organic light-emit diode (AMOLED) displays.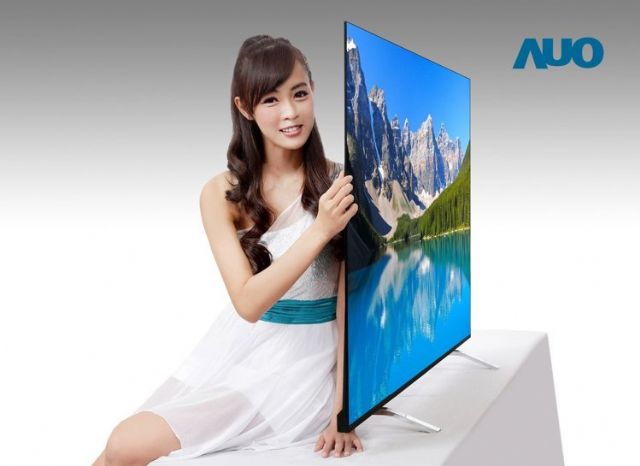 A high-end ALCD-technology TV panel that is only 40mm thick. (photo from AUO)
The panel maker stresses that ALCD TV displays are capable of showing even more precise colors to capture rich layers of image depth down to the tiniest bit. Meanwhile the color gamut specification meets the latest UHD 4K LCD TV standards defined by international criteria. For backlight module design, the ALCD TV displays adopt HDR technology. The backlight can be controlled in zones to achieve higher contrast through local dimming. Images are depicted in more details against dark backgrounds and present more color depth, resembling more of what human eye can see in the real world.
Commercial-application Panels
Regarding AUO's shipments of commercial panels, which covers industrial control, automotive, aerospace, marine vessel etc. applications, Tsai said that such orders may be filled via small-batch, large-variety production and business opportunities are found everywhere in the market. Currently, AUO focuses on providing customers not only panels, but also semi- or full-system integration services. The Taiwanese panel supplier has achieved success in the Turkish and Chinese educational markets with high market shares.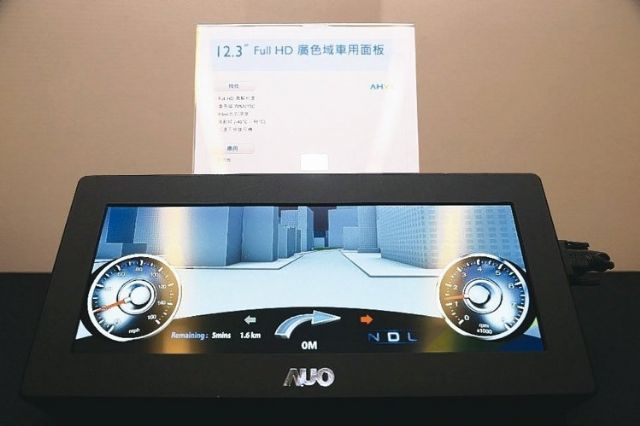 A 12.3-inch automotive panel from AUO that is a targeted, value-added product. (photo from UDN)
In the third quarter of 2015, Tsai said, commercial-application panels accounted for 17 percent of AUO's overall revenue, and the percentage will outstrip 20 percent in the fourth quarter. In 2016, such products are expected to account for much higher share in corporate operations.
Market Rebound in Peak Season
The global TFT-LCD industry faced seldom-seen challenges in 2015 due mainly to excessive supply and shrinking demand. Peng, however, believes that the overall panel industry is still moving forward on-track, and the existing backlog in panel inventory at suppliers is expected to be gradually digested in the coming demand peak around March and April 2016. Driven by system vendors' launches of new products and models, he explained, demand for display panels is expected to heat up.
After opting to focus on profitability rather than shipment volume amid the the challenging business climate in 2015, Peng said, AUO has been closely observing market conditions to prepare for the next-stage in business deployment. According to past experience, the chairman said, most brand vendors launch new products and models at the Consumer Electronics Show (CES) in January, and distribute products into markets by February or March, resulting in stronger overall demand for panels in March and April.
Peng also pointed out increasingly popular e-commerce sales in China have resulted in demand waves for 3C (computer, communication, and consumer electronics) products over different months rather than traditional peak seasons, with TV sales during the long holidays in early October of 2015 not having shown a clear drop. That, he added, will prompt system vendors to cope with changes in demand structure.