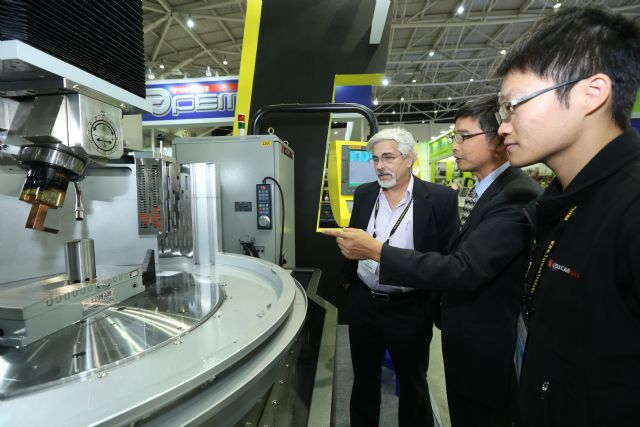 The weaker NT-dollar fattens after-tax net income of Taiwan's machine-tool makers in 2015.
Industry executives estimate that the weakened NT-dollar, which traded at the rate of 33.066 for one US-dollar on the last day of 2015, fattened the bottom-lines of most Taiwanese machine-tool makers last year, with Goodway Machine Corp. leading its peers with projected after-tax net income of NT$6 per diluted share.
Goodway Chairman Edward Yang points out that although the NT-dollar-to-greenback exchange rate did not fall as steeply as expected in 2015, many of the island's machine-tool makers still made profit from forex trades amid weak revenue results.
Reportedly the island's machine-tool makers mostly quoted products at the 32.5-to-1 rate in the fourth quarter, with the 33.06-to-1 rate being more profitable although not as encouraging as the 33.2-to-1 rate traded in the third quarter.
Yang expects the NT-dollar to steadily depreciate into the new year, with the NT-dollar-to-greenback rate falling beyond 33:1 on January 12, on grounds that the Chinese yuan may continue losing value against the greenback to shore up mainland China's exports. Television news in Taipei on January 12 said that the Taiwanese authorities allowed further depreciation of the NT-dollar-to-greenback rate to keep up with that of the Korean won to shore up competitiveness of Taiwanese exports against its archrival. 
Chairman K.J. Shen of Hota Industrial Mfg. Co., Ltd. points out that the NT-dollar has not devalued as steeply as the Korean won and Japanese yen but fluctuated within limited range, putting Taiwan's machine-tool industry at a disadvantage in international competition. He suggests that the NT-dollar-to-greenback rate devalue to 34-35:1 to shore up Taiwan's export competitiveness.
Hit by a volatile economy globally in 2015 that was wracked by Mid-East terrorist tensions, plummeting crude oil and commodity prices as well as slowing economic growth in China that drags many of its major trade partners as the U.S., Taiwan's leading machine-tool makers, including Goodway, Tongtai Machine & Tool Co., Ltd., Kao Fong Machinery Co., Ltd., Roundtop Machinery Industries Co., Ltd., Falcon Machine Tools Co., Ltd., and Taiwan Takisawa Technology Co., Ltd., all saw their revenues for the Jan.-Nov. period of 2015 contract year on year.