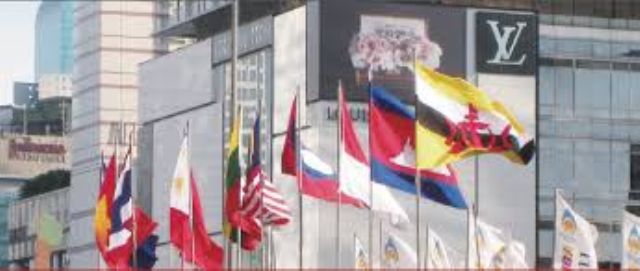 Taiwanese enterprises stake presence in ASEAN as strategic overseas market.
Asustek Computer Inc., a globally known PC vendor, leads all Taiwanese companies in revenue generation across the Association of Southeast Asian Nations (ASEAN) economies with nine subsidiaries and branches there posting revenue of NT$390.5 billion (US$11.8 billion), according to China Credit Information Service, Ltd. (CCIS) of Taiwan.
Trailing in No.2 and No.3 are BenQ Corp. (a Taiwanese maker with an eponymous line of smartphones and minimal market presence in Taiwan) running 16 subsidiaries and branches in the region with revenue of NT$352.2 billion (US$10.6 billion), and Delta Electronics Inc. (a supplier of power supplies) running 11 subsidiaries and branches with revenue of NT$281.0 billion (US$8.5 billion). Hon Hai Precision Industry Co., Ltd. (widely recognized as the biggest global provider of contract electronics manufacturing services) was ranked No. 4, followed by Lite-On Technology Co., Ltd. (a conglomerate of LEDs, DVD drives, semiconductors, motherboards, etc.)
CCIS publicized the statistics based on data it had compiled throughout the end of 2015. The statistics show that as of August, the top-10 Taiwanese enterprises ranked by sales revenue in ASEAN in 2015 operate a total of 126 branches or subsidiaries in the region to engage in businesses including selling end-user products in Indonesia, Malaysia, and the Philippines, as well as contract manufacturing operations in Thailand, Vietnam and Cambodia.
According to the credit-information consultancy, many Taiwanese business groups are staking footholds in Southeast Asia as another strategic overseas market to better compete globally, especially when the business climate looks to be more challenging with the establishment of the ASEAN Economic Community (AEC) in 2015 and the likely formation of the Regional Comprehensive Economic Partnership (RCEP), a free trade agreement between ASEAN and Australia, mainland China, India, Japan, South Korea and New Zealand. Such FTAs and trade communities exclude Taiwan to make the island's suppliers less competitive relative to rivals from the said members.     
In the 2012-2014 period, Taiwan's top-300 business groups increased the number of outlets in Southeast Asia to 733 from 700, but their revenue in the region soared to NT$1.8 trillion (US$55.8 billion) from NT$1.4 trillion (US$42.7 billion), with earnings rising to NT$85.1 billion (US$2.5 billion) from NT$75.3 billion (US$2.2 billion).
The AEC, effective as of Dec. 31, 2015, is a market of 600 million consumers generating gross domestic product (GDP) of roughly US$3 trillion, becoming another developing market with immense potential in addition to mainland China and India.
CCIS points out that although many of Taiwan's heavyweight companies have set up shop in the region for quite a while, their presence there have not caught attention of Taiwan's market research organizations until recently.
In 2015, ASEAN was among the top-10 nations in which Taiwanese investments increased exponentially. 
 Top 10 Taiwanese Enterprise Rankings in ASEAN 
| | | | | |
| --- | --- | --- | --- | --- |
| Ranking | Company | Branch & Subsidiary Number in ASEAN | Net Sales in ASEAN | After-Tax Net Income |
| 1 | Asustek | 9 | NT$390.5bn | NT$8.8bn |
| 2 | BenQ/AUO | 16 | NT$352.2bn | NT$2.9bn |
| 3 | Delta | 11 | NT$281.0bn | NT$20.6bn |
| 4 | Hon Hai | 29 | NT$124.4bn | NT$9.4bn |
| 5 | Lite-On | 13 | NT$110.0bn | -NT$1.4bn |
| 6 | Acer | 11 | NT$71.1bn | NT$170M |
| 7 | New Kinpo | 15 | NT$69.2bn | NT$2.0bn |
| 8 | WPG Holdings | 14 | NT$57.0bn | NT$368M |
| 9 | MediaTek | 3 | NT$42.1bn | NT$9.9bn |
| 10 | ChangChun | 5 | NT$40.4bn | NT$1.8bn |
Source: CCIS