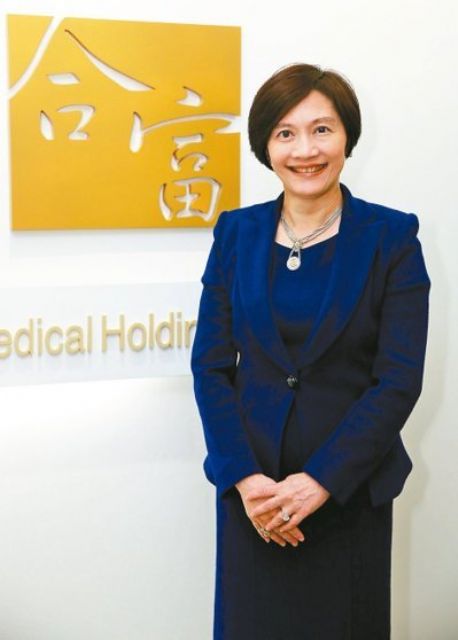 Cowealth Chairperson Q.Z. Wang.
The Cowealth Group of Taiwan, a publicly held vendor of medical equipment who was the first Taiwanese firm to have entered the mainland Chinese market some 18 years ago, is determined to promote its products across prefectural cities by 2016 and county cities by 2018 after having supplied such products across provincial capitals in mainland China in 2015.
Company chairperson, Q.Z. Wang, is sanguine about the mainland's medical-equipment market in the coming years in light of Beijing's 13th Five Year Plan, whose goals include offering medical insurance for urban and rural households to cover serious illnesses.
She believes that the mainland's market for biomedical test equipment will continue to be buoyed significantly by residents who have developed higher awareness of their health status than before, especially when the mainland's medical insurance now covers around 98 percent of its population of approximately 1.4 billion. Such prediction makes sense when rising affluence in developing economies typically result in higher expectations among people of personal well-being, sanitation and quality standards of food, improved medical care that enhance overall quality of life.
For instance, her company has added xerophthalmia (dry eye) testing and treatment equipment to its product lines destined for the mainland, where the number of the eye-disease cases has increased sharply due to excessive and reportedly addictive web browsing among consumers on PCs and mobile devices. The company's xerophthalmina testing equipment has penetrated 26 of the mainland's large hospitals.
Overall Cowealth has supplied biomedical test equipment to nearly 600 hospitals in the mainland. Although it is only a relatively small number in a market with over 20,000 hospitals, it is a solid foundation upon which Cowealth can further build business in the mainland, Wang says.
The company does not sell its equipment, whose unit price ranges from RMB700,000 to RMB2 million (US$107,692 to US$307,692), in China, instead relies on leasing to hospitals. Obviously the firm is savvy enough to have figured out the formula for profitability, as it requires the hospitals to agree to purchase the consumables for the equipment from her company over the next five to seven years.
Wang says usually a hospital begins to buy consumables three months after starting the lease, which is also a lease-to-own plan that enables a hospital to eventually own the equipment after five to eight years.
According to her, this business model is quite popular among the mainland's hospitals simply because leasing spares the healthcare providers from the sizable financial burden of buying the equipment outright, to instead enable amortization, sort to speak, of the purchase cost via the lease payment as well as consumable purchases over an extended period.
She points out that leasing medical equipment is a typical business practice in many countries but the mainland, whose fledgling credit system has mostly discouraged foreign vendors from even trying to implement the equipment leasing plan there.
Her company has addressed the lack of credit issue by devising a tailor-made after-sales service system, she says. The company's sales representatives assist leasing hospitals to manage replenishment and inventory of the consumables, as well as standing by to handle urgent problems related to leased equipment.
Thanks to the well-rounded service and the mainland's improving credit system, the company has quickly snatched up market share there, having reportedly attracted international players like Roche and Bayer to build presence on the mainland's biomedical equipment market.
To build customer loyalty, Cowealth in 2008 introduced a very considerate supply management platform, which helps customers save at least 20 percent of cost by providing a bundle of 20 to 30 different equipment and diagnostic products.
However, in 2013 the management platform was copied by mainland China's homegrown equipment leasers, which not only poached Cowealth's sales representatives but also its customers. Ironically, Wang sees the misfortune as a compliment on her business model for the adage "imitation is the highest form of flattery." The existence of those copycats has proven the company's strategy is well received among heads of the leasing hospitals.