Founded in 1996 in central Taiwan, Sunlike Display Tech. Corp. makes and markets high-quality liquid crystal display (LCD) modules, organic light emitting diode (OLED) modules and LED lights.

The company's LCD products are integrated with twisted nematic (TN), super twisted nematic (STN), film-super-twisted- mematic (FSTN) and chip-on-board (COB) technologies. Its OLED character module features compatibility with LCD pins, contrast ratio higher than 10,000:1, and wide operation temperature range of -40C to 85C.

The company mostly ships its products to Europe, ex-China Asia, North America, Latin America, Australia and New Zealand.

The ISO9001-certified maker strictly adheres to the total quality management system to ensure high product quality and reliable service.

Placing strong emphasis on research and development, quality, service and innovation, the company has been able to develop innovative products in tune with customer requirements for wide ranging applications.

Well-trained R&D specialists, advanced manufacturing equipment and stringent quality inspection have together helped the maker build solid technical strength.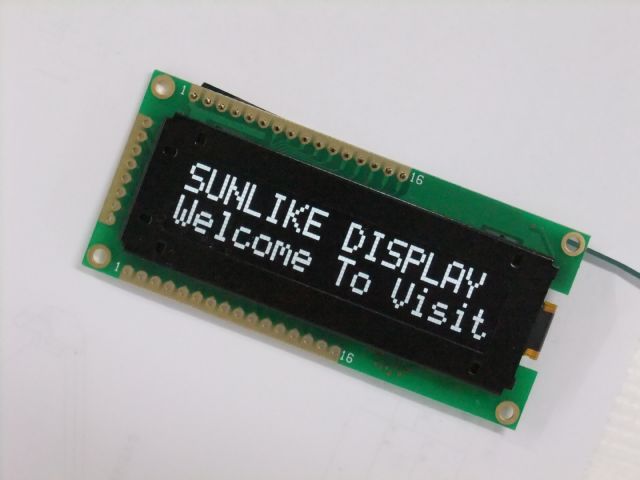 Sunlike's AL series OLED character display.
Sunlike Display Tech Corp.
No.11-2, Chienkuo Rd., Tantzu Dist., Taichung City, Taiwan 427;
Tel: 886-4-2534-2378;
Fax: 886-4-2532-7034;
Email: sunlike8@ms17.hinet.net;
Website: www.lcd-modules.com.tw