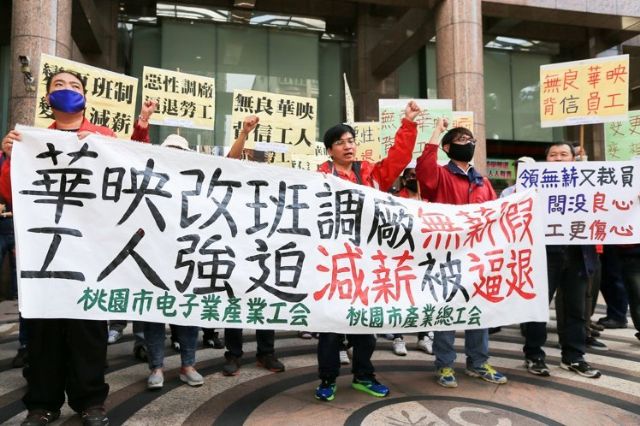 Taiwan's furloughed workers dwindled 75 percent in the month to Jan. 15 from a month earlier. (Pictured are Chunghwa Picture Tubes workers protesting about unpaid leave)
In the month to January 15, the number of Taiwan's workers who have been furloughed or put on unpaid leave fell 75 percent to 1,180 workers who are employed by 37 enterprises, down from 3,576 workers employed by 57 enterprises as compared to a month earlier, according to the Ministry of Labor.
The ministry compiles such data every half month as an index of the island's job market and a reflection of the nation's economic health.
The ministry points out that the mid-January figure represents a fresh all-time low since September of 2015 mainly thanks to putting the 2,515 and the 131 furloughed workers back on paid-leave, respectively, at Chunghwa Picture Tubes Ltd. and Chien Shing Stainless Steel Co.
The ministry points out that the number of furloughed workers at the flat-panel maker Chunghwa was only occasionally high, which helped sharply cut the total number of such workers when the program ended.
Regardless of the sharp fall seen in mid-January, the result is still nearly triple the number compiled a year ago.
Ministry officials point out that most of the island's enterprises that practice furloughs limit the number to under 50 workers and the period of unpaid-leave shorter than three months or typically four to eight days per month.
They say of the 37 companies, 21 are in the export-oriented electronics sector that has been hurt by a steep decline in exports due to weakening global demand. In 2015, Taiwan's exports dipped to a six-year low of US$280.48 billion.
Meanwhile, the number of furloughed workers in the Hsinchu Science Park, one of Taiwan's most important tech production hubs, rose to 48 as of Jan. 10 from 13 recorded as of Dec. 30, according to the Hsinchu Science Park Bureau.
The increase in the number of workers on unpaid leave came after a computer peripherals manufacturer announced it had asked 35 workers to go on furlough, the Ministry said.
After releasing the half-month furlough worker result, the Ministry will announce the island's job market data for December on February 1 as part of its regular monthly work. The December data show 875 workers were laid off in November, compared with 1,657 workers in November.
The Ministry says so far nothing unusual has been noted in the island's unemployment situation.