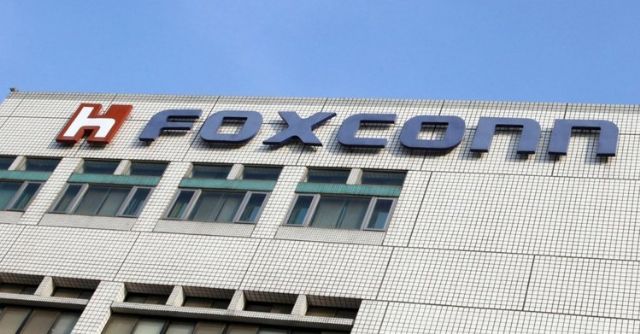 Foxconn reportedly to raise smartphone manufacturing capacity at Indian factory 1.5 fold.
According to the Times of India, the Foxconn Technology Group, widely recognized as the world's biggest provider of contract electronics manufacturing service, will boost smartphone output capacity at its Andhra Pradesh factory site in India this year by 1.5 folds to 2.5 million units a month to cope with swarming orders.
The factory has landed contracts from Microsoft, Xiaomi, Oppo, Gionee, Asus and the American brand Infocus. Apple is also reportedly considering placing orders. Currently Foxconn makes about one million smartphones a month at the facility, which has 25 assembly lines and employs about 6,000 people.
The Times reports that, with many Chinese smartphone companies building footholds in India, India is poised to become the second largest smartphone market in absolute numbers by 2017, surpassing the U.S.
An increasing number of brand-name smartphone makers are competing to open factories in India in response to the Indian government's "Make in India" campaign that is advertised across TV channels as CNN, albeit on the condition that foreign companies make products in the nation or face high import tariff on products sold in India to drive up makers' cost. The nation is regarded as one of the last massive markets with a sizable English-speaking population and untapped market potential for popularly-priced smartphones, with labor cost advantages that likely exceed that in China. 
The Times says India has become Foxconn's key focus since 2015 when Chairman Terry Guo visited the country and committed to invest US$5 billion in Maharashtra over five years on a new electronics manufacturing facility. Foxconn aims to develop 10-12 facilities in India, including factories and data centers by 2020 to employ millions directly and indirectly.
It says Foxconn, widely reported as the largest assembler of Apple iPhones, began making smartphones at the Indian manufacturing site in July, 2015, following the introduction of the "Make in India" campaign, which made manufacturing and selling iPhones cheaper in India than importing the devices from China.
Taiwan's industry executives point out that although Foxconn is vigorously expanding capacity at the Indian factory, the group's parts subcontractors will play a crucial role in whether Foxconn's "Make in India" plan proceeds smoothly.
They point out that Foxconn has built considerable capacity for fully-integrated production in-house to turn out virtually all the parts for smartphone assembly, but some components still need to be outsourced.
Some feel that India may become a substantial maker of smartphones soon, but doubt that components makers would follow the likes of Foxconn to set up factories in the southern Asian subcontinent in consideration that the "Make in India" campaign remains in its infancy, with many uncertainties and issues waiting to be addressed.
Such prediction seems reasonable considering the disappointing results caused by the weak global demand that has hit hard Taiwanese PC-component makers, who have therefore moved to Chengdu and Chongqing, China to follow the example set by the island's PC assemblers.
Major business news channels as CNN and CNBC have periodically reported of the excessive red tape, corruption at local governments and dilapidated infrastructure in India as obstacles to foreign firms doing business or eyeing opportunities there. Other relevant issues include whether the Indian government offers investment incentives, and if Indian land, construction, and labor costs actually prove to be advantageous.